Flying through FPV googles made me always very dizzy. I can't stand to play more than few minutes before my motion sickness kills all the fun. Usually, this time is enough to test FPV equipment, but far less to become a skilled FPV pilot. Last week I came up with the idea to try some FPV drone simulators and, eventually, to make a side-by-side comparison of them in order to find which is the Best Drone FPV Simulator.
Firstly, I tried to look for free FPV simulators, but they are only few and limited. So, I did some research for "Top 5 Quadcopter FPV sim 2018". Most of the lists included the following names: FPV FreeRider, Liftoff Drone Simulator, VelociDrone FPV Racing Simulator, DRL Racing and RotorRush. As prices are somewhere between $4 to $25, or even monthly subscriptions I decided to contact them in order to obtain free access to their full version app. Those from FPV Freerider were the only guys who positively accepted my request. They grant me access for both versions of their app (Classic and Recharged).
FPV Freerider Classic vs FPV Freerider Recharged
While the Freerider Classic is available for more operating systems and also runs on older hardware, the Freerider Recharged has better graphics and more powerful hardware. The user interface and customization options of the newer Recharged edition remain pretty much the same as in the Classic version. Find bellow the full feature comparison.
Freerider Classic
Freerider Recharged (upcoming version)

Six scenarios included;
Racetrack generator that can generate millions of tracks automatically;
Runs better on low end hardware;
Side-by-side VR view option;
Available for Windows, macOS, Linux and Android;
Size of install kit ~140MB;
$4.99 USD

Eight scenarios included;
10 extra levels for $2.99;
More detailed graphics (and also more demanding);
Video static simulation;
Flight recorder/Ghost racer feature;
Ability to load custom levels;
Full level editor (soon to come);
Available for  Windows, macOS and Linux;
Size of install kit ~540MB;
$9.99 USD.
FPV Freerider Classic/Recharged review
Firstly, I have to thank John from FPV FreeRider  who offered me free access to their software. After I created an account on itch.io, in few minutes I had both versions ready to test. I liked that no installing process is requited. You just need to unpack the zip file and create a shortcut to the executable file (at least only these steps needs to be done for the Windows version).
Secondly, although you can simply use the touch screen or keyboard with the FreeRider, I strongly recommend using a dedicated drone transmitter which you will use to control the aircraft in the real world as well. Of all my radios I chose the Taranis Q X7, which is the RC that I use the most with my racing quads. It also has a mini USB port which allows to be directly used as PC remote (without additional dongle).
FPV Freerider: Main interface
As I previously mentioned both editions (Classic and Recharged) have similar main interface. As you can see in the image bellow, while on the left side you have graphics quality settings and audio volume, on the right side you can select the input (controller), calibrate the controller, Throttle zero center/bottom, Dead Zone On/Off, Custom settings and Info. In the middle of the screen you have the level selection. In addition to all these, the Classic version has a "Racetrack Generator" button/stamp on the main screen.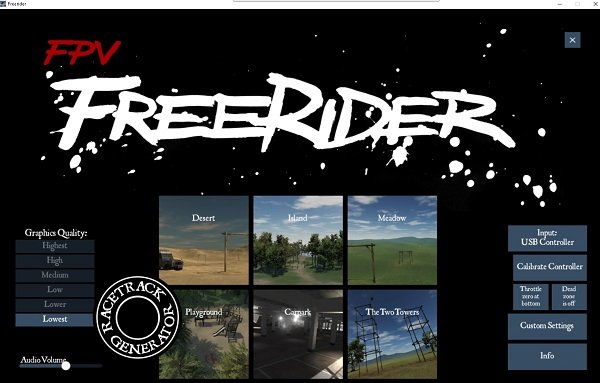 FPV Freerider: Custom settings
Under the custom settings menu, you can adjust Rates (Throttle, Yaw, Pitch/Roll and Self-Leveling), Camera (angle and FOV) and Physics (Mass, Drag, Angular Drag and Gravity). In Classic version, here you have access to enable & customize the 3D VR mode. In addition to the 4 preset configurations you can save two user personalized settings.
FPV Freerider: Scenarios/Levels
While in case of the FPV Freerider Classic you can practice in Desert, Island, Meadow, Playground, Carpark and The Two Tower levels, in case of the FPV FreeRider Recharged you can train in Desert, Forest, Factory, Rocks, Carpark and Custom scenes. FreeRider offers for only $2.99, ten extra levels for the Recharged edition.
Setting up the Taranis Q X7 for drone simulator
Firstly, I created a new model on my transmitter under the name "Simulator" and disabled the internal radio. Secondly, under the "Mixer" menu I changed CH1-CH4 weight values from 100 to 50. These, are the only things you need to get done in order to use your Taranis Q X7 radio with the FPV Freerider sim. In order to connect the RC to your computer, you will need a standard mini USB cable (not micro or Type-C). Note: You can't power ON the transmitter while connected to your PC.
FPV Freerider: Controller calibration
Calibration steps can be made easily by following the onscreen instruction. This consists by moving the sticks up/down center in a certain way. On the last screen you can fine-tune the trim settings.
Training flights with FPV FreeRider
Although I started this review with a lot of confidence, after 10 minutes of play I had to face my motion sickness, again :(. The simulator is very realistic and makes me dizzy like a real FPV flight. Luckily, you have two viewing modes LoS and FPV. I found the LoS (Line of Sight) a bit more friendly with my condition.
In-Game settings allows you to toggle between two flight modes (Stabilized and Freestyle). This feature will be appreciated especially by first-time pilots. They can switch from "Self-leveling" mode to "Acro" mode soon as they gain some experience.
You have audio and drone lights (head/tail) for the game to be as realistic as possible.
Editor's rating
Price/value ratio

OS compatibility

Stability

Easy to use

Graphics quality
Verdict
From download to first flight, everything went smooth. No installation steps (on Windows), controller calibrations was extremely easy. You have freedom to chose between 6 levels and two flight modes (Self-leveling vs Acro Mode).
Graphics could be more detailed, IMHO it is quite outdated for 2018.  Anyway, for training flights it is just perfect.
Finally, but most importantly, crashes are for free :). No need to pay for broken frames or killed motors.
The Good
Wide OS compatibility;
Pretty affordable;
Easy controller setup and calibration;
Multiple Scenes/Levels;
FPV/LoS view;
Self-Leveling and Acro modes.
The Bad
Graphics could be more detailed;
No drone model selection.
The ugly
Not for motion sickness people.
Bottom line
FPV simulators are the most affordable way to familiarize with first person view flights. They become very realistic, you can play them even in multi-player mode. But, if you have motion sickness like me, you are fu**ed up (sorry for the expression). They are just like 3D games, they make me dizzy after few minutes of playing.
FPV Freerider Recharged has now been updated. Here are the changes:
Level editor (create your own scenarios and tracks);
Completely new Self-Leveling mode (Angle mode – set maximum tilt angle);
Rates showing as degrees per second on the custom settings screen;
Adjusted the Preset rate values;
Yaw now also has expo;
Four expo curves in total (Expo1, 2, 3 and Linear);
Square gimbals on the touchscreen controls (meaning full stick throw in all directions);
Changes to the flight sound;
Optimized the Factory level a bit;
Hotkeys for flightmode: U,I,O (Self-Leveling/Acro/3D);
Ground effect simulation.
Popular alternatives for the FPV FreeRider drone simulator
| | | | | | |
| --- | --- | --- | --- | --- | --- |
| Drone Sim | Custom Physics | Scene editor | Multi-Player mode | OS | Price |
| RotorRush | Yes | No | Yes | Windows/MacOS | £4.00/month |
| VelociDrone | Yes | Yes | Yes | Windows/MacOS/Linux | $US25 |
| Liftoff | No | Yes | Yes | Windows/MacOS/Linux | $US20 |
| DRL Racing | No | No | Yes | Windows/MacOS/Linux | $US20 |
| FPV Air II | Yes | No | Yes | Windows | $5 |
last update on 11/28/2018