I have heard for the first time about the Litchi APP 6 months ago, when I reviewed the Phantom 3 Advanced quadcopter. At that time I wanted to learn how to pilot the quad through the DJI GO APP because I was reticent with third-party applications. Later I read that APPs like Litchi enable some pretty cool features that are not available on the manufacturer tool. So I started to search for the best APP for my DJI Phantom quad. I found out that FlyLitchi is one of the most complex and popular ones.
Along with the Phantom 4, DJI introduced object tracking feature. Although many were charmed by this new technology, IMO it is only a software trick. Object tracking does not require additional hardware or sensor, it is just an enhancement of the drone APP. Thanks to Litchi, in a short time object tracking, became available for the Phantom 3 series too.
In my opinion, a powerful APP is a thing that can make the difference between a generic quadcopter and a truly smart drone. For example, my XK X380 is as good as any Phantom 3 quad in terms of flight parameters, but without Litchi can't perform any trick like follow-me or panorama photography.
Litchi DJI APP review
Before I'm getting into details I should thank VC Technology which offered me redeem code in order to test and evaluate their Litchi APP. I also want to apologize for the delay of my review but I've been quite busy lately…
Litchi for DJI Phantom/Inspire can be downloaded from here for iOS and from here for Android devices. Unfortunately, Windows mobile devices are not supported yet.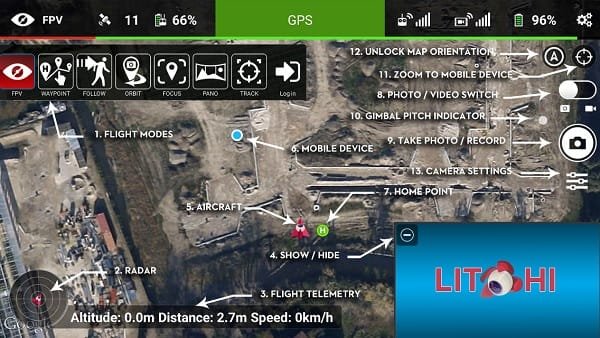 Downloading and installing the APP on my Samsung Galaxy 4 with Android 5.0.1 was smooth and fast, without any compatibility issue. While DJI GO occupies about 185MB on my smartphone's flash memory, Litchi occupies only 54.20 MB. I'm planning to install the APP on my Galaxy Tab 570 also but first I have to check if it is legal to use not-free APPs on multiple devices.
The actual version (3.7.0) of the APP supports the following DJI products:
DJI Phantom 4;
DJI Phantom 3 Professional;
DJI Phantom 3 Advanced
DJI Phantom 3 4K;
DJI Phantom 3 Standard;
DJI Inspire 1 series (including Pro and Raw);
DJI Matrice 100;
DJI Osmo handheld camera.
As you can see above, the Litchi APP is compatible with almost all DJI quadcopters. Probably they already started to develop a newer version that will support the DJI Mavic Pro drone.
Litchi APP review – First usage
When I connected my phone to the P3A's transmitter, the APP manager asked me which APP do I want to use (DJO GO or Litchi). At first look, the main screen of Litchi is very similar to the one DJI GO has.
Most of the important flight and system parameters are shown on the main screen. The top status line includes: number of found satellites, RC battery level, GPS status, radio signal strength, FPV signal quality and flight battery level.
On the bottom of the screen, you can find the flight altitude, aircraft's distance from you and flight speed.
The settings screen has 5 tabs (General, Camera, Aircraft, Speech, and Keys). Under the "General" tab you can switch between the Imperial or Metric system.
Under the "Keys" tab you can assign the C1/C2 buttons (the two customizable keys on the back of the transmitter) the desired function (like resetting gimbal or course lock). You can assign different functions for each flight mode.
Good news for those who forget little details, like me, under the "Camera" tab you can set "Auto record". This way you will never forget again to capture any of your flights.
The biggest difference and advantage of the FlyLitchi APP over the DJI GO APP is hidden under the top-left corner. A small icon engages a dropdown menu witch allows switching between 7 flight modes.
Litchi APP operating modes
Normal mode (aka FPV);
Waypoints mission;
Follow me mode;
Orbit mode (circle around a point of interest);
VR mode immerses (* not tested);
Focus mode (allows you to easily keep a subject in the video frame);
Panorama photo mode;
Object \ Person tracking.
By default, the APP starts in FPV mode, which is the actual working mode of the DJI GO APP too. This mode allows taking photos and videos.
FlyLitchi APP – Panorama mode
While probably most of the Phantom 3 users would be interested to test the "Tracking mode" I was more curious about the "Panorama mode". Lately thanks to quadcopter APPs like Litchi I sow many breathtaking aerial panoramas.
Setting-up panorama mode is very easy. You can choose between 3 automatic settings: "Horizontal" (one row at 0 degree), "Spherical 2 Rows" (2 rows at 0° and -45°) or "Spherical 3 Rows" (3 rows at 0°, -30° and -60°). Litchi also allows the freedom to manually set each row's angle from -90° up to +30°. BTW. All Spherical panoramas take also 2 additional photos at -90°.
In order to stitch the photos together and create your desired panorama, you can use one of the following software: Kolor Autopano, PTGui, Easypano, Image Composite Editor, Hugin or Adobe Photoshop. Luckily most of the tools are free to use.
Litchi APP – Follow me mode
When I reviewed the FlyPro XEagle Sport quadcopter, I was pretty impressed by the capability of the aircraft to follow me wherever I go. The angle of the gimbal is automatically adjusted according to the flight altitude and the relative distance towards me (Xwatch) in order to obtain the best field of view.
Unlike the "Tracking" mode, which follows an object or person by using computer vision algorithms, the "Follow" mode allows to track the movements of the mobile device by its GPS coordinates. You can opt to follow the device which is contacted to the RC or another device which runs the Litchi Magic Leash App. I recommend using this mode only in open areas.
Litchi APP – Waypoint mode
This flight mode is very useful, for example if you wish to fly autonomously on the edge of a lake.
You can add up to 99 waypoints and you can adjust the flight altitude and crossing speed individually for each waypoint. The total length and flight time of are recalculated every time you add a new waypoint. The maximum flight speed in this mode is 24 km/h (15m/s).
By placing Point of Interests (POI) on the map you can easily set up the orientation of the quadcopter in order to focus on the desired area.
You can plan your flight mission at your home and save it for future use.
Overall, the interface of the Litchi APP it is very user friendly. The app worked perfectly on my Android phone without any freeze or other issues.
If you find it difficult to use or set-up the Litchi APP you can consult the help section offered by VC Technology.
Price/value ratio

OS compatibility

Stability

Easy to use
Litchi DJI APP review - Verdict
In my opinion, the biggest advantage of the Litchi APP over the DJI GO is the multiple flight modes. Practically the Litchi APP is like a steroid for your DJI Quadcopter. For example you can enable "Track mode" on your Phantom 3 which is normally active only on Phantom 4.
The "Panorama mode" allows you to easily shoot 360° horizontal and spherical aerial panorama photos.
Unfortunately it is a paid app but at least you will not be disturbed by annoying ads.
Pros
Multiple flight modes;
Ease to use;
Compatible with almost any DJI product.
Cons
Windows mobiles are not supported;
It is not free.
Updates
Starting with April 24 of 2018, the Mavic Air drone is officially supported by Litchi (iOS – v2.2 and Android 4.6). Litchi APP adds new cool features to the little Mavic Air;
On November 20, 2020, the Litchi APP can be used officially with the little Mavic Mini drone;
Starting with December 30 of 2020, the Mavic Air 2 drone is also supported by Litchi (iOS – v2.2 and Android 4.6). Litchi APP adds new cool features to the second-generation Mavic Air 2.