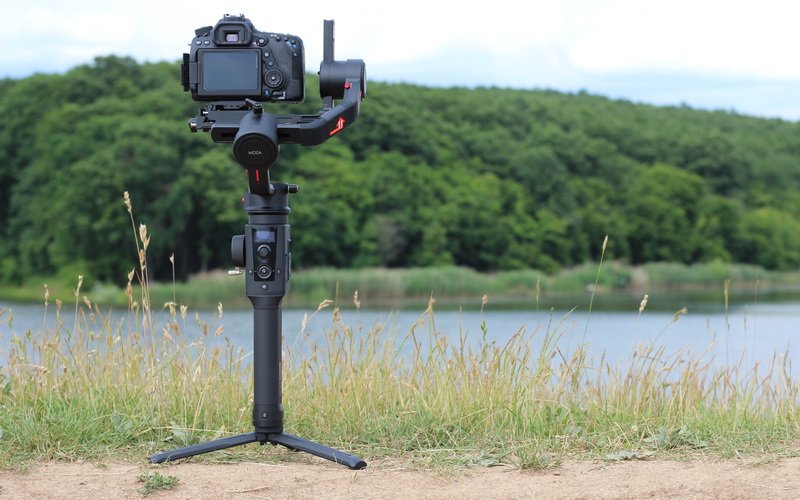 A few weeks ago, Gudsen officially revealed the Moza Air 2S gimbal as the newest addition to their heavy-duty Air series. Our review covers initial impressions, marketed features, honest user experience, and lots of test footage.
Moza has become a major force in the camera stabilization market, developing new technology making their products easier to use. The first-generation of Moza Air was released in 2017, followed by the Air 2 with optimized high-torque motors in 2019 and,  recently, by the Air 2S with an upgraded power system and lots more mounting options. This year, Moza also released another cool gear for content creators, a motorized monopod. Paired with the Aircross 2 gimbal, the Slypod Pro allows 4-axis motion control for endless creative possibilities.
Hands-on review of Moza Air 2S gimbal
Disclosure: I received this stabilizer as part of a product review collaboration with Gudsen Technology. Product specs and quality may vary according to the manufacturer's reliability, so I cannot guarantee that you will get a unit that performs exactly the same as seen in my review.
Initially, I connected Moza to review their new MOIN 4K Pocket Gimbal, but instead, they offered its bigger brother. As I like to use new gears that allow me to make my reviews more interesting, I happily accepted their proposal. Over the last few years, I played with all kinds of gimbals but none was powerful to handle a DSRL camera with a fast lens. Action cameras and smartphones evolved a lot in terms of image quality but when it comes to serious jobs, you will need a big toy.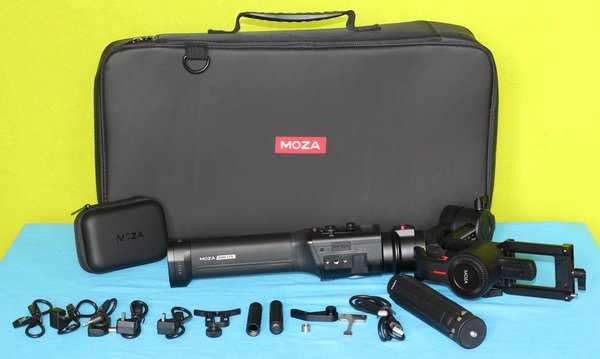 What's In The Box? (Gimbal Only vs Pro-Kit)
The Air 2S gimbal is available on its own for $499 or in a "Pro Kit" with included iFocus M follow focus motor for $599. Both versions come with the following accessories in the box:
Quick-release plate;
Mini tripod;
Support rod adapter and 2x follow focus pipes;
Lens support + mounting screw;
USB Type-C cable and Camera control cables (5 types);
M3 screws, L-Allen wrench, and disassembly spanner;
3/8″ to 1/4″ adapter;
Storage bag.
Inside the violin case style bag, there are two velcro straps that secure the Air 2S and 3 pockets (mini tripod, quick-release plate, and accessory bag). The case has a handler and two metal rings for a shoulder strap which curiously is not included in the package.
At a glance
My first impression, removing it out of the case, was that Moza Air 2S is an absolutely beautiful and well-built gimbal. In order to be durable, it is mostly made of lightweight metal. Its new three-axis lock design ensures more secure transportation and storage. Roughly measures 48*20*19cm and weighs almost 2KG without any additional accessories. Yes, it is more like a two-handed gimbal than a selfie stick. Looking at the image below, you can see that compared to my FIMI Palm gimbal it looks like a true beast.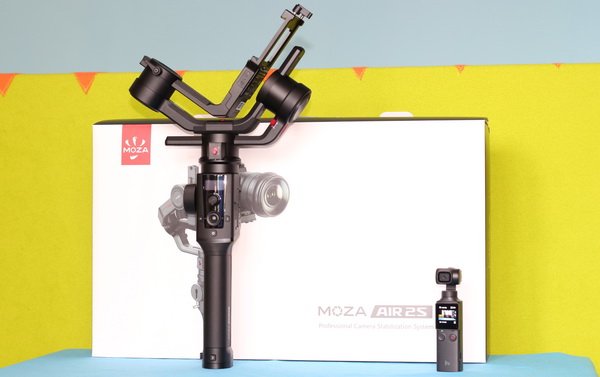 It comes with lots more mounting options compared to its predecessor, the Air 2 (non S). There are two tripod mounts (1/4″ and 3/8″) at the bottom of the gimbal and another 3 threaded extension ports on the right, under the cold-shoe mount. On the back, right above the Smart trigger, there is a metal ARRI Rosette mount for heavy accessories. The smart micro handwheel is located on the left of the grip.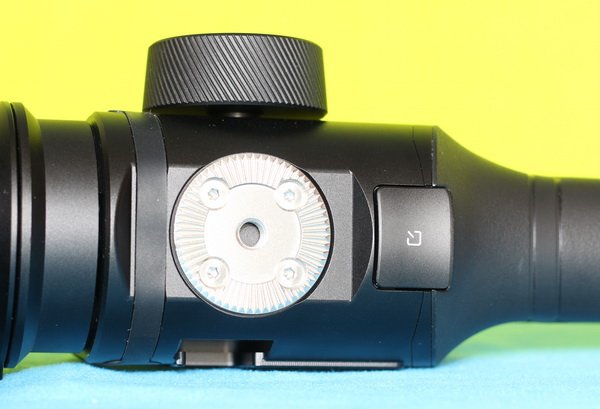 Besides the Type-C charging port at the bottom, it has two more USB ports. The mini USB port on the base plate allows controlling the camera. Through the second Type-C port you can perform a firmware upgrade from your computer. Moza includes 5 camera cables with the Air 2S gimbal: Universal 3.5mm Shutter Release Cable and four commonly used camera data cables (Canon, Sony, Nikon, and Panasonic). Some cameras can also be powered through the cable from the gimbal's battery.
Moza Air 2S: Display and controls
In addition to the status screen, on the front panel, there are 3 buttons (M – Toggle Wheel modes, S – Work modes, P – Power\Camera button), a tiny 4D joystick, and a 4D dial-knob with the Menu button in the center. There is an additional button at the bottom of the handle that turns on/off the built-in 4S 3200mAh LIPO battery bank (by short pressing, you can check the charging level – there are 5 indicator LEDs). The 1″ OLED screen is very bright and all the menus are clearly visible. A detailed description about what exactly does each button you can find in the online user guide.
Moza Air 2S: Quick-release system
Moza's quick-release system is compatible with Manfrotto's quick-release sliding plates (used on video tripods) allowing you to go from tripod to hand-held and then to gimbal in seconds. In case your camera has a mounting cage, for more secure installation you can use both tripod screws of the plate.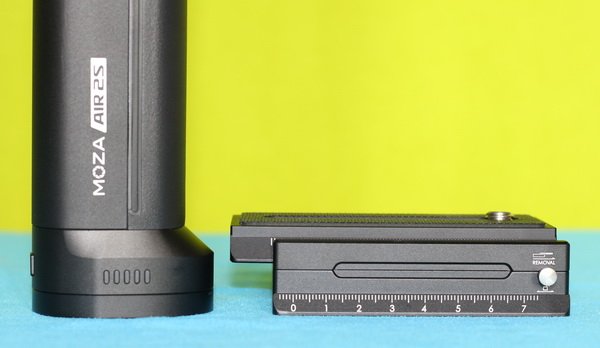 When mounting the camera, make sure the lens slightly extends beyond the quick release plate in order to reserve an extra room for lens support and rod adaptor.
Moza Air 2S: One-step balancing
First of all, you should perform balancing with the camera exactly as you will use it. Unfold the screen and attach the lens that will be used. Also, if you plan to install additional accessories such as a microphone or a phone on top of the camera do it prior to calibration.
Balancing a camera on a gimbal can be a quite tricky and time-consuming process but not in the case of the Air 2S. After watching few YouTube videos I managed to calibrate it in just 5 minutes. The new three-axis lock design allows easy access to custom balancing configurations. This feature does not just make the initial setup so much easier to manage but also assures that the kit won't move while it's sitting down between shots. Note: Always turn the gimbal off before engaging the locks!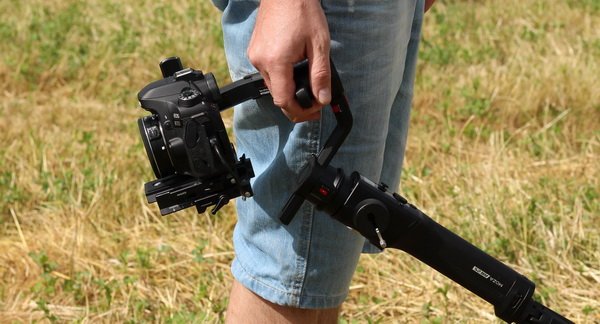 After hardware balancing, you can run auto-motor calibration (fine-tune). This tests each axis and sets the appropriate power.
Each axis has its own scale that guides you during balancing. In case you are using different sizes/weights of cameras you should make some marks on the scale for a quicker re-balancing.
Moza Air 2S gimbal: Battery life
Despite the heavy payload, Moza claims the new Air 2S to feature up to 20 hours of battery life and can be fully charged in just 2 hours. Since I received it, I played with the gimbal for about 2 hours every day, and only after one week I had to charge it again. The Spark Power Supply System 3.0 allows a whole day of shooting with ease. Rember that battery life can be drained much faster if is wrongly balanced.
Initially, I considered the built-in battery an issue, but quickly I changed my mind after my flash literally melted because I loaded the batteries with the wrong polarity by mistake.
Gudsen Moza Air 2S gimbal highlights
High-performance gimbal for filmmakers and videographers;
500-4200 grams payload range (

camera compatibility

);
High capacity (4S 3200mA) battery with up to 20hours of working time and 30W fast charging;
Smart Micro HandWheel (Precise & Complete Control at Your Fingertips);
Three-axis lock and one-step balancing;
Continuous 360° PAN rotation (Inception mode aka Barrel roll);
Bluetooth remote control via phone APP;
Mimic Motion Control (gimbal follows phone's movement on each axis);
Object tracking (Follow mode);
Wide range of available accessories (Camera Riser, Hot shoe extension bracket, Follow Focus, and many more).
Shooting Modes & extra functionalities
In addition to the FPV, Inception, and Sports gear modes, the Moza AIR 2S features the following creative video modes:
Motion time-lapse;
Variable-speed time-lapse;
Fixed point time-lapse;
Track recording;
Object Tracking.
For photographers, it would be handy to include some custom Panorama modes such as vertical and horizontal, respectively 180° and 360°, with auto photo taking.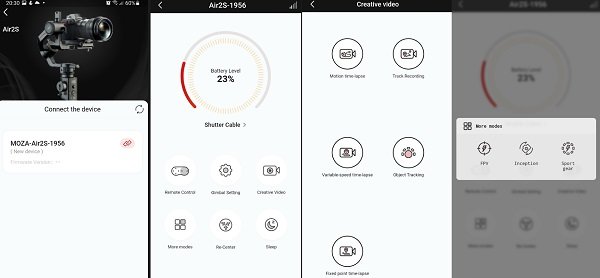 Moza Master APP
The Moza Master APP is available for mobile devices and personal computers (Windows and Mac OS) and it is compatible with most of their products (Air2S, AirCross2, Slypod series, and Mini-P). With a review score of just 2.7 on Goggle Play, is clearly not the perfectly developed mobile APP. For me, the biggest bug was that the APP crashes (exits instantly) when I draw a rectangle around the subject in Object tracking mode.
From the main interface, you have access to Remote control, Gimbal settings, Creative video modes, Camera settings (where applicable), Instant Re-Center, and Enter/Exit Sleep mode. If your camera is fully compatible with the Moza Air 2S gimbal, you can start/stop recording and take photos remotely right from the MM APP.
You can control the gimbal movements eighter using two virtual sticks or tilting your phone. When I tested Mimic control for the first time, I had the feeling that I'm in an action movie, operating a remote-controlled machine gun :)
User experience
First of all, this thing is damn heavy for both operating and carrying around. For sure it is not the tool that you want to bring in the park filming your kid playing football. This gimbal is made for professionals who are used to hold 3-6Kg with an outstretched hand.
As I previously mentioned, initial setup and balancing were easy, controls on the grip are easily accessible and intuitive. The Inception and APP-enabled creative video modes are really cool.
For now, I test it with two DSLR cameras and multiple lens options. With a Canon 80D and a 24mm/F2.8 lens weighted in total 2650 grams. This setup was comfortable even for a hobbyist like me. Instead, if you are a professional cine-maker with serious gears like the Canon EOS C100 camera, the total weight with a Sigma 35mm T1. 5 FF lens, external mic, and live-view monitor should be around 5kg.
In terms of build quality-wise, the only problem I found was around the rubber USB covers – one ripped from its attachment during normal usage. Also, the tripod's anti-slip pads are using some weak glue and they peel off easily.
Next week, I expect to receive my new 4K DSLR camera, a Canon 90D, and I will come back with more impressions.
Editor's ratings
Price/performance ratio

Design and build quality

Video Stabilization

Battery life

Camera compatibility

Extra features

Weight/Paylod ratio
Summary
Moza AIR 2S gimbal is a superb buy for shooting smooth video footage with a DSLR, mirrorless, or cinema camera. With a max payload of 4200 grams, it can accommodate large full-frame cameras with the most commonly used cinema lenses.
With lots of mounting options, you can install a wide range of accessories. Battery life is outstanding. You can have a whole day worry-free shooting session.
Finally, for hobbyists like me with lighter DSLR cameras, I think its smaller brother the MOZA AirCross 2 would be fit better.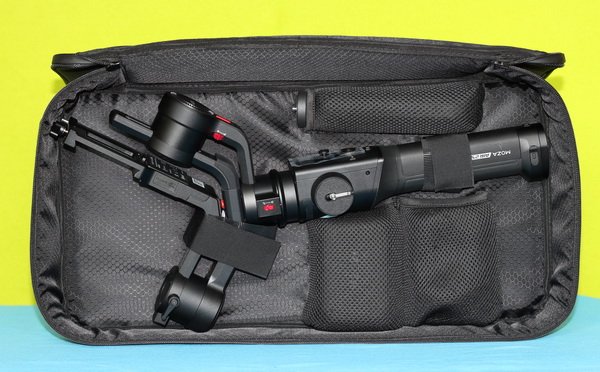 Pros
Fully featured camera gimbal;
Mimic Motion Control and Object tracking;
Compatible with a wide range of cameras (Canon, Nikon, Sony, Panasonic, Z CAM, and BMD);
Excellent payload (up to 4200 grams);
Plenty of mounting options;
Probably the best working time in its segment.
Cons
Not the best weight/payload ratio;
Object tracking worked only on iPhone (It failed on both of my Android phones).
Built-in battery can't be changed.
Moza Air 2S alternatives
It would be unfair to say that the Moza Air 2S is an unmatched gimbal, it has some serious competitors from DJI, Zhiyun-Tech, Manfrotto, and Feiyu Tech. From all, the Air 2S has the most attractive price and best battery life. With a live-view screen and integrated object tracking system, the Ronin RS2 seems to be the ultimate cinema gimbal but with the highest price too. By comparison, the Gudsen gimbal costs 499 and the DJI $849.
Moza Air 2S
DJI RS2
Zhiyun-Tech Crane-2
Manfrotto Gimbal 460
Max Payload
4.2Kg
4.5Kg
3.2Kg

4.54Kg

Rotation Range
Yaw (Pan): 360°
Pitch (Tilt): -95 to 180°
Roll: -100 to 240°
Yaw (Pan): 360°
Pitch (Tilt): -112 to 214°
Roll: -95 to 240°
Yaw (Pan): 360°
Pitch (Tilt): 320° (-135 to 185°)
Roll: 360°
Yaw (Pan): 360°
Pitch (Tilt): 330°
Roll: 330° (-255 to 75°)
Battery life

20h

12h
18h
12h
Live-view LCD
No

Yes

No
No
Gimbal weight
1.90 kg
1.17 kg
1.25 kg
1.66 kg
Price

$499

$849
$549
$529
Review videos