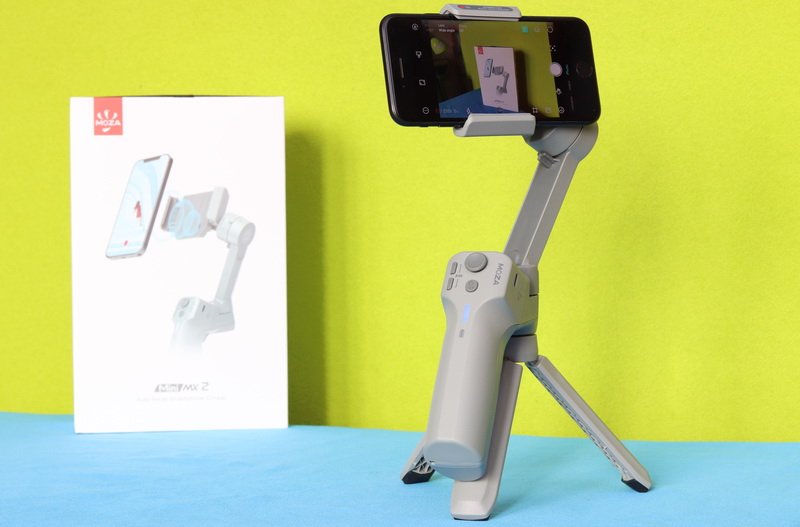 Over the last few years, Gudsen MOZA has steadily improved its smartphone gimbals. The second-generation Mini MX2 continues the trend. It is the first stabilizer with a smart auto-sense phone holder and instant portrait/landscape transition.
In a short time, Gudsen Technology became one of the most active and devoted players in the image stabilization industry. They provide gimbals for a wide range of cameras: Cinema, DSLR, Mirrorless, and not lastly Smartphones. The Moza Mini MX2 is their sixth gimbal designed for vloggers and mobile content creators.
If you've ever tried recording video with your smartphone, you know that footage can be shaky, which makes them look unprofessional, unpolished, and even difficult to watch. In addition to gimbal stabilization, the MOZA Mini MX2 makes it easy to pan and zoom, track subjects, and create cool time-lapse or slow-motion videos. With a maximum payload of 280g/9.9oz, it can accommodate large phones like the iPhone 13 Pro Max (240g) or a Samsung Galaxy S21 Ultra (229g), for example.
MOZA Mini MX2 gimbal review
Disclosure: I received this phone stabilizer as part of a product review collaboration with Gudsen Technology. Product specs and quality may vary according to the manufacturer's reliability, so I cannot guarantee that you will get a unit that performs exactly the same as seen in my review.
I received the Mini MX2 gimbal on day #7 of my COVID quarantine. As I was locked down I haven't got the ideal conditions for testing such gears. In addition to the gimbal, the box included the following accessories: mini tripod, USB Type-C charging cable, wrist strap, spare joystick cover, and storage pouch. The packaging is not super fancy but protects well the content which is more important than pleasing the eye. Moza doesn't include a charging adapter in the packaging, but you can use any phone charger with a USB port.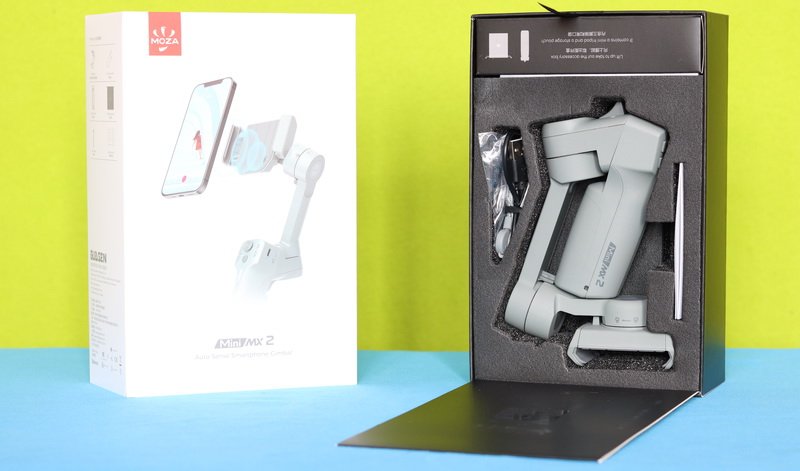 At a glance
The MX2 is very compact folded down. Measuring just 145x60x180mm and 425 grams can easily slide into your daily backpack. In terms of design, the MX2 is very similar to its predecessor, the original MX released in June 2020. Actually, the only visible difference is the new smart sensor phone clamp, which has a built-in motor and infrared sensing technology. The phone holder is rubber-padded for a good grip.
All the controls are found on the handgrip. While the tiny 4D joystick allows controlling the pan/tilt/roll motors, the plus/minus buttons change working modes or zooms in/out. The multi-purpose On/Off power button doubles up as a photo/video trigger button. By pressing three times, it will toggle between landscape and portrait orientation. On the front panel, there is also a battery level indicator LED bar. By the index finger is the usual trigger that resets the gimbal's position when is needed or toggles between the front/rear camera.
There is a 1/4-20″ mounting thread under the PAN motor that allows you to mount the gimbal on a tripod/selfie stick if you want. The included mini-tripod doubles as a secondary handle for even more comfortable usage. It has tiny plastic lockers on all-axis that keep everything nicely in one place when it is folded up.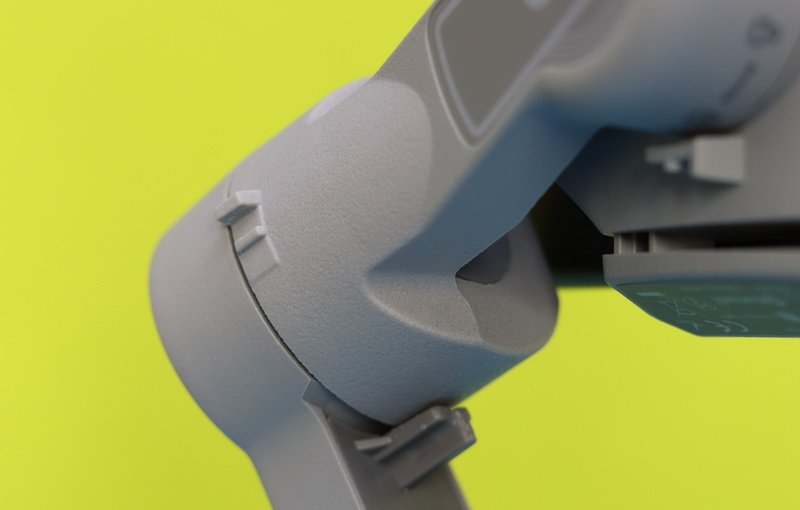 Similar to its older brother, the Moza MX SE gimbal also features a built-in 2000mAh battery with an extraordinary battery life of up to 24 hours. You can charge the Mini MX2 in 2.5 hours via the USB Type-C port on the side next to the tiny hidden reset button.
Price and availability
The Moza Mini MX 2 was officially released on September 28. Since then it can be ordered from the manufacturer's online store for $109.00. By subscribing to their newsletter you can get a 10$ off discount code.
MOZA Mini MX2: Basic working modes
Portrait or Landscape orientation – Triple press the power button to toggle between portrait and landscape orientation;
Pan Follow Mode (PF) – By default, the MX2 starts in this mode the phone pans left/right following the movement of the stabilizer;
Pan-Tilt Follow Mode – Activate this mode by pressing the '+' button once. The phone follows left/right and up/down motion while maintaining level with the horizon;
FPV mode – Push Zoom '-' button to enter into FPV mode that offers a more immersive perspective;
Inception Mode – Use Zoom +/- buttons in FPV mode. With a dynamic rotating lens effect, creates an aesthetic feel of changing space and atmosphere;
Sport Gear Mode – Double click and hold the smart trigger to speed up motor response times.
Mini MX2 Gimbal: Extra features with MOZA Genie App
Besides configuration and firmware upgrade, the MOZA Genie App allows to access the following advanced shooting modes:
Smart Gesture Control
Face tracking
Subject tracking
Magic Mode
Trajectory delay
Slow Motion
Motion Timelapse
User experience
Initially, I thought that the motorized phone clamp is a great invention, but I found out it is more interesting than truly useful. Actually, if you need quickly to remove the phone, it can be annoying.
Before the first usage, I had to activate the gimbal and perform a firmware upgrade. The process failed two times due to the slow Bluetooth data transfer.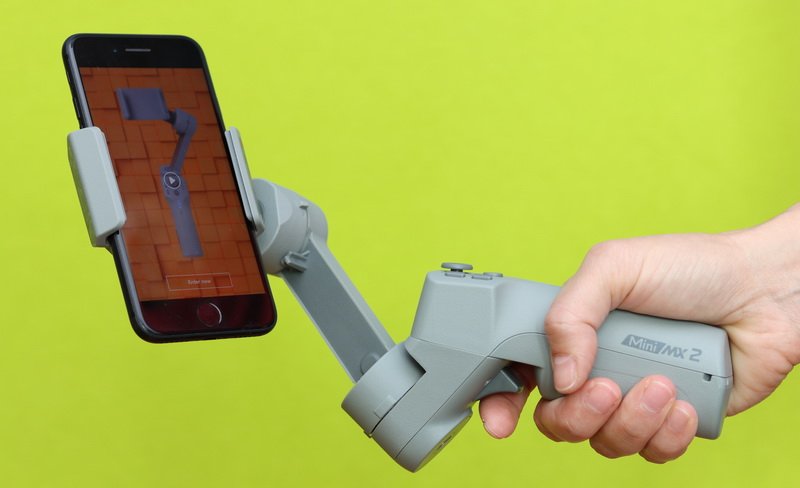 The MOZA Genie App provides some great extra functionalities, but in the case of my Android phone, the frame was limited at 30fps on all resolutions (720p, 1080p, and 4K). I like the Magic mode templates, it allows to capture cool short clips.
Face and object tracking is nice but sometimes fails, especially in low-light conditions. I don't know what kind of 'face pattern' it uses, but my 24″ LCD was selected a few times.
For now, I test it only in-house, but as soon as my quarantine time ends I will go out and capture some sample footage using the MOZA MiniMX2 gimbal.
Design and build quality

Video Stabilization

Battery life

Easy to use
Summary
The MOZA Mini MX2 is designed to make filming with a gimbal easy, with no counterweight or calibration needed. Just put your phone into the holder and the rest is made by the innovative auto-sensing technology. It's a stunning smartphone stabilizer with one of the best battery life on the market.
Key takeaways:
Impressive 3-axis stabilization;
Unique Smart Auto-Sense phone holder;
Spiral folding design;
Instant portrait and landscape transportation;
Tilted ergonomic handle for low-angles videos;
Whole day-long battery life (24h);
Up to 280 grams payload (60 ~ 88mm phones);
Incredible Moza Genie APP.
Pros
Compact size with spiral folding design;
Fits large phones;
Included mini-tripod and tilted handler for low-angle shoots;
Lots of creative video modes;
Superb battery life;
Bluetooth phone control.
Cons
I can select only 30fps with Android phone;
No 360° rotation.
MOZA Mini MX2 alternatives
MOZA Mini MX2 is a direct competitor of the recently released Osmo Mobile 5. While the DJI OM5 uses a magnetic clamp and a built-in extension rod, the MINI MX2 has an intelligent phone holder that automatically closes and balances. DJI's latest phone gimbal has 4 times shorter battery life than Moza's gimbal (6h vs 24h). Unfortunately, the better battery life increases the weight of the gimbal – the MX2 is 133 grams heavier than the OM5.
Best video reviews