Vifly makes many useful FPV accessories, and self-powered buzzers are between ones you should keep permanently installed on your drone for safety. In this review, we will have a closer look at the ViFly wireless drone Beacon and ViFly FPV quadcopter Finder V2. Despite the fact that they look almost identical, they have different applications and functionalities.
Passive buzzers cost only a few cents, but they are connected directly to the flight controller, and if the drone's battery is disconnected during the crash or has run out, they stop working. Instead, self-powered buzzers like the ViFly Finder V2 and ViFly Beacon can emit load sound for up to 30 hours, giving you time to find the crashed drone. They also have a bright LED onboard, making the search process easy after sunset.
When I perform range tests, I always have my heart in my mouth. Last time, when the Autel Lite+ was 7600 meters (4.72 miles) far from me, I suddenly lost the connection with the drone for more than five minutes. I was afraid that it might've been hit by a bird or something else very had happened, and it crashed. Based on its last known GPS position in the air, finding a drone crashed over a forest or high bushes is a big challenge or almost impossible without an audio alarm.
VIFLY Beacon and Finder V2 hands-on review
Disclosure: I received these two drone buzzers as part of a product review collaboration with VIFLY. Product specs and quality may vary according to the manufacturer's reliability, so I cannot guarantee that you will get a product that performs exactly the same as seen in my article.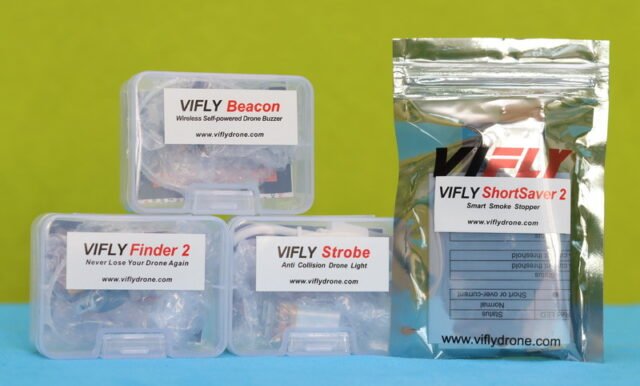 Last month I was contacted by ViFly regarding the possibility of reviewing some of their latest drone gadgets. I opted for four of them. The VIFLY Beacon and Finder V2 are packed in the same transparent plastic box with included user manual, mounting accessories, and thank you card.
1. VIFLY Beacon: Wireless universal drone buzzer
Most of my long-range FPV drones are already equipped with a drone finder solution, but things become complicated with DJI-like drones. You will lose your warranty if you open the drone to solder a buzzer inside. Adopting a "wireless" design, the VIFLY Beacon can be attached to any drone without making any modifications. While standard buzzers are triggered by a signal from the flight controller or the absence of input voltage, the ViFLY Beacon uses a motion sensor to detect the movement of the drone. The alarm can be triggered in three ways:
Crash
Steady for more than 5 minutes
Flight time is over 40 minutes
The VIFLY Beacon also doubles in functionality as a drone strobe light. When the built-in light sensor detects the absence of natural light (darkness), the onboard LED starts flashing.
Measuring 25x14x15 mm and weighing just 6 grams, it is easy to attach to any drone. The box comes with some double adhesive tapes for this. The module has an 80mAh that provides up to 30 hours of working autonomy. The tiny LIPO can be recharged through the onboard micro-USB port. The board has two LEDs (status and search) and a control button that allows to activate\deactivate and configure the motion sensor's sensitivity.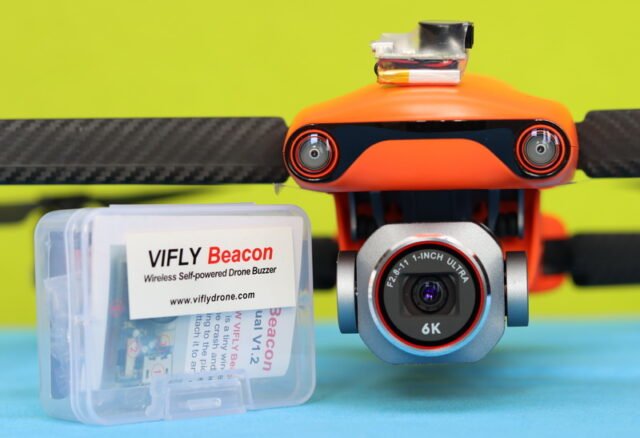 Key features
[Wide range of drone compatibility] The VIFLY Beacon can be used with almost any drone, regardless of type, brand, or size. It can be used with DJI, Autel, Skydio, Yuneec, FIMI, Hubsan, and FPV drones.
[Lost Drone Alarm by Motion Sensor] With the built-in motion sensor and LIPO battery, VIFLY Beacon can detect the drone crash automatically and make the alarm to help you locate the lost drone.
[Wireless, No Soldering Required] The mechanism of VIFLY Beacon is based on the motion sensor, attaching it anywhere on the drone to detect the movement, no wire, no soldering.
[Loud Sound & Bright LED] For an easy find of the lost drone at a long distance, VIFLY Beacon is installed with a very loud beeper that the dB is over 100. In addition, the LED on VIFLY Beacon can flash automatically when the built-in light sensor detects the light darkness.
Technical parameters
| | |
| --- | --- |
| Size (L x W x H) | 25x14x15 mm |
| Weight | 6 grams |
| 6 grams | Up to 105 dB |
| Working Time | Up to 30 hours |
| Charge Time | 1.5 hours |
| Battery | 80mAh LiPo |
| Input Voltage | 4.5 – 5.5 V |
| Charging port | Micro USB |
2. VIFLY Finder V2: Self powered FPV drone buzzer
The VIFLY Finder V2 is compatible with the most popular flight controllers (F4 and F7) and can be easily connected to the FC's buzzer output. In terms of design looks almost identical to the ViFLY Beacon. The only visible difference is that it has a JST PH 3-Pin connector instead of the micro USB port.
Unlike cheaper buzzers that can be deactivated only by pressing a button, the VIFLY Finder V2 can be disarmed by pressing the button or reconnecting the main battery for a few seconds. This feature is great because it allows installing the buzzer inside the drone.
The drone Finder V2 measures 22x13x16 mm and weighs 5 grams. Its 80mAh onboard battery claims to last up to 30 hours. By comparison, its smaller brother, the Finder Mini, has a 40mAh battery with a working time of 7 hours.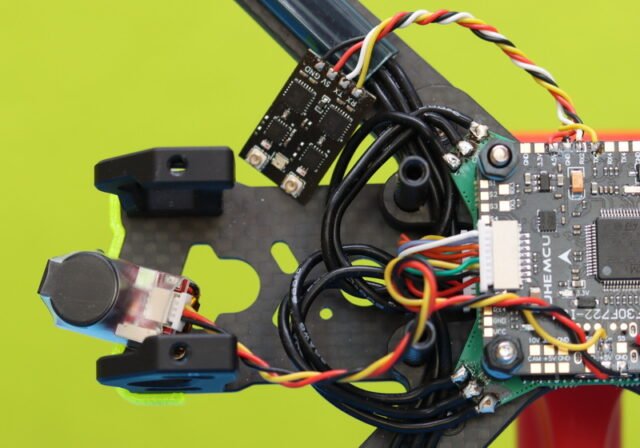 Wiring diagram
| | |
| --- | --- |
| Buzzer | Flight controller |
| GND | GND |
| 5V | Buzzer+ |
| BZ | Buzzer- |
If everything is configured and wired correctly, an alarm can be triggered when a failsafe has occurred (manually from the transmitter switch or on RC signal loss) or when the drone's battery is fully discharged/ disconnected/ ejected from the drone.
Key features
[Advanced ViSense Technology] With ViSense-based technology, the VIFLY Finder 2 can power itself to beep even if the quad battery has been ejected. The built-in light sensor can detect light intensity and smartly control the LED light to flash.
[Much Louder than Standard Buzzer] For an easy find of the lost drone at a long distance, the VIFLY Finder 2 buzzer is designed to install a very loud beeper (up to 110 dB).
[Two Options to Disarm the Buzzer] Option 1, Disarm with button: Disconnect the main battery, hold disarm button on VIFLY Finder 2 for 1-5 seconds, then release. Option 2, Disarm with the main battery: Disconnect and reconnect the main battery for 3-6 seconds and disconnect it again. It will beep 3 times when disarmed successfully.
[Compatible with Both FPV quadcopter and RC Airplane] VIFLY finder 2 is programmed to be compatible with any flight controllers to support FPV quad and receivers for RC airplanes. No extra setting is required. It will automatically recognize the device to connect.
Technical parameters
| | |
| --- | --- |
| Size (L x W x H) | 22x13x16 mm |
| Weight | 5 grams |
| 6 grams | Up to 110 dB |
| Working Time | Up to 30 hours |
| Charge Time | N/A |
| Battery | 80mAh LiPo |
| Input Voltage | 5V |
Pricing and availability
For sure, these Vifly anti-lost drone buzzers are not the cheapest option on the market. Basic self-powered buzzers are available with starting price of $4. The Vifly Finder V2 can be ordered for $13.49 (in a pack of three, you can save $5), and the VIFLY Beacon for $14.39 (in a pack of three, you can save $4). ViFly drone accessories can be ordered directly from the manufacturer, Aliexpress, eBay, and many popular RC retailers.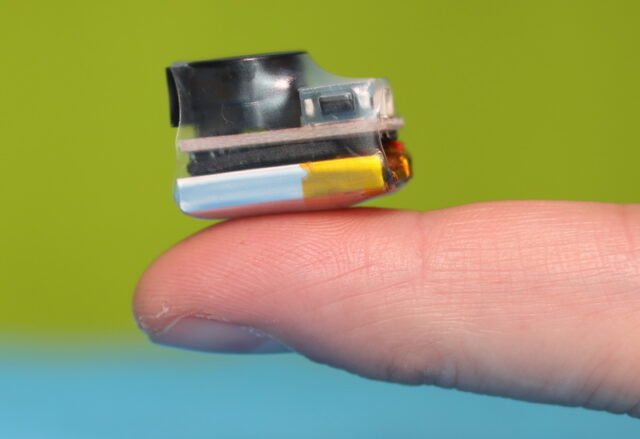 VIFLY Beacon vs. ViFly Finder V2: Which one is right for you?
The VIFLY Beacon, due to its wireless installation, is ideal for DJI, Autel, FIMI, and other branded consumer drones. In case of a crash, the drone's exact location will be indicated with visual and audio signals. The only disadvantage of this device is that you need to charge it from time to time via USB.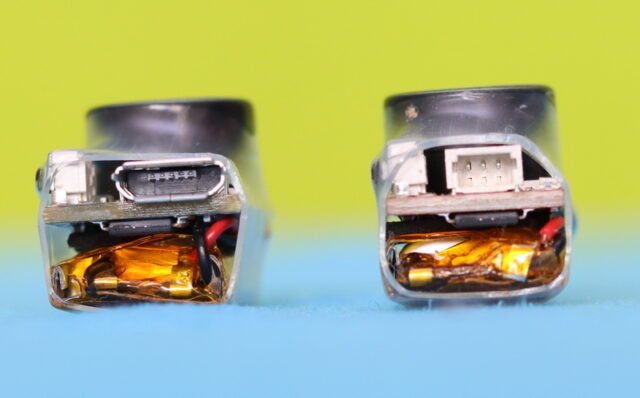 On the other hand, if you are looking for a buzzer solution for one of your FPV drones, the ViFly Finder V2 is a great choice. It works like any passive buzzer for flight controller feedback and also as an intelligent drone finder. It is conveniently charged from the drone's main battery.