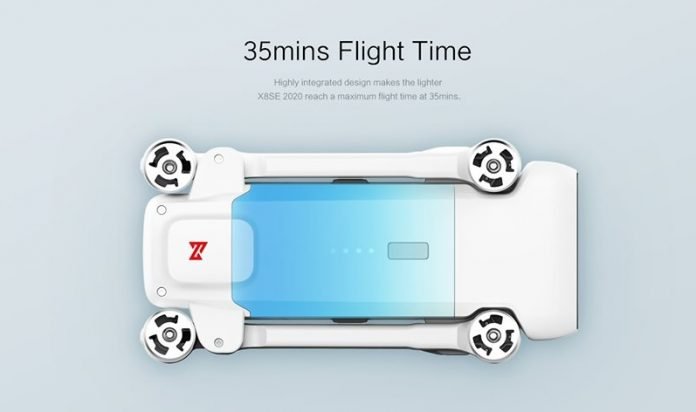 Wee Tsai, social media representative of Xiaomi, just rumoured few photos of the upcoming FIMI X8SE 2020. The pictures show pretty nice upgrades, most of them we hoped for!
Back to 2019, the FIMI X8SE was one of the best Mavic Pro alternative, but now it has become quite outdated in most aspects. FiMI promises that the new 2020 edition will have longer flight time, extended range and better image quality. Furthermore, the FIMI X8SE 2020 will feature improved optical flow positioning with up to 30 meters range.
Sponosored AD
Update: Discount coupon code!!
Just received by email from BG two discount codes for the X8SE 2020. The "BGFIMICN2020" is suitable for Chinese warehouse, and the "BGFIMIX8SE20" for ES/US/RU/AU warehouses. You have option to purchase it with or without "FIMI Premium care" services. Update first 1000 pieces are offered for only $299!!!! Note: Expected processing time on April 29, 2020.
FIMI X8 SE 2020 vs 2019 edition: What are the differences?
New 2020 edition
Old 2018 version
Size
Folded: 204 x 106 x 73 mm
Unfolded: 287 x 247 x 96 mm
Folded: 204 x 106 x 73 mm
Unfolded: 287 x 247 x 96 mm
Weight
765 grams
790 grams
Camera
4K (3840×2160@30 fps)
4K (3840×2160@30fps)
Sensor size
1/2.6″ CMOS
1/2.3″ CMOS
Max bit rate
100Mbps
100Mbps
Gimbal
3-axis
3-axis
FPV
TMDA HD
720P/1080P
Video codec
H.265
H.264
Optical flow sensor
30 meters
Standard
Range
8KM
5Km
Active tracking
Yes
Yes
Obstacle avoidance
No
No
Satellite positioning
GPS+GLONASS+BEIDUO
GPS+GLONASS
Geo fence
?
No
Max flight speed
18 m/s
18 m/s
Wind resistance
≤50 kph
≤50 kph
Remote controller
Standard, NO Screen
Standard, NO Screen
Battery
3s/4500 mAh
3s/4500 mAh
Flight time
35 minutes
33 minutes
FAA registration
Yes
Yes
Regular price
$459 Order from Banggood
$399
FIMI X8 SE 2020 details