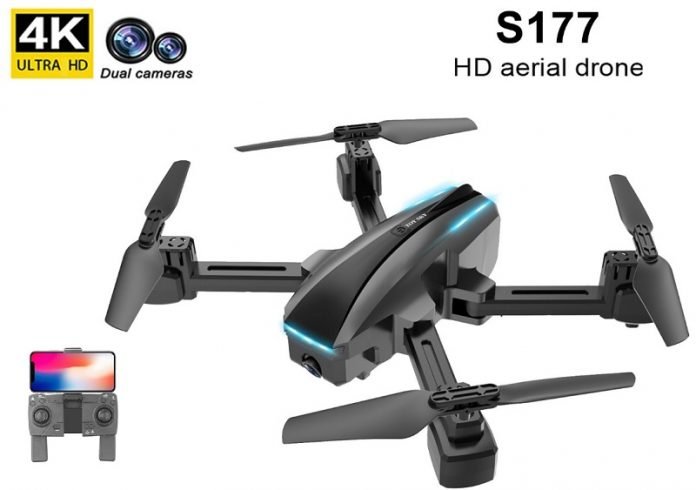 The CSJ S177 was announced in 3 versions (in the picture below you can find detailed specifications), two with GPS positioning, and one with optical flow positioning. All variants come with a 4K main camera and a secondary 720P bottom camera. According to your phone's WIFI standard, you can opt between 2.4G and 5G real-time image transmission (FPV).
I know that kids want to enjoy their flights everywhere, so the new CSJ S177 has an easy folding function, making it easy to carry in any small backpack. With folded arms, it measures only 14*10*6.5cm. In case they want to fly indoors, it is still safe with the included blade protectors.
Its main camera recognizes gestures. It will recognize a palm or victory gesture as long as you are within 5 meters of its range so that it can start capturing photos and videos.
Being powered by a 1cell/1000mah battery, the CSJ S177 quadcopter has about 8~10 minutes of flight time.
CSJ S177 features and specs
Compact size with foldable arms (14*10*6.5cm\29*28*6.5cm);
Only 180 grams (NO FAA registration required at this moment);
4K camera + 720P camera;
Main camera tilt angle adjustment;
2.4 and 5G WIFI FPV variants;
Opical flow positioning;
Optional GPS positioning;
Removable blade protectors;
Arround 150 meters control distance;
About 8-10 minutes of flight time.