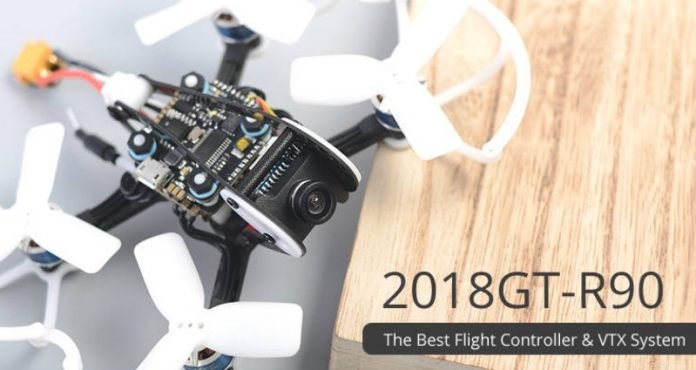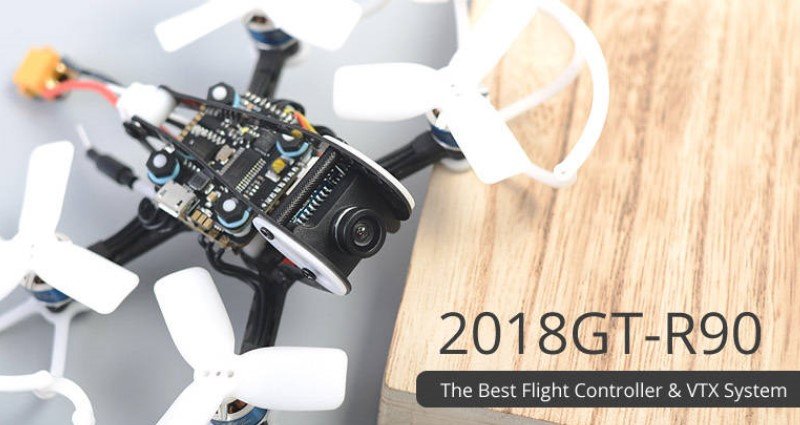 It's only October of 2017, but many drone brands started to announce their new models for 2018. Diatone's GT-R90 is a micro sized FPV drone equipped with powerful brushless motors and topnotch FPV system.
Instead of an all-in-one approach, Diatone opted for a tower design with 3 layers (flight controller, ESC and VTX).
Built around the versatile F4 flight controller, the Diatone 2018 GT-R90 drone can be configured with multiple flight modes. While "Angle" mode is super stabilized and suitable for newbies, "Air" mode aka free style mode is not stabilized at all and it is recommended only for professional pilots. Like in the real life, there is also a middle way, called Horizon mode.
In front of the drone is located the G1 Sniper 600TVL camera with 130 degree field of view and Sony CCD image sensor. In order to achieve good reception in almost any flight conditions, the FPV camera is paired with a high power 5.8G VTX. The BS Unify Pro video transmitter can be set with up to 800mW broadcast power. Note: Ham license is required for operation on Ham channels and Ham power levels.
Diatone 2018 GT-R90 features and specs
Solid carbon fiber frame;
Carbon fiber camera protection frame;
Removable blade protectors;
Tower design (FC, ESC and VTX);
Versatile F4 flight controller with OSD;
Edge racing 1104 6000KV brush-less motors;
F15HV 4S ESC Dshot 600 4-in-1 30A ESC;
2030 3-blade propellers;
G1 Sniper camera with Sony Super HAD2 CCD image sensors;
TBS Unify Pro 5.8G VTX with adjustable broadcast power.
In the rumored specs nothing is mentioned about the Diatone GT-R90's battery and radio receiver compatibility. Anyway, I hope it will be at least compatible with FrSky and FlySky transmitters.