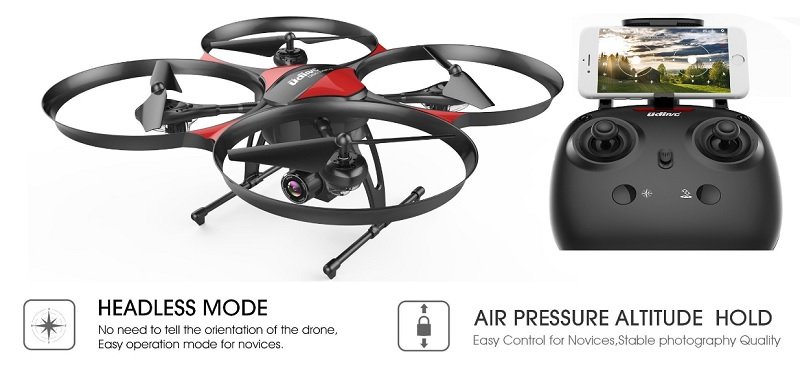 Till now I wrote many news about micro Tiny Whoop alternatives but the DROCON U818PLUS will be the first large drone with ducted propellers. The generous blade protectors have multiple advantages. Surely, the most important thing is the increased safety. Spinning propellers can produce serious damages if they bump into something.
Drocon advertises the U818A Plus with 15 minutes flight time. Frankly, even if it's powered by a high capacity (2s 1000mAh) battery, due to its large size, a 10 minutes flight autonomy sounds more plausible.
The "Plus" edition of the Udi U818 brings some new cool features (like altitude hold and one key) and doubled battery capacity.
DROCON U818PLUS main features and technical specs
Large fuselage with ducted propeller protectors;
Altitude hold (auto hover);
One button Take-off and Landing;
Headless flight model;
VR mode through phone APP;
Low battery and out of range alarm;
720P camera with 120 degree field of view;
WiFi real-time image transmission (FPV);
Up to 15 minutes of flight autonomy.
Through the "Flyingsee" APP you can display on your phone the 720P camera's live video feed. The app also allows to set custom flight plans. Of course, without GPS this is more an experimental feature than something truly useful.
Thanks to the built-in DVR, videos and photos can be stored directly on the drone's micro SD card.
Included with the DROCON Traveler U818 PLUS
Remote controller with phone holder;
7.4v, 1000 mAh flight battery (B074FXLSF8);
USB battery charger;
1 set of spare propellers;
4GB micro SD memory card;
USB card reader;
User manual.
Curious to test one? You can find it here with 20% discount for $159.99. Additionally you can opt for the DROCON UDI VR Glasses for extra 20 bucks.