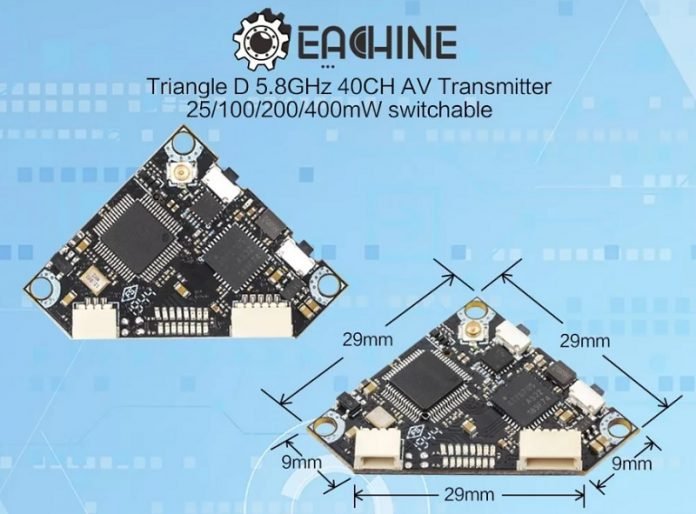 Eachine's TriangleD 5.8G video transmitter is specially designed for compact Tiny Whoop style FPV drones. As its name says, it has a unique triangle shape. Another interesting feature of the TriangleD VTX is the built-in DVR (video recorder).
The Eachine TriangleD measures 29 x 29 x 40mm and weighs just 3.5 gram without an antenna. Thanks to the standard IPX antenna plug, it can be used various types of 5.8G antennas.
It has two rows of 8 status LEDs each. While the 8 blue LEDs (CH1-8) indicates the selected channel, the 5 green LEDs the actual transmission band. You have also 3 red LEDs as a power level indicator.
The "S1" button (near the IPX plug) allows us to start/stop video recording. The 1280×720 footage is automatically divided into 10 min sequences.
Eachine TriangleD features & specs
Triangle form factor;
5.8G transmission frequency;
40 channels (Band A, b, E, F and r);
Switchable power (25mW/100mW/200mW/400mW);
Low power Pit Mode (0.01mW);
Built-in DVR (1280 x 720);
Support Smart Audio;
Status LED row;
IPX antenna plug;
Size of 29 x 29 x 40mm (25.5 stackable holes);
Weight of 3.5 grams.
Box content
TriangleD shape FPV Transmitter;
3 types of servo cables;
5.8G antenna;
Mounting accessories;
Instruction manual.