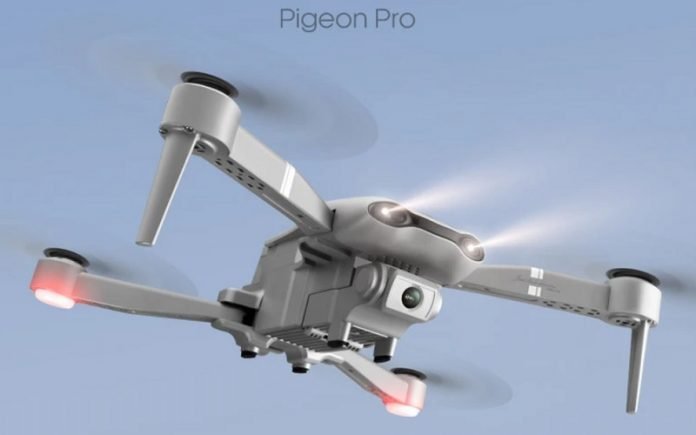 Despite the fact that are still 4 days till Mavic Air 2 official launch, first clones are ready for orders. Even the F3 Pigeon Pro follows the Air2's design in many details, it can't be considered as a real alternative! Featuring brushed motors it is only a fun toy compared to any professional grade DJI drone.
In addition to the 4K main camera, there is a second tiny camera on the belly of the aircraft. FPV view can freely be switched between these two cameras. Furthermore, you can remotely adjust the frontal camera's tilt angle.
Sponosored AD
F3 Pigeon Pro features fail-safe auto return to home. In case of low battery or remote controller signal loss, the aircraft will automatically return to the take-off point.
According to the advertised specs, the 7.4V/1800mAh battery allows up to 25 minutes flight time, about 10 minutes less than the Mavic Air 2 has. With a top speed of 30km/h, the drone can fly a total distance of 8 KM (to be clear this is not the max control range!).
Price and availability
This 4K GPS drone is available for orders starting with April 23 at Banggood. While GPS version is sold for $86.99, optical flow edition for $69.99. Both versions can be purchased with 1, 2 or 3 flight batteries.
F3 Pigeon Pro features and specs
Compact size with fordable arms;
GPS positioning system;
On-board 4K camera with remote angle adjutement;
WiFi real-time image transmission (FPV);
Up to 30km/h flight speed;
Fail-safe auto to return to home (low batter and signal rc loss);
Intelligent flight modes (Smart follow, Surround shooting, Waypoint flight and Gesture shoots);
About 500 meters remote control distance;
Around 25 minutes battery life.
Remote controller
As you can see in the image above, the Pigeon F3 is packed with a nice entry level transmitter with foldable phone holder. On front panel, besides the usual control sticks, there are 6 buttons and 3 status LEDs. From left to right you have: Power switch, Geo-magnetic calibration, Take-off/Land, GPS, Headless and RTH. The range of the transmitter is about 500 meters.
Included accessories with the F3 GPS drone
Remote controller;
7.4V 1800mAh Lipo Battery (1, 2 or 3);
USB charging cable;
1 set of spare propellers with screws;
User manual.