Back in 2016, FiMI in collaboration with Xiaomi announced the Mi 4K drone. Now, FiMI Technologies comes up with another quadcopter called FIMI A3. Unfortunately, in terms of video rigs, it seems to be worst equipped compared to its processor. It has 2-axis gimbal vs 3-axis gimbal, also only Full HD camera vs Ultra HD camera.
According to the advertised specs, the 3s/2000mAh Li-Po battery allows about 25 minutes flying time. The up to 1KM control range is also pretty impressive for its price tag.
FIMI A3 drone features and specs
Dual satellite positioning system (GPS+GLONASS);
3rd generation FiMI flight controller with Cortex M7;
DIY port for external devices (you can interface it with devices like: Fireworks lighter, LED lights, Servo and Parachute);
Easy to use remote w/ integrated FPV screen (no additional device required);
GPS and Sport flight modes;
Smart flight modes (Follow-me, Orbit, Dronie and Headless);
Precise one key return to home (GPS assisted RTH);
Full HD camera with 5.8G real-time image transmission;
Up to 1920×1080@ 30 fps video recording;
3264*2448 photo resolution;
2-axis mechanical gimbal & 3-axis electronic image stabilization;
Self tightening propellers;
About 1KM control range;
Up to 25 minutes flight time.
FiMI A3 remote controller
While the Mi 4K drone is packed with a basic entry level remote controller, the Xiaomi FiMi A3 comes with a much versatile transmitter with built-in 4'3″ FPV screen. The RC is powered by an integrated 2950 mAh LiPo battery.
On front panel, beside the usual control sticks, you can find the following: Power On/Off button, Sport/GPS mode switch, RTH button and a five direction mini joystick. The left shoulder dial-knob allows to control the angle of the camera. In addition, on the back of the transmitter you have another two buttons (DIY and Shoot/Record button). The "DIY" button allows to remotely control external devices (such as servos and LED lights) connected to the drone's DIY port.
The remote controller features AV-out which allows to use larger FPV monitor or FPV goggles.
Accessories included with the the Xiaomi FiMI A3 quadcopter
Remote controller with built-in FPV screen;
3s/2000mAh flight battery;
Balance battery charger;
AC/DC adapter;
Micro USB cable;
1 set of propellers.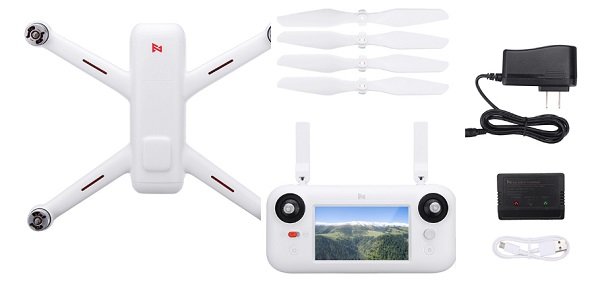 Bottom line
With an advertised price of $279.99, the FiMi A3 seems to be a serious competitor for the Hubsan Zino. Both are equipped with powerful brush-less motors and GPS positioning system.
Updates: First 10 pieces were already pre-ordered from Bannggood. The next 90 pieces are available for $259.99.