HGLRC's new micro Whoop is sold in 3 package options (RTF FPV combo kit, BNF, and PNP), and it is available with 2 power versions (1S/2S). The HGLRC Petrel 75 is a direct rival of the popular BetaFPV Cetus.
The Petrel 75 Whoop is an excellent indoor learn-to-fly micro FPV drone. Thanks to the duct blade guards, it is very safe in case you accidentally bump into something. It has 3 flight modes, so everyone from newbie to experienced pilot can have fun with it. The anti-turtle mode allows to flip-back in take-off position if crash it up-side-down.
It is based on a 75mm carbon fiber frame with a Zeus5 AIO 1-2S flight controller on the center. While the 1S version has AEOLUS 0802 22000KV motors, 2S edition 17000KV one. Both motor options come equipped with Gemfan 1635-40mm propellers.
HGLRC Petrel 75 Whoop features and specs
Sold in

PNP, BNF, and RTF package options

(1S and 2S power options);
75mm carbon fiber frame with Whoop style nylon duct blade guard;
Zeus5 AIO 1-2S flight controller with BF HGLRC411 firmware;
3 flight modes (Angle, Horizon, and Acro) + Anti-turtle;
0802 22000KV (1s) or 17000KV (2s) brushless motors with Gemfan 1635-40mm 3-blade propellers;
Caddx ANT 1000TVL FPV camera with 1/3″ CMOS image sensor;
Zeus Nano VTX 350mW 5.8GHz FPV transmitter.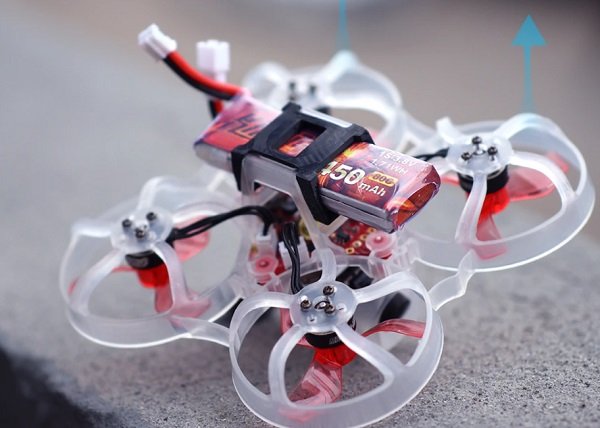 HGLRC Petrel 75 RTF kit content
Radiomaster T8 remote controller;
VR009 VR FPV goggles
Petrel 75 Whoop drone with XM+ radio receiver;
90° USB converter for BetaFlight configurator;
Battery Charger;
2 x 450mAh Kratos battery;
Screwdriver kit;
Set of spare propellers;
Storage bag.