While the first generation Kopis drone was equipped with F4 flight controller, this new Holybro Kopis 2 features the latest Kakute F7 flight controller with BetaFlight OSD. In terms of design I liked more the first Kopis, it had nice pink and black colors. In contrary, the Kopis 2 is fully black, including the 3-leaf propellers.
In order to allow great balance between raw speed and flight time, HolyBro opted as propulsion system for the powerful T-motor F40 PRO2 2400KV brushless motors and DALPROP Cyclone T5046C propellers.
Holybro Kopis 2 features & specs
Super strong 3K carbon fiber frame (5mm thickness);
Latest Kakute F7 flight controller with soft-mounted gyro sensor;
T-motor F40 PRO2 2400KV brushless motors;
Atlatl HV V2 5.8G 40CH video transmitter (0.5 mW/PIT mode, 25 mW, 200 mW, 500 mW, 800 mW);
VTX telemetry & On-board buzzer;
RunCam Swift Micro FPV camera with angle adjustment;
DALPROP Cyclone T5046C 3-leaf propellers;
Supports 4S-6S Li-Pobatteries (motors are optimized for 4S);
Large top plate for second DVR camera (GoPro Session or Hero);
Weight 299 grams without battery & props;
Optional FrSky radio receiver.
Instead of their own FPV camera, HolyBro opted to mount the popular RunCam Swift Mini camera in front of the Kopis 2. Depending on your flight style you can adjust the tilt angle of the camera.
Like its predecessor, the Kopis 2 also has large top plate which allows to install a second DVR camera. The battery is installed under the belly of the drone. According to the advertised specs, 4s, 5s and 6s LiPo batteries are supported, but remember that motors are optimized for 4s LIPOs.
Thanks to the high broadcast power, the FPV range is not an issue. Holybro Atlatl HV V2 features up to 40 channels and up to 800 mW transmission power. Of course, low-power PIT mode is also supported.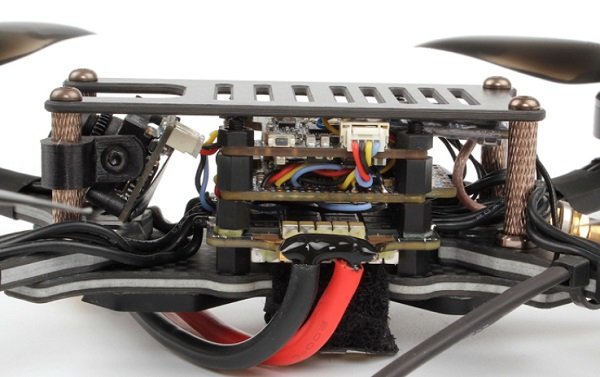 While during my Holybro Kopis 1 review I found the lack of head light very inconvenient for LoS flights, the Kopis 2 has no lights at all (rear or frontal). It seems that it was specially designed for FPV flights where lights are mainly useless.
You can find more details in our recently published Kopis 2 review. We included un-boxing video as well as test flight video.
Included accessories with the HolyBro Kopis 2 quadcopter:
5.8 GHz FPV antenna;

2 sets of propellers;

Battery strap;

Optional FrSky radio receiver;