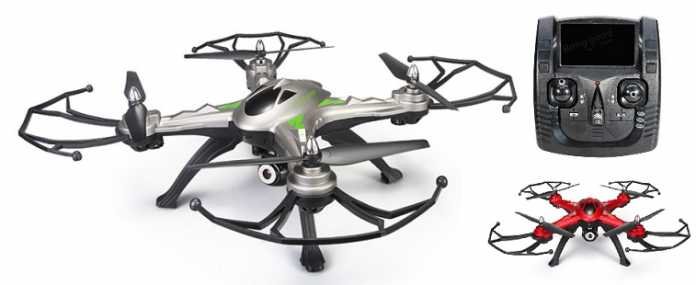 JJRC H25G first person view quadcopter
Frankly, it is already hard to count how many quadcotper models JJRC released in 2015. They announced even in the last week of the year two more quadcopter series, the H25 and H29. I will focus in this article on the JJRC H25G which seems for me to be the most interesting of them.
This will be probably my last article for 2015 and firstly I would want to say thanks to all my new and returning readers. It was a very pleasent year with many new interesting quadcopter models. I also want to thank all the companies who supported me with products for reviews. Next year I'm planning to review even more quadcopters, so product sponsors can get in touch with me via this contact form. Now, lets go back to the JJRC H25G quadcoper :)
In order to allow some smooth aerial videos, the 5.8Ghz FPV camera is installed through a vibration absorbing camera mount with 4 dumping balls. Definitely, I will look for some tests to see if the videos are truly jello free.
This JJRC H25G Quad is powered with a high capacity 1800 mAh battery which allows a very good flight time. According to the specifications, the aircraft can stay in the air up to 10 minutes with a fully charged battery.
The main differences between this H25G and the H25W are only regarding the camera and the transmitter. While the H25W comes with a WiFi FPV camera, the H25G comes with a 5.8 GHz FPV camera. The H25G's remote controller has a built-in FPV screen which allows to display real time images from the quadcopter camera.
JJRC H25G quadcopter highlights
HD camera for aerial filming and first person view flights;
Vibration absorbing camera mount with 4 dumping balls;
Complete 5.8GHz FPV system;
Headless flight mode;
One key return to home (RTH);
High capacity Li-Po battery (2 cell 1800 mAh);
Charging protection;
Low voltage alarm;
High and Low speed rates;
Up to 10 minutes flight autonomy.
JJRC H25G package includes
2.4 transmitter with built-in FPV screen;
2s 7.4V 1800mah Li-Po battery for the aircraft;
3.7V 500mah battery for the remote controllers;
Battery charger;
USB battery charger;
HD 720p FPV camera with camera mount;
USB card reader;
Micro SD memory card;
1 set of spare propellers;
4 pieces of landing legs;
Screwdriver;
JJRC H25G user manual.
Images with the JJRC H25G