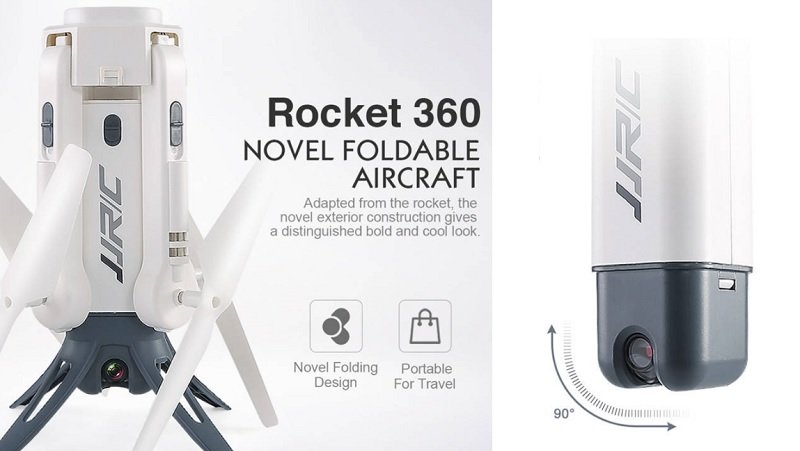 Lately, most of the toy drone manufactures began to introduce more and more strange concepts: flying Eggs, Cubes, Christmas threes but, no flying pizzas – why? :D. Adopting "Rocket" shape design, the JJRC H51 seems like to be one of them.
Although at first look you could find attractive the design of JJRC H51 Rocket, I don't understood its purpose. It can't be too aerodynamically, also probably makes difficult to land.
Thanks to the high capacity (1000mAH) Li-Po battery the JJRC H51 can stay in the air up to 9 minutes.
JJRC H51 Rocket features and specs
Foldable arms;
720P HD camera with real-time image transmission and angle adjustement;
Dual control mode (RC and APP);
One key return to home (not GPS assisted);
Circle hovering;
Barometric altitude-hold;
Headless mode;
Multiple flight speed rates;
Around 9 minute of play time.
JJR/C includes with the H51 a nice transmitter but, you do not necessarily need it. You can also control it through your smartphone using the JJRC APP.
In order to make it safe, the H51 Rocket features "Emergency stop" button and can be equipped with blade protectors.
Included accessories with the JJRC H51 Rocket drone:
Remote controller;
Phone holder clip;
1000 mAh Li-Po battery;
2 pair of spare propellers;
1 set of blade protectors;
Screwdriver;
User manual.