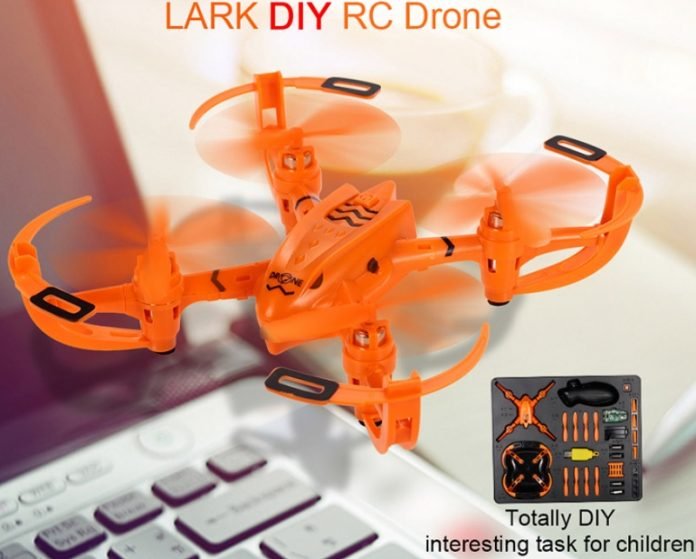 Similar to the Eachine Tyro79, the LARK LC-589 also comes in parts and requires to be assembled. While the Tyro79 is suggested for more experienced pilots, the LARK LC-589 (CX Model CX-002) is suitable for totally newbies or even by kids.
The LARK LC-589's gift box includes all the parts you need to build your DIY drone. You got remote controller, battery, flight controller, motors, 2 sets of propellers and blade protectors. Furthermore, it has all the major features (altitude hold and headless mode) of a ready to fly (RTF) toy drone.
In my opinion the fact that a drone can be easily split into pieces should not scare you. While assembling the LARK CX-002 you will learn a bit about how these flying things work.
LARK LC-589 aka CX Model CX-002 features and specs
Easy to assemble modular design;
Blade protectors for safer flights;
One handed gyro remote controller;
Motors with connectors (no soldering required);
6-axis gyro stabilization;
Barometric altitude hold;
Headless flight mode;
Multiple flight speed rates;
LED lights for night flights;
3D-flip mode;
About 7 minutes play time.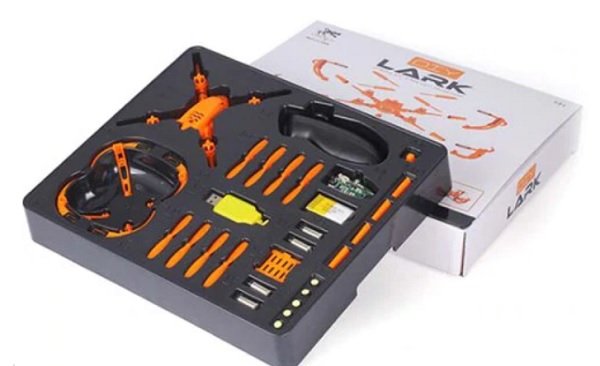 What's inside the box?
One handed gyro remote controller;
Upper body shell;
Lower body shell
Main board (flight controller + receiver);
MB holder;
1 set set of micro brushed motors;
4 pieces of protection frames;
4 pieces of protection frame connecting rod
2 sets of propellers;
5 foot pads;
Switch button;
3.7/400mAh flight battery;
USB Charging Cable;