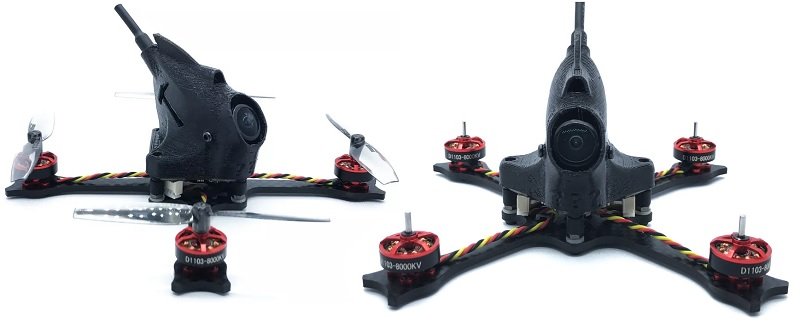 The NameLessRC N47 FPV drone comes with two types of FPV camera options. While installed with Caddx EOS2 is advertised for $140, with Caddx Baby Turtle you can buy it for $167. For the extra 37 bucks you will receive an on-board video recording (DVR).
All the electronic parts, including the camera, are well protected by the warrior helmet alike 3D printed canopy. Thanks to the versatile NameLessRC AIO412 flight controller it can be configured with multiple flight modes (Angle, Horizon, Acro). The lifting power is generated by 8000KV brushless motors matched with 2.5″ props. According to your existing transmitter you can opt between four radio protocols (TBS Crossfire, DSMX/DSM2, FrSky and FlySky).
NameLessRC N47 features & specs
105mm carbon fiber frame with protective canopy;
NameLessRC AIO412 flight controller;
Inbuilt 12A ESC;
1103 8000KV brushless motors;
Gemfan 65mm (2.5″) 2-leaf propellers;
Two camera options (Caddx EOS2 or Caddx Baby Turtle );
NameLessRC Nano400 VTX (25, 100, 200 or 400mW power);
2-3S LIPO compatible;
Optional DSMX/DSM2, FlySky FS-RX2A, FrSky XM+ or TBS Crossfire Nano RX radio receiver.