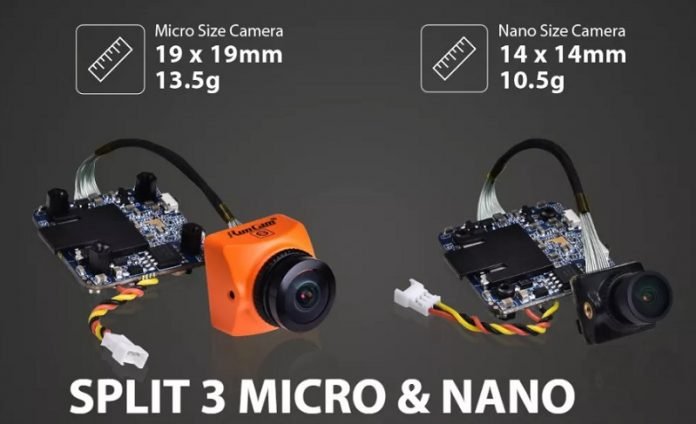 Back in 2017, the first generation of RunCam Split camera was considered a true game-changer product on the FPV market. Now, they are planning to release two new FPV cameras based on the same concept, but with a much smaller size. While the RunCam Split 3 Micro measures 19 x 19mm, the RunCam Split 3 Nano only 14 x 14mm. The Nano is not just smaller, but also 3 grams lighter than the Micro.
Just like the Foxeer MIX 2, the Split 3 Nano and Micro cameras are capable to record FULL HD videos with 60 frames per second. Thanks to the DVR's built-in microphone, are capable to record videos with audio. RunCam claims that their new Split 3 cameras features Power-off protection, which means that unfinished records will be still usable. According to the specs, AV-out latency is around 40 milliseconds.
RunCam Split 3 Nano\Micro features & specs
Modular "Split" design (separate lens and DVR module);
FPV FOV 130° / Recording FOV 165°;
Up to 1080@60fps video recording;
2MP photo resolution;
Power-off protection for video files;
Low latency TV-OUT (40ms);
NTSC (720*480) / PAL (720*576) TV video standards;
Real-time video and audio output;
Built-in microphone on DVR module;
Replaceable lens;
Manual focus supported;
Standard mounting bracket;
Wide range on input voltage (5-20V).
Included accessories
Lens module and DVR board;
19 to 28 bracket (Split 3 Micro);
14 to 19 bracket (Split 3 Nano);
Plastic cover;
3Pin 1.25 JST silicone cable;
Pack of M2 screws;
User manual.