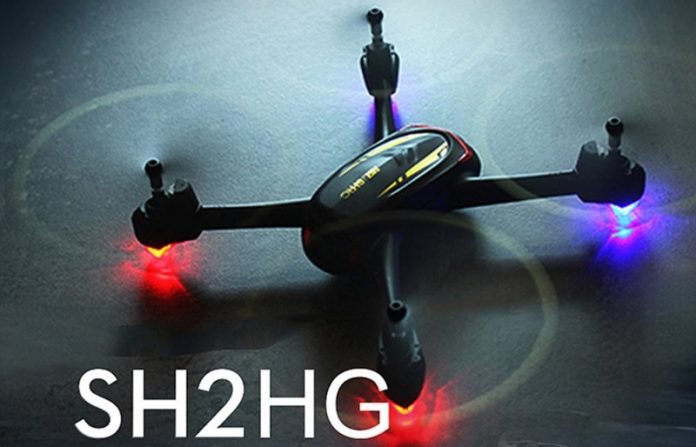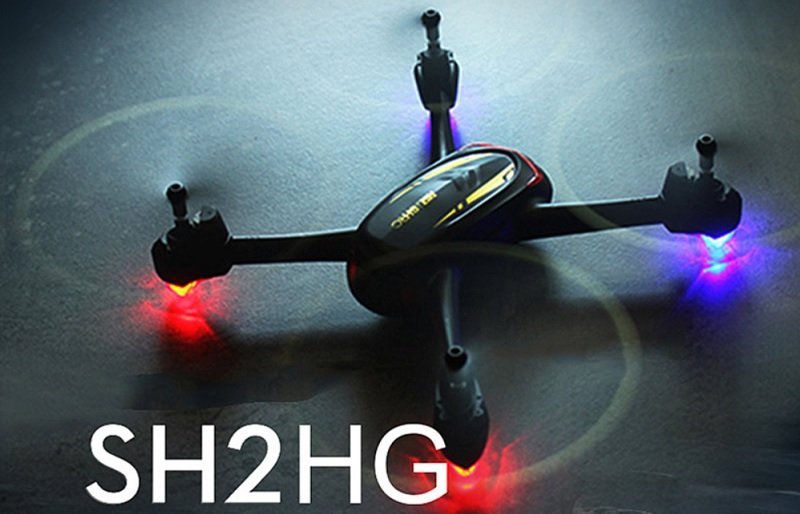 SHRC, an unknown drone manufacturer just released their first drone called SH2HG. For less than 100 bucks you get plenty of cool features (like Optical Optical Flow Positioning and Headless flight mode) and on-board Full HD camera with WiFi real-time image transmission.
As design, the SHRC SH2HG quadcotper is very similar to the more expensive Hubsan H216A, which was labeled by our review team as "Best drone with 1080P camera and GPS under $150".
During night flights you will be guided by 4 LED lights, two red LEDs in front and two blue on back (one under each motor).
SHRC SH2HG quadcopter features & specs
Cool

Hubsan drone

alike design;
Dual control mode (APP & RC);
Optical Optical Flow Positioning;
Stable altitude hold;
Headless flight mode;
On-board Full HD camera;
WiFI real-time resolution;
Ultra long flying time (about 21 minutes);
Although SHRC provides with their SH2HG quadcopter a nice game-pad style remote controller, it also features phone APP control. You can control the drone with your smartphone through virtual sticks or through gyro-sensor (by tilting the phone).
On front panel, besides the usual control sticks, the RC has 4 trimming switches. Toggling between flight speed rates cam be done with the left shoulder button. Right shoulder button allows to enable 3D flip mode.
Included accessories with the SHRC SH2HG drone
Remote controller;
Phone holder;
1 set of blade protectors;
2 pairs of spare propellers;
3.7V 2500mAh LIPO battery;
USB charger;
Screwdriver and Screws set;