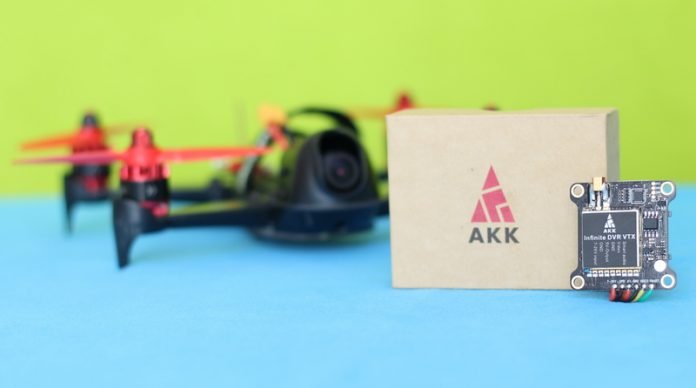 These days VTXs evolved very much, they are not just simply video transmitters, they became very versatile FPV gears with multiple functionalities. In addition to the high transmission power and Smart Audio, the AKK Infinite DVR VTX also features on-board video recording. It allows recording the journey of your flights without any extra wiring or gear.
Before I'm getting into details with my AKK Infinite DVR review I will tell you a few words about what represents a VTX. In a nutshell, VTX stands for wireless video transmitter. They are an essential part of an FPV (First Person View) system as they collect the video signal from the FPV camera and transmit it to the FPV display/goggles.
While most of the actual toy drones adopt digital WiFi FPV (2.4G or 5G), racing FPV drones are using analog FPV (900Mhz, 1.2G, 2.4G, or 5.8G).
FPV drone VTXs can have different power levels, for example, 25mW, 200mW, 600mW, and 1W are the common ones. Latest generation VTXs feature switchable broadcast power. You can freely adjust the power according to your need. You can set 25mW for proximity park flying or 1000mW for long range FPV flights.
AKK Infinite DVR VTX Review with pros & cons
Disclosure: I received this Infinite DVR VTX as part of a product review collaboration with AKK. Although the video transmitter was offered free of charge, all opinions in this review are my own. Note: product specs and quality may vary according to the manufacturer's reliability, so I cannot guarantee that you will get exactly the same product as seen in my article.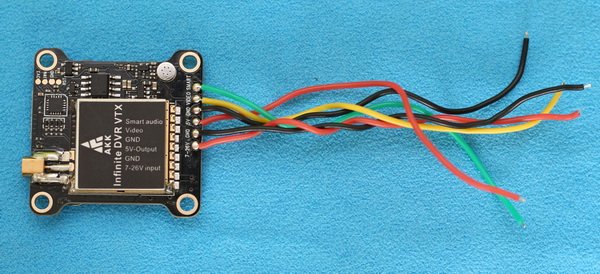 I received the package about 11 days after we agreed on the review. Inside the box, besides the VTX module, I found an MMCX antenna pigtail and user manual. The wires are pre-soldered, pretty lame vs using cables with connectors. Note: there is no antenna included nor micro SD card for DVR.
AKK Infinite DVR VTX core features
On-board video recording (DVR – 640×480@30fps);
SmartAudio/VTX Telemetry (configurable through BetaFlight OSD);
Adjustable transmission power (25, 200, 600 & 1000 mW);
PIT mode (low transmission power);
Wide range of input voltage (7 ~ 26 v);
Integrated 5v BEC (DC to DC converter step down module) for camera;
MMCX antenna connector;
One button for frequency and power setup;
Mini size (36 x 36 mm), 30.05mm stack-able holes;
8.8 grams without antenna & pigtail.
The AKK Infinite DVR measures 36 x 36 mm and weighs almost 9 grams. The maximum thickness is 6.87 mm. It can be stackable with other boards (30.5 by 30.5 mm screw distance). By comparison, it is quite larger than the AKK FX3 VTX. Also almost twice heavier.
On the front side of the board are located the following: SD card slot, LED indicators (2x RED, 4x Blue), DVR indicator, and control buttons. There are two buttons, one to set up the VTX (channel, band, power) and one to control the DVR (start/stop video recording). On the rear part of the PCB is located the shielded transmission module and the MMCX antenna connector.
AKK Infinite DVR pin out & color coding (left to right)
DC input (7 – 26 v) – Red;
Ground – Black;
5V out for camera – Red;
Ground – Black;
Video In – Yellow;
Green – Smart Audio.
AKK Infinite DVR VTX Review: First usage
The VTX can be powered from 2s to 6s LiPo batteries. Thanks to the integrated 5V BEC (DC-to-DC converter) you can power the FPV camera through the AKK Infinite VTX.
As I previously mentioned, channels, bands, and TX power can be adjusted through the same micro push-button. While by fast pressing you can toggle between 8 channels, by long-pressing (for 2 seconds) you can toggle between 5 bands (A/b/E/F/r). Switching between 25mW, 200mW, 600mW, and 1000mW broadcast power can be done by pressing 4 seconds the same button. All changes are confirmed on the status LEDs.
DVR quality
Recorded footage is quite nice. Unlike ground station DVRs, video quality is not degraded by the flight range. Regardless of how far you fly, image quality is the same. Of course, it is not crystal clear, for that you will need a GoPro cam with 4K recording. BTW, thanks to the onboard microphone, videos are recorded with audio!
Unfortunately, video recording doe's not started automatically after power ON. It needs to be done manually by pressing the Start/Stop button. Recording status is shown through the DVR LED (NO light – NO memory card, Red light – recording stopped, Flashing red light – video recording).
Captured videos have a resolution of 640 x 480 pixels with 24.99 frames per second. Two minutes of footage occupies about 80MB on the micro SD card.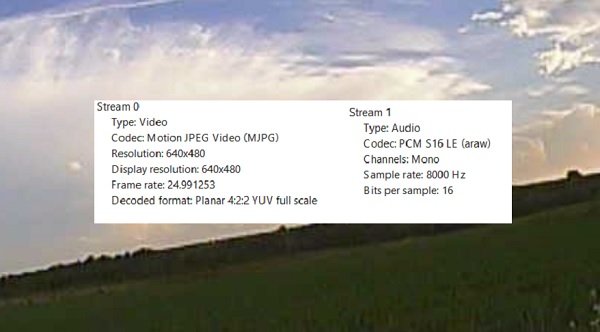 Range
For test purposes, I set the transmitter's power for 200mW. In most cases, you don't need more and the VTX will remain cooler, also has less power consumption. I got a stable signal from 400 meters, but with well-paired antennas, you can probably easily reach up to 1KM.
Editor's ratings
Price/value ratio

Design and build quality

Features

Range

DVR quality
Summary
Regardless that you are a proximity park flyer or a long range FPV pilot, the AKK Infinite DVR VTX will fit for you. The on-board DVR is pretty cool feature, without extra wiring you are able to record the journey of your flights. The included pigtail allows many installation position of the antenna respectively the VTX.
The AKK Infinite DVR 5.8G VTX can be found here for $27.99 (including free shipping & antenna pigtail). According to your antenna connector, you have two options: SMA or RP-SMA version.
Pros
On-board DVR (videorecording);
Switchable broadcast power (up to 1W).
SmartAudio / VTX telemetry;
Microphone.
Cons
Soldered wires;
Video recording does not start automatically;
Quite heavy.