Four months ago, AKK announced their new, more powerful, VTX series with up to 1200mW broadcast power. In this review we will have a closer look on the AKK X2 Ultimate and AKK FX2 Ultimate. Unfortunately, US customers are limited to 1000mW power for both versions. AKK has also a much compact VTX dedicated for long range flights called FX2 Ultimate Mini.
Compared to its predecessor, the new "Ultimate" series has been upgraded from many points of view. In addition to the lower weight, it has much power (800mW vs 1200mW), wider input voltage and better microphone. However, the "non-ultimate" is $6 more cheaper than the "Ultimate" edition. So you might want to consider the older versions if you don't need 1000mW/1200mW power and 6s LiPo compatibility.
Since the first FPV drones, VTXs evolved a lot. They became not just smaller and more powerful but also smarter. Both, AKK X2 and AKK FX2 feature SmasrtAudio witch allows to remotely configure the VTX. You are able to change channel, power and PIT mode via remote controller.
AKK X2 Ultimate & AKK FX2 Ultimate review
Disclosure: I received these two video transmitters as part of a product review collaboration with AKK. Although the products were offered free of charge, all opinions in this review are my own, without any influence from my partner whatsoever.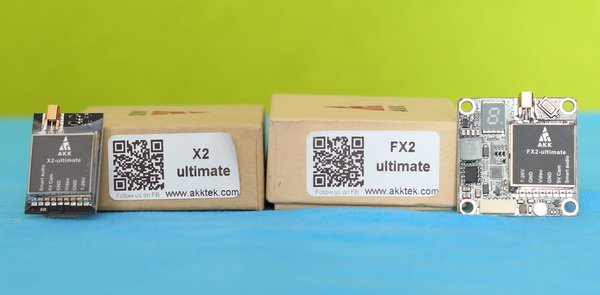 While the package was send out around end of march, I receive it only at the begging of June. Longest shipping ever :(.
Both VTXs come in the same type of cardboard-box and with identical accessories. Beside the VTX board, I found a servo video&power cable, antenna pigtail and instruction guide. No antenna included, so you will need to use your one. Note: you can opt for MMCX to SMA or MMCX to RP-SMA adapter.
AKK X2 Ultimate vs AKK FX2 Ultimate
Both are identical in terms of features and technical specs. The main difference is in the form factor. While the AKK FX2 Ultimate is specially designed to be stack-able (FC/ESC/PDB tower with 30x30mm mounting holes), the AKK X2 Ultimate, being much smaller, it is suitable for smaller builds where space is critical.
| | | |
| --- | --- | --- |
| Long range VTX | AKK X2 Ultimate | AKK FX2 Ultimate |
| Input voltage | 7v to 26v | 7v to 26v |
| Max Power | US 1000mW / Non US 1200mW | US 1000mW / Non US 1200mW |
| Switchable Power | 25mW, 200mW, 600mW, Max | 25mW, 200mW, 600mW, Max |
| Camera Power | 5V@500mA | 5V@500mA |
| Antenna connector | MMCX | MMCX |
| Connector Type | 6pin JST | 6pin JST |
| Microphone | Yes | Yes |
| SmartAudio | Yes | Yes |
| Weight | 6.8g | 9.6g |
| Size | 22x32mm | 36x36mm |
Controls and connectors
Both, 5.8G transmitters are equipped with a 7 segment display, microphone and one control button. While by short pressing the button you can toggle between channels, by long pressing (2 seconds) you can switch the band.
In order to change the TX power, you need to press the button for 4 seconds. Power change will be confirmed on status LCD:
"1" stands for 25mW;
"2" stands for 200mW;
"3" stands for 600mW;
"4" stands for 1200mW (1000mW for US).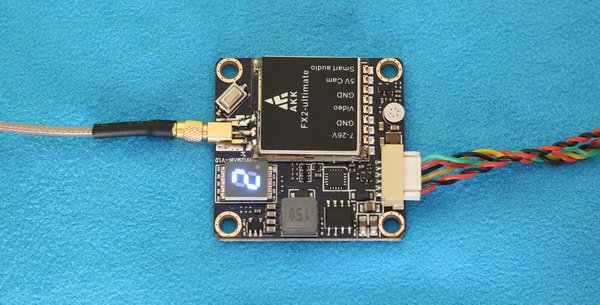 When you are in "Pit" mode, transmission power is reduced to 0.01mW and "P" is shown on the display. Note: It seems that enabling/disabling Pit-mode can be done only remotely through SmartAudion.
The VTX can be powered through a standard JST battery connector (7v to 26v). Interfacing the 5.8G video transmitter with flight controller and camera can be done via the 6pin JST connector. Pin out coding (left to right):
Red – DC in (7 – 24 v);
Black – GND;
Yellow – Video In;
White – Ground;
Red – 5V to power the camera;
Green – SmartAudio (Flight controller UART port).
AKK X2/FX2 Ultimate review: Test
In order to do the preliminary tests of the VTXs I used a 600TVL camera, 3s 450 LiPo battery, 3dBi RHCP Antenna and a diversity FPV monitor.
Configuring the VTX band, channel and power is very easy. Settings are confirmed and permanently shown on the LCD.
After I selected 1200mW power, in just one minute the VTX became very hot. I think a heat-sink would be helpful to dissipate the excessive heat.
With both models the overall image quality was not affected by the VTX (of course RF noise will be added to the live-feed).
Range test
Because I don't have a FPV drone capable to fly so far (don't mention that in my country only 25mW is allowed), I decided to share a real-word YouTube test video. He got about 25km range, which is pretty impressive for such inexpensive VTX.
Video credit to ArxangelRC
Price/value ratio

Design and build quality

Features

Range
Verdict
Surely, for many of us the 1200mW broadcast power is just one reason to receive a fine for the violation of RF regulation. I will suggest these VTXs only for those who really need that much power and have the proper license. In order to obtain the best FPV range, VTX power is not enough, you will need to use matched FPV antennas (transmitter & receiver) and get a diversity video receiver. Anyway, for the price of $23, both are excellent transmitters even if you are using them at only 1000mW.
Decided to test your FPV drone limits or interested in extremely long range flight? Both, X2 Ultimate and FX2 Ultimate can be ordered from here. As I previously mentioned, according to your geographical location, you can opt for US or nonUS versions (1000mW/1200mW). Compatible 5.8G omni-directional antennas are available beginning with $3.50.
What I liked
The "Ultimate" series is available in multiple form factors;
Adjustable broadcast power (from 25mW to 1200mW);
SmartAudio / VTX telemetry & PIT mode;
Built-in microphone;
5V out for camera;
Included MMCX to SMA / RP-SMA cable.
What I didn't liked
It gets really hot;
No direct camera cable included (3 wires).