With the Aomway 1/3 CCD 650TVL you got more than a simple camera. Its OSD allows you to monitor the elapsed flight time and battery voltage. Frankly, in case of FPV flights, these two are the most important telemetry information. It is critical to know if you have enough craft to return and land.
Aomway was founded in 2011 and, as their slogan says "Easy FPV solutions", are focused on FPV products from cameras, transmitters, receivers, 5.8G antennas to FPV monitors and FPV goggles. Checking their website I found out that, besides this Aomway 1/3, they have other six FPV camera models. Certainly, the most interesting is the one with 10x optical zoom.
Aomway 1/3 CCD 650TVL features and spec
1/3″ SONY SUPER HAD II CCD image sensor;
650 TVL horizontal resolution;
2.8mm, 3MP HD lens with 100 degree FOV;
Wide input voltage rage, DC 4.8V to 36V (suitable for 2s – 9s LI-POs);
OSD menu and telemetry;
Nice light sensitivity, 0.01Lux@1.2F min. illumination;
Electronic shutter speed for PAL video standard is 1/50 ~ 100,000sec;
Digital Wide Dynamic Range (D-WDR);
Digital Noise Reduction (2DNR);
User selectable Auto, Color and B&W Day/Night modes;
Automatic gain control (AGC);
Back light compensation (BLC);
CVBS video output for real-time image transmission;
Built-in microphone;
Compact design, 22.3 mm x 22 mm x 27 mm;
12 g net weight.
Aomway 1/3 CCD 650TVL FPV camera review
Disclosure: I received this Aomway FPV camera as part of a product review collaboration with Banggood. Thanks again for their continuous support with free samples.
Among all the FPV cameras that I reviewed, this Aomway 1/3 comes in the smallest box (6.5 x 4.5 x 4.5 cm).
My first impression, peeking inside the box, was that the Aomway 1/3 package includes everything you need to use on your racing drone. Besides the black camera and its lens cap I found inside the box the following: mounting bracket, OSD cable, extension cord, 4 wire FPV cable.
Camera measures about 22 x 22 x 27 mm and weights 12 g (without accessories). While the camera case is made from plastic, the mounting bracket with angle adjustment is made out of metal.
Unlike the Foxeer HS1177 were the lens is glued, the Aomway 1/3's lens can be rotated allowing to manually adjust the best focus point.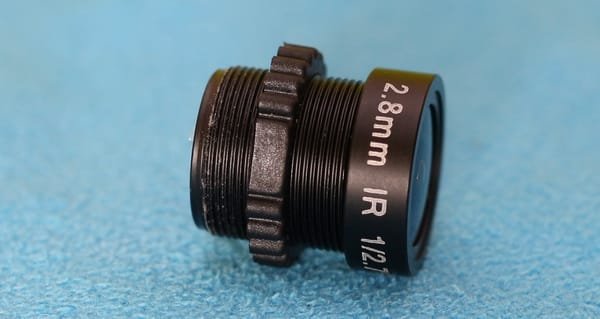 A tiny hole on the left side of the 2.8 mm IR 1/2.7″ 3MP lens is the only clue that it has a built-in microphone.
On the backside of the camera there are two small connectors. Through the two-pin plug (OSD and GND) can be connected the included 5D-OSD cable which allows to configure and fine tune the Aomway 1/3 CCD camera. You can play with the settings without any worry because you can revert to the factory default any time. The second 4-pin plug (VCC, GND, VID and AUD) serves to power the camera and to connect a TX module or DVR.
Testing the Aomway 1/3 CCD 650TVL camera
In order to test the Aomway 1/3″ FPV camera, firstly I opted to connect it directly to my LCD5802S FPV monitor via AV-in. I had to improvise a bit and wire everything together (camera, display and battery).
The camera performed pretty well. Latency is about zero. Image quality is nice but, of course, not as crispy as it would have came out from a 4K camera. Anyway, IMHO the most important requirements of a good FPV camera are the low latency and fast response time on light level changes.
Through the OSD settings menu you can adjust a lot of parameters (like: Exposure, Shutter, Image orientation, White balance and Day&Light mode). There you can also give a name for the camera/aircraft and turn on/off to display OSD values.
Note: In order to monitor the flight battery's voltage, the camera needs to be connected directly to it.
When the time allows me, I'm planning to make some outdoor tests installing the camera on one of my racing drones, so stay tuned.
For proximity park flying you can opt for a 25 mW VTX , but if you need longer range you should look for something with 250 ~ 1000 mW broadcast power (of course in compliance with your local RC regulations!).
Should I buy it?
Price/value ratio

Design and build quality

Image quality
Summary
What I like the most is that Aomway 1/3 comes with built-in battery monitor and microphone. Flying FPV with sound, offers more realistic sensation. Both build and image quality of the camera are nice.
The price seems a bit high compared to similar cameras from valuable brands like RunCam and Foxeer.
For those who are interested in this Aomway FPV camera, it can be ordered from here with free shipping. You can opt for NTSC or PAL version.
Pros
Small and lightweight;
Mounting bracket included;
Battery voltage and elapsed time OSD;
OSD configuration menu;
Built-in microphone;
Wide input voltage, works with almost any size of Li-Po battery.
Cons
A bit expensive;
Could be more type of AV cables included.