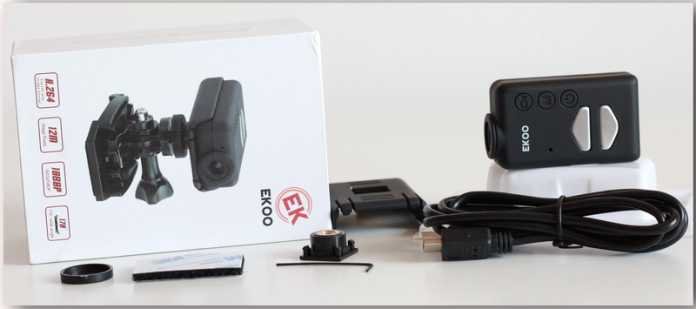 EKOO S090 Mobius type small quadcopter camera
I have more than five mid sized quadcopters with stock cameras from 0.3 to 5MP, honestly there is not much image quality difference between them. Lots of times it happened to go outside an play with one of my quad and at the end, when I wanted to download the pictures, I realized that I either forgot to put in the card or the card was full.
Because most of the quadcopters can be purchased without camera and this way they are more affordable, the most effective solution for me seemed to be a lightweight action camera with a higher picture quality than the quadcopter's stock camera.
Recently this EKOO S090 mini camera with full HD 1080p video resolution was announced and I thought it would be interesting to test its performance and whether is a reliable alternative to the popular Mobius cam or not.
EKOO S090 camera review
EKOO S090 is a very lightweight camera that has only 40g with built in 520mAh battery, so can be installed on most of the mid sized quadcopters (like JJRC H16 or Syma X8W), but also can be used during sport activities or in your car.
This camera has only 3 control buttons, power ON/OFF, mode change and shutter button. Unfortunately the box doesn't contain any instruction manual, so I had to figure by my self the operation mode.
For powering up the camera you must press the ON/OFF button for 4 seconds. The Power On delay is a useful feature to prevent the camera from being accidentally turned on.
Without a memory card inserted in the camera, the status led will blink in red. By default, the camera starts in 1080P with 30fps video mode. If the shutter button is not pressed within 30 seconds, the camera will enter in power save mode.
Changing the working mode can be made by pressing the "Mode" button, the current mode is marked by the status LED:
Yellow – 1080P 1920 x 1080 with 30 fps video mode;
Blue – 720P 1280×720 with 60 fps video mode;
Red – Photo mode, 12MP 4032 x 3024.
By long pressing the mode button can be set other function too, but I haven't got the chance yet to test them all. I requested from the seller the EKOO S090 camera's user manual to find out all the features and functionalities of this small camera.
On the top of the camera near the buttons there are two metal heat sinks, which do get quite warm after a couple of minutes of use. Be careful do not cover them, because they are protect the main CPU and the system memory from overheating.
The EKOO S090 is a Mobius type mini action camera, but is not a 100% clone. The exterior design basically is the same but the hardware is based on a Novatek imaging unit. I tried to configure the camera with the mSetup tool but was not detected by the configuration utility.
By connecting the camera to your computer or laptop and pressing the shutter button the EKOO S090 can be used as high definition webcam.
In webcam mode, advanced users can fine tune the focus point of the camera to achieve the best image quality.
I tested the EKOO camera with an ultra fast (80MB/s) and high capacity 32GB micro SD memory card and it worked without any issue.
The image quality is generally good, especially in optimal light conditions but a bit noisy in low light conditions. Another thing that you should know, is that the videos are divided in 5 minutes long clips by default.
If you don't need to use the mSetup utility and you want to save $15 for a memory card or a better quadcopter, the EKOO S090 camera can be purchased from GearBest.
EKOO E2 S090 specs:
Imaging unit (SoC): Novatek 96650;
Storage: external micro SD memory card slot (up to 32GB, class 10 recommended);
Built-in 520mAh Li-Po battery;
Video format: 1920*1080/30fps or 1280*720/60fps;
Photo resolution: ~12MP interpolated, 4032 x 3024;
Audio format: 32KHz mono (AAC);
Built-in microphone;
EKOO S090 weight: 40g;
Camera size: 6.2 x 3.5 x 1.7 cm.
EKOO S090 package includes:
Mini quadcopter camera with built-in battery;
USB charging and data cable (mini USB type);
Lens cap;
Mounting sleeve (base);
¼"- 20 thread mount;
3M double coated tissue tape;
Hex Key for lens adjustment.