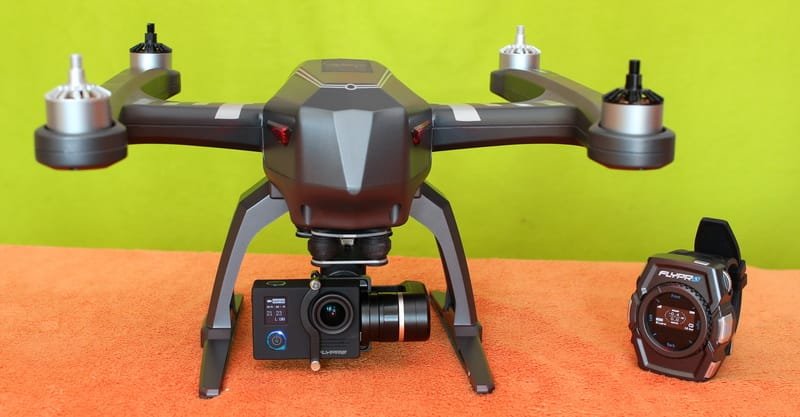 FlyPro XEagle Sport – My first selfie drone
First time I read the news about this FlyPro XEagle quadcopter I was pretty impressed. I liked the idea but in the same time I was afraid that it is a another born-dead KickStarter project. Last week I had the pleasure of reading the FlyPro XEagle Sport review made by another fellow (Bo Lorentzen – FPVGuy) in which he confirmed that the guys from FlyPro managed to finish their project. The bug was already in my head, so I told myself that it's time to get one in order to test it.
The time-line of this project has started on April 2014 with market research. After almost two years, at CES 2016, the first prototype was released. The XEagle Pro is still under developing and will be available starting with September of this year.
Mainly, or at least for me :), the most attractive feature of this quadcopter against other DJI Phantom clones is the watch control. At first sight it looks very easy to control the aircraft this way, but only at the first sight! You will find why at the end of my FlyPro XEagle review. For sure, the intention of the manufacturer was not to realize a cruising or racer quadcopter but rather a personal selfie drone.
My son was very enthusiastic when I told him about the "Follow me" feature offered trough the XWatch. After few tests (just to ensure the safety of this feature) I will let him use this selfie drone during his next "Nerf war" game with his friends.
In order to cover a wide range of budget levels and features, FlyPro announced four versions of this XEagle quadcopter.
FlyPro XEagle series comparison chart
| | | | | |
| --- | --- | --- | --- | --- |
| | XEagle Lite | XEagle Sport | XEagle Advanced | XEagle Professional |
| Control mode | Watch control | Watch control | Watch control, Transmitter and voice control | Watch control, Transmitter and voice control |
| Smart battery | Yes | Yes | Yes | Yes |
| Gimbal | 2-axis | 2-axis | 3-axis | 2-axis |
| Camera | No | 4K GoPro style action camera | 4K dedicated camera | 4K dedicated camera |
| FPV | N/A | WiFi | Yes | Yes |
| Gimbal tracking | Yes | Yes | Yes | Yes |
| Obstacle avoidance | No | No | No | Yes |
| One key Takeoff and Land | Yes | Yes | Yes | Yes |
| Flight features | Follow me, Circle hovering and one key return to home | Follow me, Circle hovering and one key return to home | Follow me, Circle hovering and one key return to home | Follow me, Circle hovering and one key return to home |
| Retail price | unknown | $599 | unkown | unkown |
While the "Professional" version with "Voice control" and "Obstacle avoidance" looks very attractive, for now is available for purchase only the "Sport" edition.
FlyPro XEagle quadcopter review
Firstly I have to tank Maggie from Hobbywow who offered me this drone in order to test it and write a honest review. She also helped me with some answers for the questions that I had at first sight. I was curious if it is safe to turn ON the WiFi connection of the camera in order to make "FPV" flights. I was also interested whether I can use my GoPro camera with the XEagle follow-me drone.
FlyPro XEagle review – First impressions
Inside the box everything looks good but, I don't know why, I had the feeling that the this product is only about %95 ready to be taken out on the store shelves. Later, my hunch was proved because the included XEagle user manual has phrases that are not applicable for this quad.
Both, aircraft's and XWatch's build quality is surprisingly good, no cheap material as I expected from an unknown Chinese manufacturer. Everything in the box was well arranged to prevent any unwanted damages during the overseas shipment. The camera & gimbal are protected from unwanted movements with a reusable camera protector which must be removed prior to every flight!
The box content is very rich and includes the following: drone with 2-axis gimbal, RC watch, flight battery, 2 sets of self tightening propellers, 4K camera, 16 GB micro SD memory card, battery chargers and user manual.
I must congratulate the designers from FlyPro for the colors they choose, the charcoal gray and silver color combination looks damn good. Somehow the design of the XEagle tries to imitate a flying drone from the Terminator movie.
Peeking inside of the XEagle, I found on the flight controller a micro USB socket which allows future firmware upgrades and a micro SD memory card witch serves as "black box". Flight data such as: battery voltage, GPS information and flight attitude are automatically stored for further analysis.
The drone is powered by a similar smart battery as the one DJI Phantom 3 Advanced has. The 3 cell 5200 mAh Li-Po allows about 22 minutes of flight autonomy. Four LEDs indicate the charging level of the battery, which is great. The charging time is surprisingly good, takes about one hour. Unfortunately, being a new product there is no spare battery available.
FlyPro XEagle review – XWatch
Unlike other quadcopters, the XEagle is "controlled" by a smart watch not a transmitter. Pretty cool, isn't it? Excepting the fact that you may sweat a bit under the watch, it is very comfortable to wear it. On the back of the watch are located the charging tabs. The charging cable is attached magnetically to the watch, same as in the case of Apple laptops. In my opinion, a simple micro USB socket would be more practical than this fancy solution. The integrated 450 mAh battery allows about 1 hour of working time which is far enough for two consecutive flights. The advertised control range of the XEagle XWatch is about 300 meters.
On the left side of the watch are located the Power, Takeoff and Circle hovering buttons meanwhile on the opposite side there are Follow, Landing and Height adjustment buttons. The photo/video button is located very handy on the top of the Xwatch. In case of motor arming/takeoff or low flight battery, the watch will warn you with gentle vibrations.
The tiny monochrome LCD of the watch allows to display useful flight data like:
Relative flight altitude (watch – aircraft);
Horizontal distance from watch (radius);
Remaining flight time;
Signal strength;
XWatch battery level;
Aircraft status;
Photo/video status;
GPS signal lock.
Thanks to the XWatch's built-in GPS positioning system, the Xeagle quadcopter will follow the watch and actually you don't have a direct control over the aircraft's flight directions.
As the manufacturer is planning to add voice control feature to the Professional edition of the Xeagle drone, on the bottom part of the watch there is already a microphone hole.
Just forgot to mention that around the status LCD there is a dial ring witch allows to change the orientation of the drone relative to you.
FlyPro XEagle review – Camera
Unlike DJI, FlyPro opted to mount a "standard" GoPro clone on their Xeagle Sport quadcopter, which is great in my opinion. This way you can easily replace, upgrade or use the camera for other activities.
On first look, the camera is almost identical as design and specs with the HawkEye FireFly S6 cam. In my opinion FlyPro installed a custom firmware on the same hardware. I'm curious if they are 100% compatible as spare parts.
In order to allow smooth vibration free videos, the camera is installed on a 2-axis gimbal with four anti-vibration damping balls. The gimbal is very lightweight and it looks almost as good as my Feiyu Tech MiNi3D Pro gimbal.
The camera is connected to the gimbal through a mini USB plug. This way the camera is powered directly from the flight battery and can be remotely triggered (start/stop video and take photo). Inside of the camera I found a 1600 mAh battery which is partially useless if you are using it exclusively with the Xeagle selfie drone.
I asked Maggie if it's safe to turn ON the WiFi of the camera in order to allow poor man's FPV and she answered YES. The range and the latency is probably not too good but usually the aircraft is only about 20-30 meters far from you, so there is a chance to get stable live view on your smartphone screen.
In the front part of the camera there is a tiny monochrome LCD that allows to display many useful information like operation mode and configuration menu. In order to allow off drone usage, the camera has 4 buttons: up, down, OK and power ON/OFF.
The camera allows to record Ultra HD videos (4K@24fps), HD videos with 1080P@60fps and high speed HD videos with 720p@120 fps.
You can't directly control the tilt angle of the camera because this will be auto-adjusted by the flight controller based on the relative height and distance to the watch in order to film the wearer in forefront.
I can't say that the image quality is spectacular but is above other cheap GoPro clones. Unfortunately, the coating of the lens is not performing good enough because my test video was full of lens flares.
Five minutes of 1080p@60fps occupies about 900 MB on the micro SD card, so you can record approximately 75 minutes on the included 16 GB micro SD card.
FlyPro XEagle review – Test flight
First of all, this quad is not suitable for indoor flights! You should never arm the motors inside with installed propellers.
Being very enthusiastic to test the XEagle quad, I immediately went out to my usual flying field.
Prior to my first flight I tried to calibrate the quad by pressing the "Follow me" button as the included user manual recommended, than all the the other buttons without any success, so I went home a bit disappointed.
Next day, I found out that the drone is already calibrated by the manufacturer and it is safe to fly it.
XEagle Sport unboxing and maiden flight video
The takeoff sequence can be initiated by long pressing the "Takeoff" button till the Xwatch starts to vibrate. In few seconds the quad climbs 8 meters and hovers. After this you can adjust the desired flight height and opt between "Follow me" mode or circle flight around you. I tested both flight modes and I can say that I'm satisfied with the results. It was pretty impressive how the quad followed me even if I was walking or running. Next time I'm planning to go by car and test the "follow me" mode's maximum speed.
You can finish your flight by shortly pressing the "Landing" button and the drone will land on its actual position or by long pressing the same button and the quadcotper will return to the initial takeoff location and land.
Being in a hilly area, after 16 minutes of relaxing flight time I started to worry about where to land. Without the effective control on the drone's position, it was very hard to lure the drone on the desired landing spot. I think this is the biggest drawback of this kind of control.
Price–performance ratio

Design and build quality

Flight characteristics

Remote controller - XWatch

Camera

Flight time
FlyPro XEagle review - Verdict
For sure this Flypro Xeagle brings a new trend in the world of drones. The watch control is a pretty cool feature which, contrary to my expectations, performed very well.
The camera allows to capture quite good selfie videos without touching a control stick and staring to the FPV screen in order to check if you are in focus.
In my opinion this quadcopter is suitable for those who are not interested to effectively pilot a drone but need a personal flying camera for outdoor activities.
Take into consideration that the the Xeagle Sport does not feature obstacle avoidance, so in order to avoid collisions you should fly only on flat ground without high trees or buildings.
Those who are interested in this selfie drone should know that it can be found on HobbyWoW website for $599. If you already own a GoPro camera, maybe in the future will be available a more affordable "Lite" edition without camera.
Pros
Innovative watch control;
Follow me and circle hovering;
Interchangeable camera;
Good flight time;
Cons
Lack of psychical remote controller;
No spare parts;
Uncertain after-sale support.
FlyPro XEagle review – Photo gallery
Updates 28.05.2016
The WiFi can't be turned ON if the camera is set to the highest resolution (4k@24fps).