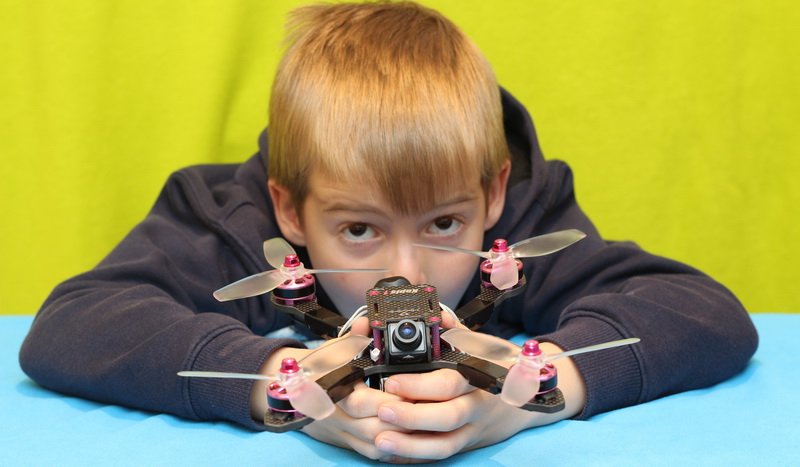 Every time I review a drone, I try to find a sentence that would define it the best. I think in case of HOLYBRO KOPIS 1, "Don't stay on its way!" fits just perfectly. Made of 5 mm thick carbon fiber and reaching insane flight speeds I would not want to be hit by this beast.
Surely, this Kopis 1 quadcopter is not a toy, its a high-end FPV drone made for racing competitions. It's built around the Kakute F4 v1.3 flight controller which is the favorite of many professional pilots.
HOLYBRO announced the Kopis 1, in two variants: PNF (Plug-N-fly) without receiver and BNF (Bind-N-Fly) with FrSky XSR radio receiver. Both version are delivered without battery!
HOLYBRO KOPIS 1 highlights
X-shape carbon fiber frame;
High-end HolyBro Kakute F4 flight controller with integrated BetaFlight OSD;
Multiple flight modes (including free-style and self-leveled);
Powerful AIR40 2450KV brushless motors by T-motor;
BLHeli – 32 30A ESC with newly developed firmware and DShot1200;
Reinforced 5045BN 3-blade propellers;
Remote battery level monitor and remote PIDs adjustment (using RC and FPV screen);
40CH, 5.8G VTX with adjustable broadcast power (0.5mW ~ 600mW);
Professional RunCam Swift camera with angle adjustment and OSD configuration;
Programmable LED board with buzzer;
Compatible with 4s Li-Po batteries;
300 grams total weight without battery.
HOLYBRO KOPIS 1 drone review
About a month ago I was contacted by Karen from GearBest regarding to review one of their drones. As a result of our previous good collaborations I accepted their offer without any hesitation. Since I own a Taranis Q X7 transmitter, I requested BNF version of the Kopis1.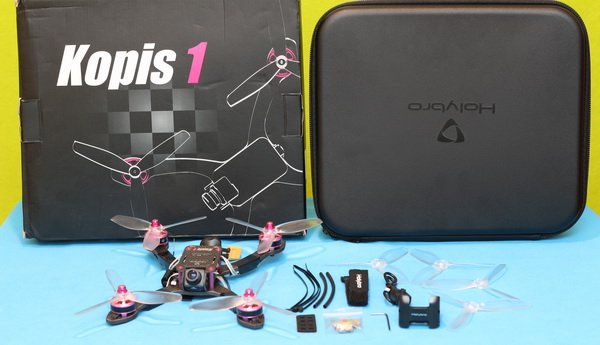 Package arrived in about 3 weeks after they send it. Frankly, for a $300 drone I would be expected a much bigger box :). All kidding aside, the Holybro Kopis 1 is a premium class product starting with packaging quality. The drone and its accessories (1 set of spare propellers, RunCam OSD cable, GoPro mount stand and velcro band) are not simply thrown into the box, they come in a dedicated deluxe carrying case. The aircraft is firmly secured to the case by a Velcro.
Holybro Kopis 1 drone comes fully assembled with attached propellers. You just need to bind a compatible transmitter.
Is it worth it? Let's have a closer look!
Made by 5 mm thick carbon fiber, the X-shape frame looks very sturdy. Probably it will survive many crashes. At the end of each arm is a powerful AIR40 2450KV motor signed by T-motor. I'm not much for the pink color of the motors, personally, but combined with the matching hardware and LED strip lights it does look cool in the air.
Wires between motors, ESC and Flight controller are nicely organized. Note: While the BLHeli_32 ESCs is rated for up to 6 cell Li-Po batteries, the motors can be powered by max 4s batteries!
All the 5045BN 3-blade propellers are transparent. Maybe they look cool, but I would rather prefer some vibrant colors (like green in front and red on back). Unfortunately, propellers are not self tightening and you can easily loose those pink prop nuts when you replace the blades.
Battery can be firmly attached to the belly of the drone using a velcro band and battery tray. Furthermore you can also opt to mount the Li-Po on top of the aircraft (only when additional HD camera is not used). Note: Double check the battery wires to not be cut by the props!
While the promo photos of the Kopis One show well secured radio antennas, I found only two wires left loose which could be easily chopped by the propellers. Luckily, the manufacturer included couple of heat-shrink tubes and zip ties with which I can fix this issue. The 5.8G 3dBi RHCP FPV antenna is attached to the VTX though a SMA-MMCX extension cable.
Unlike other racing drones, there is no headlight in front. At least on the opposite side there is a nice configurable two row status LED strip with loud buzzer.
Camera, FPV and OSD
Instead of their Rinnegan 600TVL camera, HolyBro opted to mount the RunCam Swift Mini camera on front of the Kopis 1. Depending on your flight style you can adjust the tilt angle of the camera.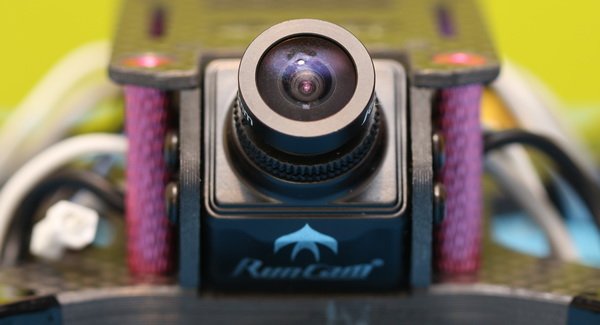 While on both sides the camera is well protected, it is a bit exposed in front. Not really an issue unless you are practicing using metal gates. However, if you damage the camera, it can be replaced in just 15 minutes.
Kopis 1 camera key features
SONY Super HAD II CCD image sensor (1/3″);
600TVL horizontal resolution;
Excellent light senility, 0.01Lux/1.2F min. illumination;
Electronic shutter speed for NTSC video standard is 1/60 to 1/100,000sec;
Digital Wide Dynamic Range (D-WDR);
Digital Noise Reduction (2DNR);
OSD menu;
Auto Day/Night mode.
One of my fellows complains that the Swift Mini comes with RotorRiot settings, which seems to be pretty terrible for FPV competitions. I have to admit that I'm not a professional racing pilot and for my taste the camera performed very well. Images from the Swift Mini look sharp and natural without noticeable latency. Anyway, the image quality can be easily fine-tuned according to your personal preferences using the included 5D OSD cable.
Thanks to the high broadcast power, the FPV range is not an issue. Holybro Atlatl HV features up to 40 channels (A, B, E, Fatshark and Raceband) and up to 600 mW transmission power. While it is intended to be configured via Telemetry, you can also set the desired TX channels through the Channel-Change button.
OSD values like elapsed flight time, flight mode, battery voltage, virtual horizon can be displayed on the FPV monitor.
In order to record the journey of your flights, in addition to the FPV camera, you can use a GoPro or alike action camera. HolyBro includes a stand mount compatible with both GoPro Hero form factor as well as the GoPro Session form factor.
What you need done prior your first flight?
First of all, before you do anything else, remove the propellers! During binding process, flight controller configuration, the motors can start spinning. Trust me, at full throttle they can cause some nasty injuries.
As I previously mentioned, the HOLYBRO KOPIS 1 comes without any battery. Luckily I recently received for review couple of Tattu R-Line batteries. With 90C ultra-high discharge rate they seem to be made especially for this flying beast.
How to set up the Kopis 1 with the Taranis Q X7 transmitter?
Firstly, I created a new model on my Taranis remote controller and name it "Kopis 1". After that, under the "Model setup" screen I set "Internal RF", operation mode to "D16" and channels number to 8. Finally, I selected the "Bind" option. When the transmitter is entering the "Bind" state, it makes a high-pitched beeping.
Now you can power ON the Holybro Kopis 1 while you hold down the FrSky XSR receiver's F/S button. Successful binding will be confirmed by solid green light.
Next step is to verify the channel mapping and to assign the control switches through Betaflight Configurator. I opted to use left shoulder switch to Arm/Disarm the motors, and the right 3 position switch to toggle between flight mods (poz1 – Stabilized, poz2 – Horizon and poz3 – Angle). For newbies, I suggest to set Stabilized-Horizon-Stabilized order, this way they can't accidentally switch to free-style mode, where crashes are almost inevitable for them. Note: BetaFlight will not let the drone arm if the throttle is raised.
In the Kopis 1 user manual, there are well described other optional steps too (like: Adjusting Channel Endpoints and Channel Center). In the manual you can also find binding instructions with two other radios (FlySky and Spektrum).
How to be stay safe with the Kopis 1?
Prior to your flight, always check if fail-safe works properly. Failsafe is what happens when connection is lost between the quadcoper and transmitter (you fly too far away, TX is powered off or receiver is disconnected from the FC). If you don't configure failsafe, the drone could flyaway or it could crash into something or even worse, in someone.
In order to test failsafe, leave the propellers off, plug your battery, arm the drone and give some throttle. Next, turn off your transmitter. If its works, the motors should stop within 1 to 3 seconds the most.
In case of flyaway or crashing, it would be very useful to find and recover the aircraft if you previously configured the failsafe switch (it makes the buzzer emit loud beeps) through BetaFlight configurator.
HOLYBRO KOPIS 1 review: Flight performance
Yes! As I expected, the Kopis 1 is damn fast and agile. Punch-outs are truly impressive. Frankly, it is beyond my actual flight experience. I need to practice more, but I'm afraid I'm gonna crash it. Looks so beautiful in the air :)
OSD values are very helpful when you are flying through FPV goggles. You always know how much energy is left in the battery.
VTX power and other settings can be remotely changed right on the field. OSD menu can be accessed by moving left stick to center-left and right stick to to center-top.
Powered by a 4s 1300mAh Li-Po battery, I got an average of 4~5 minutes fun time. Experienced pilots, who dare to fly with full throttle, will get probably even less.
Why should I buy it?
Price/performance ratio

Build quality

Camera & FPV & OSD

Flight performance

Flight time
Verdict
From packaging to flight performance, the HOLYBRO KOPIS 1 is almost the perfect racing quadcopter. It is fast, stable and very responsive. Made of 3K carbon fiber, it takes crashes well.
Flying mainly LoS, the lack of headlights was a bit disappointing for me. A bright LED light can help you determinate the orientation of the aircraft from a large distance.
If you are seriously thinking to become a professional FPV pilot, this Kopis 1 is a good start. Now, you can buy it from Gearbest for $288 without receiver (PNP package). Wide range of spare parts are available for a fair price. For example, a complete frame kit costs about $ 50.
What I liked
Excellent build quality;
Super fast;
Good image quality and super stable FPV signal;
Telemetry and OSD:
Remote OSD configuration (by transmitter);
On-board buzzer and status LEDs;
GoPro Session/Foxeer Box/RunCam 3 as well GoPro Hero/SJCam/Xiaomi mount;
Spare parts availability.
What I didn't liked
A bit expensive;
No head lights;
Radio antennas can be chopped by props.
Thanks to everyone who read, like or shares my HolyBro Kopis 1 review.