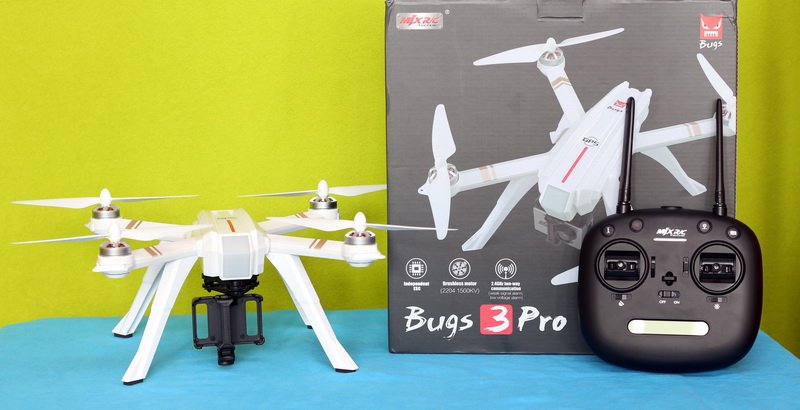 After many Eachine and Syma reviews, we are finally here with a MJX drone review. As its name says, the Bugs 3 Pro is an ungraded version of the first generation Bugs 3. In addition to the reinvented design it comes with plenty of new cool features (GPS, Altitude hold, Headless mode and Fail-safe RTH). Both, flight time and control range of the MJX Bugs 3 Pro were also improved compared to its predecessor.
Currently, the MJX R/C Bugs family has 4 series. Bugs 2, Bugs 3, Bugs 5, Bugs 8 and Bugs 10. While the series 8 is dedicated for FPV pilots, the series 3 is for cruising & aerial filming. The MJX Bugs 3 comes with a camera mount which allows to use almost any action camera (from GoPro, Xiaomi to SJCam). I saw on Youtube some crazy guys who replaced the mount with a lightweight 2-axis gimbal, the resulted videos were super smooth.
Back in 2016, most of the "toy" drones were equipped with brushed motors, it was craziness, you never knew when one motor will fail and crash the drone like a stone. It was like a Russian roulette to hang a $500 GoPro on such a drone. By introducing the Bugs series with powerful brushless motors, MJX became a real game changer on the cheap drone market.
Hands on: MJX Bugs 3 Pro
Before I'm getting into details, I should thank Qiuping Lee from TomTop for offering the chance of reviewing this nice GPS drone. Like usual, I need to underline that although the product was offered free of charge, all opinions in this review are my own.
At the begging, I discussed with her that she can use any other shipping company than DHL. Lately, I had poor experience regarding their services. Somehow she forgot this detail, and she sent it with DHL NL. Except the tracking number hadn't shown any relevant information about the location of the parcel, this time I received it very fast and smooth without paper work or additional fees.
Everything in the box was well arranged and packed individually to prevent any damages during the overseas shipment. Together with the drones I found the following accessories: transmitter, camera mount, flight battery, charging converter, charger, AC/DC adapter, 2 sets of spare propellers, 1 set of landing gears, screwdriver, propeller wrench, Bugs 3 Pro manual and some MJX Bugs sticker.
Removing everything from the box, I was a little disappointed by the fact that no camera was included. Lately, I found out that there are two versions of the MJX B3Pro, one with 1080P camera and one without. The price difference between them is 50 dollars.
MJX Bugs 3 Pro review: At a glance
Both, aircraft's and transmitter's build quality is surprisingly good, no cheap material as I expected. Personally, I didn't like its design, but many other fellows found it absolutely professional. Prior to your flight, you need to attach the blades and landing gears. Propellers are self thinking, which is nice. Although, at the end of each arm there is a blade protector mounting hole, they are not included in the box.
Camera mount has dumping balls which should reduce the vibration of the camera. Anyway, I'm not expecting the same results like with an active motorized gimbal.
The 2800mAh flight battery, is specially designed for the Bugs 3 Pro and has proprietary connector. According to the manufacturer's specs it allows about 20 minutes flying time. I find it a bit complicated charging the LiPo . Firstly, you need to attach the battery adapter (2s balanced plug), then the charger and finally the AC/DC adapter. IMHO they could solve the charging process using 1 device instead of 3.
During night flights you will be guided by 5 RGB LED lights. One under each arm, and a big one in the front of the canopy.
Main features & technical specs:
Suitable for GoPro, SJCam, Xiaomi and alike sports cameras;
5G WiFi FPV with compatible camera (C6000);
Precise GPS positioning system;
Intelligent flight modes (with MJX Go APP);
Fail-safe auto return to home (low battery voltage & out of RC range);
Altitude-hold & headless flight model;
Powerful 1800KV brushless motors w/ independent 8A rated ESCs;
2-way 2.4G radio communication;
About 20~22 minutes flying time;
Up to 800 meters control range;
310mm wheelbase;
Weight of 525 grams (including battery).
MJX Bugs 3 Pro review: Remote controller
The Bugs 3 Pro comes with a nice transmitter with two way communication. Besides that it looks solid, it has excellent control range. Signal strength, number of satellites, flight altitude, distance from RC, Headless Mode, RTH, photo/video, RC Mode, TX and RX battery level are permanently shown on the status LCD.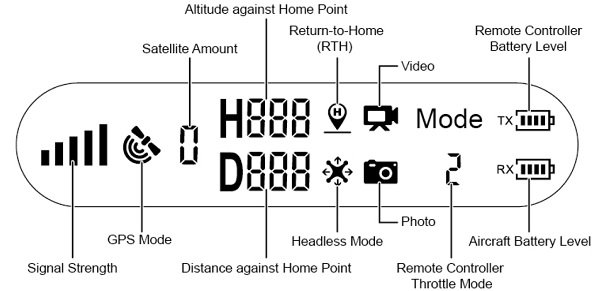 On front panel, besides the two control sticks (both, center positioned), there are 4 switches and 4 control buttons (One key Takeoff/Landing, Motor Unlock, RTH and Photo/Video). Only two trimming switches have assigned functionalities. While the left one allows to toggle between Gesture and GPS mode, the right one enables Headless flight mode.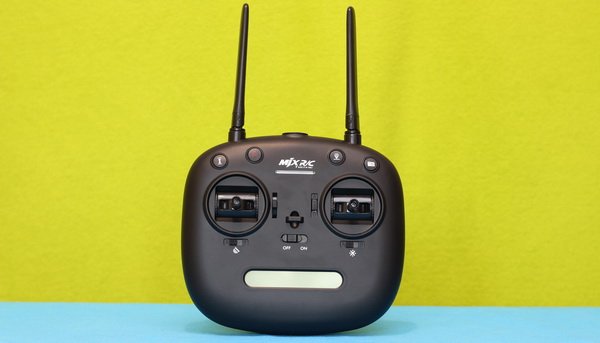 The Bugs 3 Pro's remote controller requires 4 x AA batteries. The dual antenna system offers about 600-800 meters control range. Note: In most countries it is allowed to fly ONLY LoS (line of sight). The transmitter can be switched between mode1 & mode2.
Camera compatibility
As I previously mentioned, I received the camera-less version of the MJX B3Pro. While the included camera mount seemed to be universal (compatible with any action camera), does not fit for my Xiaomi Yi 2 4K. GoPro and SJCames are OK. Anyway, if you need WiFi real-time video transmission and other functionalities of the Bugs Go APP you will need a genuine MJX camera.
The manufacturer suggest to use the Bugs 3 Pro with their C6000 which has Full HD (1920×1280) video recording and 5G Wifi FPV. The MJX C6000 camera can be purchased standalone for $59.99. MJX has other two camera models. In the image bellow you can find the main specs for each of them.
After I did some mod, I managed to hang both of my 4K cameras (Xiaomi Yi 2 & Foxeer Legend 3) under the B3Pro's belly. The results were OK, but not spectacular. As I said, if you want truly steady aerial videos you will need a mechanical gimbal (2 or 3-axis).
Initial setup & Flight performance
When you got a new RC toy, I suggest you to read the drone manual prior to your first flight. Usually, it describes the flight preparation steps, also how to safely fly with the aircraft.
The Bugs 3 Pro starts a bit different compared to brushed toy drones. Prior to your flight you must go through the following steps:
Binding with transmitter: It can be done by powering the ON the transmitter while you hold down the "Lock" button;
Horizontal and vertical calibration: you need to rotate horizontally the aircraft till the LEDs turn into green, than rotate the aircraft vertically till the LEDs turns from flashing to solid ON;
Gyro calibration: for this you need to move both sticks to the lowest-left position;
Unlock the motors: This can be done by pressing the "Unlock button" or by moving both sticks to lowest-inner position.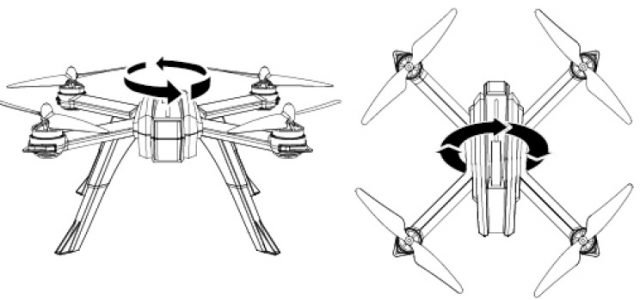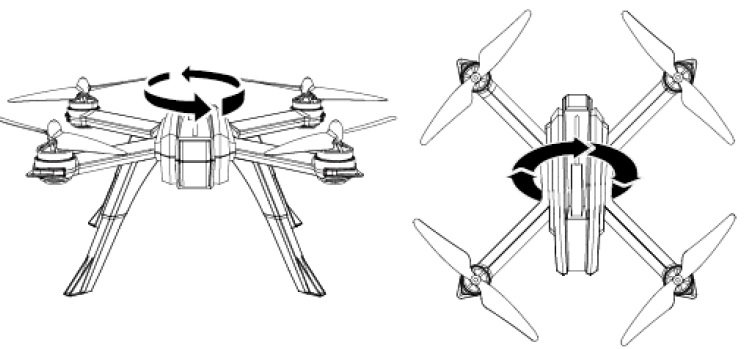 Motors will start to spin if you did everything right. Lifting from the ground can be done in two ways. Simply by pressing the take-off button, or gently pushing the throttle stick up.
You can toggle between two flight modes, "Gesture" and "GPS". Gesture mode, means only that GPS features are disabled, it has nothing to do with controlling the drone with your hand movements. It can be used for indoor flights or where there is lack of GPS coverage. Note: in this mode, Fail-safe return to home feature will not work!
Flight performance
This section will be updated after more test flights. I'm planning to test max flight altitude as well as the max flight range. I want also to test the flight autonomy with and without camera on.
Real world flight test & unboxing
Editor's ratings
Price/performance ratio

Design and build quality

Remote controller

Flight performance

GPS accuracy
Summary
The Bugs 3 Pro is incredibly easy to fly. Featuring altitude-hold it is very stable, in both indoor and outdoor environment. The remote controller feels nice in your hand and it offers excellent control range.
Thanks to GPS, powerful brushless motors and super long flying time, there's nothing stopping MJX Bugs 3 Pro from becoming the BEST entry level drone of 2018.
Now, with 39% OFF, you can find this GPS drone for only $134.99 (including Duty free shipping). If you don't have a compatible camera, you can also opt for the bundle package w/ C6000 camera.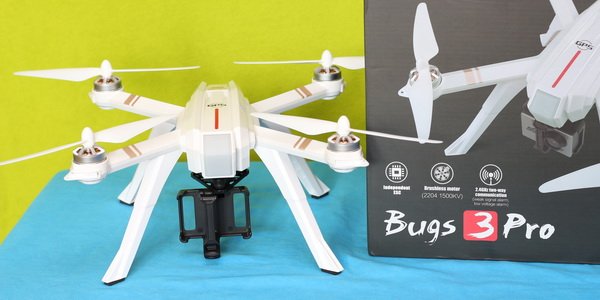 Pros
Excellent build quality;
Super long flying time;
GPS positioning system;
GoPro camera mount;
Fail-safe features.
Cons
No camera included;
You need to calibrate the drone every power ON.