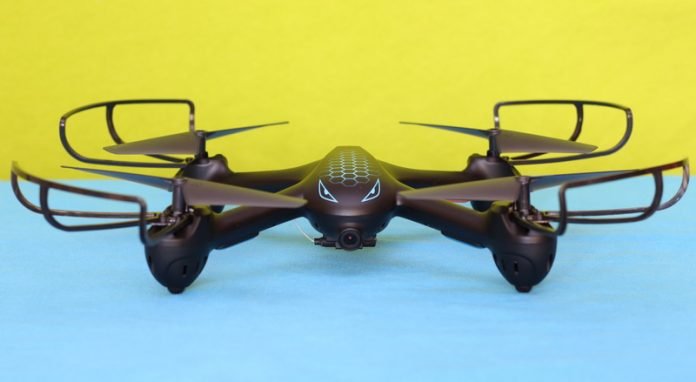 Today, we will have a closer look on the MJX X708P Cyclone, an entry level drone with cool design. In my review I will try to show you why an under $100 drone is better option for a newbie than an expensive high-end model.
We all have to start somewhere, and when it comes to RC drones, there are many models to choose from. The last thing that you want is to crash a $1000 drone, but trust me, everything on the sky will fall at some point. Based on my experience, most of the crashes are produced due to pilot errors. Perhaps flying a fully stabilized drone seems to be fairly easy, especially if it features altitude-hold and optical flow sensors like the MJX X708P, but beginner pilots have a lot to learn. Most of the problems come when they lose the orientation of the aircraft or accidentally bump into something.
Maybe cheap toy drones seem to be more fragile compared to expensive ones, but they are also less cost effective to repair. For example, a single brushless motor for a Mavic 2 drone costs at least twice more than a complete set (2x CW & 2x CCW) of brushed ones for the MJX X708P quadcopter.
MJX X708P drone review with pros & cons
Disclosure: I received this MJX drone as part of a product review collaboration with TomTop. Although the quadcopter was offered for free, all opinions in this review remain my own and I was in no way influenced by my partner.
The package arrived quick and smooth, no paper work nor additional charges. Inside the box, besides the MJX X708P drone I found the following: remote controller, phone holder, 2 pairs of spare propellers, 1 set of blade guards, flight battery, USB charger and drone manual.
At a glance
First of all, it reminds me of Toothless the friendly dragon from the kids movie How To Train Your Dragon. Build quality is nice. It uses only plastic, but you need that to keep it light, make it airborne. It comes fully assembled and ready to fly. Propeller protectors can be easily attached to the aircraft using the included screws.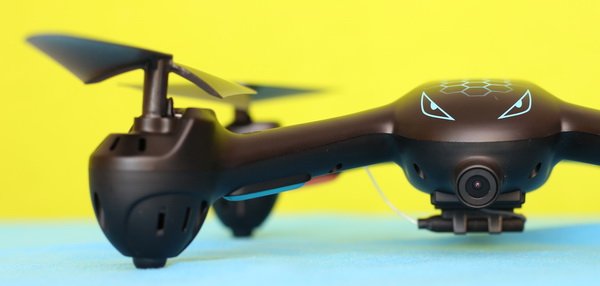 The aircraft measures 31 x 31 x 6 cm (22cm wheelbase) and weights about 125 grams (including battery & blade protectors). The battery is loaded from the tail of the drone. No power button, so you need to plug & unplug the Li-Po every time you play with it. The 3.7v/550mAh LiPo offers about 6-8 minutes of fun time. The battery is standard and easy to find. MJX X708P uses same type of LiPo pack as the epic Syma X5C which was my first drone long time ago.
During night flights you will be guided by 4 LED lights (one under each arm). Cool blue LEDs in the front and orange ones in the back.
MJX X708P core features
Optical flow positioning;
Barometric altitude-hold;
Headless flight mode;
One key Take off & Landing;
Multiple speed rates;
Dual control mode (RC & Phone APP);
On-board 720P camera;
WiFi real-time image transmission (FPV);
Up to 100  meters control range;
About 6-8 minutes play time.
In addition to the frontal HD camera, under the belly of the drone there is a second tiny camera which serves as optical flow sensor.
MJX X708P review: Remote controller
Frankly, the MJX X708P has the most bulky remote that I ever reviewed. IMHO, it is too large for what is need it. Furthermore, the fully white transmitter is offered with a black phone holder. Note: the RC is powered by 4 pieces of AA batteries, which are not included.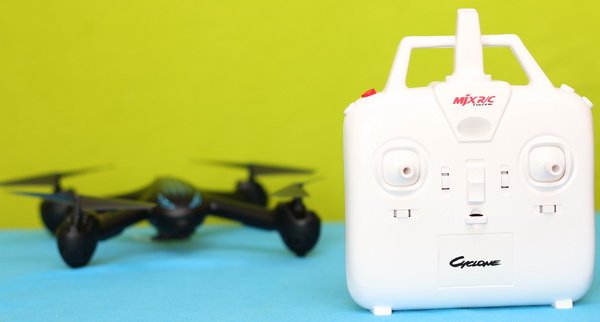 On the generous front panel, besides the usual control sticks are only four trimming switches. No status screen.
There are two shoulder buttons on each side of the remote controller. While the left shoulder allows to Lock/Unlock the motors & Turn On/Off the lights, the right one allows to toggle between High/Low speed rates.
Like most of the 2018 WiFi quadcopters, the X708P Cyclone also features dual control mode. It can be controlled with the included transmitter or through your phone – virtual sticks or phone gravity sensor.
MJX H APP
The MJX H APP is available for both popular mobile OS (Android & iOS). The APP can be simply downloaded and installed by scanning the QR code from the user manual.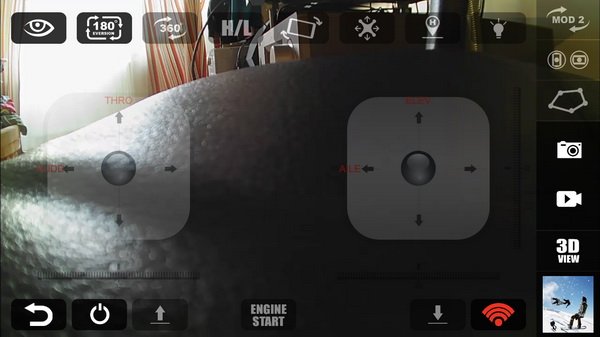 When you start the APP you have option for two operation modes. While "Monitor" mode allows only to control the camera and to display the live-video feed, the "Control" mode allows to pilot the drone through the APP.
MJX X708P review: Camera
The built-in 720P camera is located in front of the fuselage and it comes with wide angle lens. By default, the camera is a bit tilted to ground.
Good news! the MJX Cyclone has an integrated DVR. Videos and photos can be stored on both, drone's and smartphone's memory. "On-board" recording has better image quality than capturing from the WiFi live-video feed. Micro SD slot is located under the external WiFi antenna. Unfortunately, there are no camera buttons on the RC. You can start/stop video recording only through the X708P's APP.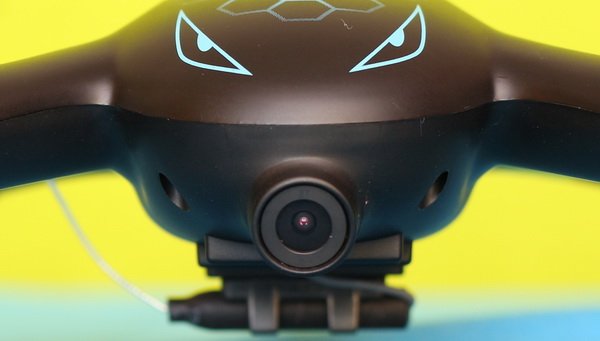 The camera allows to capture photos and videos with resolution of 1280 x 720 pixels. Four minutes of video occupies about 40 MB. Image quality is pretty good for such an inexpensive RC toy, but nothing impressive.
The camera's real-time video feed can be displayed on your WiFi mobile-device. FPV range is a bit shorter than the actual control range.
MJX X708P review: Flight performance
In order to keep it safe, the motors need to be armed by pushing the RED shoulder button. The propellers will start to spin at low speed. You can take-off by moving up gently the throttle stick (left one in mode 2). Due to the combination of barometric air-pressure sensor and optical flow-sensor the MJX X708P drone is super stable on both axis (horizontal & vertical). The flow-sensor starts to fail when the aircraft is about 10 meters above the ground.
You can toggle between two speed rates (H/L). For indoor flights and newbie pilots I suggest to start at Low speed rate. At High rate it is a bit more agile, but still not a "Cyclone" :)
When the aircraft is out of fuel (battery is near empty), it will slowly descent and land. If you have luck, it will not be above a lake :D.
Price & Availability
At the time I started to prepare my review, the X708P drone was listed for $98, but now its price dropped to $79.99. Moreover using this "HY27MJX" coupon code you can have it from TomTop for only $52.99 (including free shipping).
Editor's ratings
Price/performance ratio

Design and build quality

Flight performance

Remote controller

Camera & FPV
Summary
Featuring altitude hold, optical flow positioning, headless mode and removable blade protectors, the MJX X708P is currently one of the best newbie drone under $100. It is extremely easy to pilot and features multiple control modes. Kids will love to control it through their phone G sensor. Hovering stability is truly impressive for such a toy grade drone.
What I liked
Nice design, removable blade protectors;
Super stable flyer (alt-hold + optical flow sensor);
Dual control mode;
Standard LiPo battery.
What I didn't liked
bulky remote controller;
video recording requires phone APP;
APP compatibility issues (didn't work will all my phones).
Editor's Tips for newbies (Troubleshooting)
If your MJX X708P drone starts to flight abnormally, you can try to re-calibrate the gyro by moving both sticks to the lowest right position;
If your drone does not detects the remote (LEDs are flashing 2 times), try to power ON the RC while pushing the RED button. This should bind the drone with the transmitter;
If FPV does not work, you can try with a different phone & OS. The APP it is not 100% compatible with all devices.