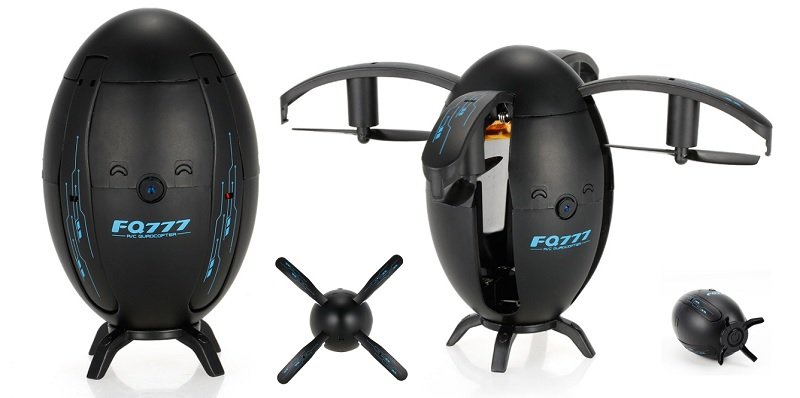 Even if the EGG design does not seem to be too aerodynamic, lately many drones like the FQ777 FQ28 are revealed. It is even more strange that Christmas comes and not Easter :).
FQ777 announced the FQ28 in two variants. One with included remote controller and one with APP control. Both versions share similar features and same type of camera with WiFi real-time image transmission (FPV).
On the bottom of the fuselage is located the Power button, which also allows to unfold the aircraft. By short pressing it few times you can release the arms. By long pressing you can power ON/OFF the drone.
According to the advertised specs, the built-in 400 mAh Li-Po battery allows up to 7 minutes of play time.
FQ777 FQ28 EGG core features and tech specs
EGG alike design with foldable propellers;
Dual control mode (RC and APP);
Altitude hold (auto flight height);
Headless flight mode;
One key Take off / Landing;
Multiple flight speed rates;
On-board camera with WiFi real-time image transmission;
About 6 – 7 minutes of play time.
Unlike the KaiDeng K130, which has a ring landing gear, the FQ777 FQ28 features 4 pieces of individual landing skids. Hopefully this new approach improves the stability during Landing and Take-off.
Included with the FQ777 FQ28 drone
Remote controller with phone holder;
1 set of spare propellers;
USB battery charger;
Screwdriver and blade removing wrench;
User manual.
Both versions (BNF and RTF) are available for order here. Unfortunately, being a new model, there are no spare parts available yet.