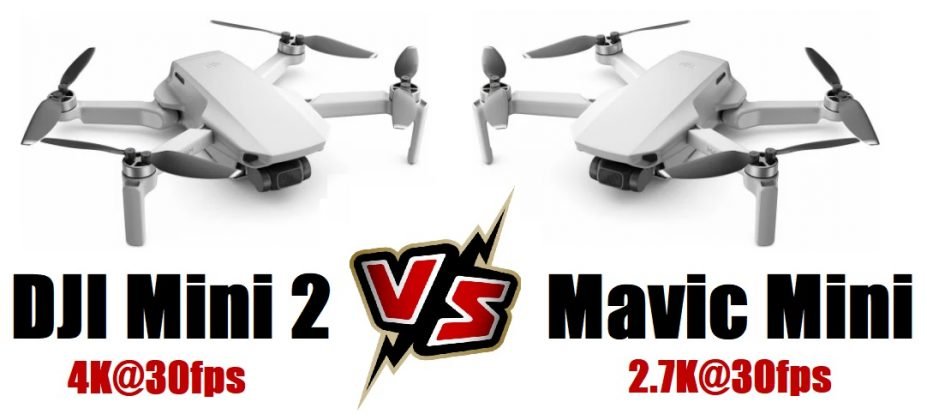 After lots of rumors, the new upgraded DJI Mini 2 will be officially released on November 4. While last year, till the launch event of the original Mavic Mini, everything was kept secret, photos, and specs of the MINI 2 was leaked weeks before the big day. Furthermore, many stores already have it in stock on the shelves, but without the possibility to sell it. First Quadcopter was between the first drone blogs that had access to a review unit. We were allowed to publish our Mavic Mini review only after the drone was revealed on DJI's website. The embargo also included strict rules regarding social sharings (Instagram photos and YouTube videos).
The 'MINI' is DJI's lightest and most compact travel-friendly drone. The weight of just 249 grams (0.54895 lb) places Mavic Mini in the lowest and safest weight class of camera drones, which in many countries may exempt it from certain regulations. For example, in the US and Canada, you can fly with drones under 250g for recreational purposes without the need to register your aircraft at FAA or CCA.
Many pre-release reviews say that, due to a lack of major improvements, the new MM should be called rather MINI 1.1 than 2. Personally, I don't think they're right. While the DJI MINI 2 share the design with its predecessor, it has some significant upgrades from the original Mavic Mini. Firstly, it comes with pro-grade OcuSync 2.0 transmission that not just doubles the range but also makes the video-transmission more reliable. Secondly, the new camera is capable to shot 4K@30fps videos and to take RAW photos.
DJI Mini 2 versus Mavic Mini in-depth comparison
In the table below I will try to compare the most important specs of both compact DJI drones. I highlighted with red where the new DJI MINI 2 excels and with green where the older Mavic Mini still shines.
DJI MINI 2
Mavic MINI
Size
Folded: 138×81×58 mm
Unfolded: 159×203×56 mm
Folded: 140×82×57 mm
Unfolded: 160×202×55 mm
Weight
249 grams
249 grams
Camera

4K@30fps

2.7K@30fps
Max bit rate
100Mbps
40Mbps
Photo mode

RAW + JPG

JPG
Gimbal
3-axis
3-axis
Digital Zoom
4K: 2x, 2.7K: 3x and FHD: 4x
No
FPV
720P
720p
Communication
OcuSync 2.0
WiFi
Range

10KM for FCC and 6K for CE

4Km for FCC and 2Km for CE
Wind resistance
8.5-10.5 m/s (

Level 5

)
8 m/s (Level 4)
Intelligent flight modes

Panorama

,

Hyperlapse

,

One Tap

, and QuikShots (Circle, Dronie, Helix, Rocket, and

Boomerang

)
QuikShots (Circle, Dronie, Helix, and Rocket)
Active tracking
No
No
Obstacle avoidance
No
No
GPS Follow me

?

No
Optical flow sensor
Yes
Yes
Geofence
Yes
Yes
Remote controller
New, Air 2 style (RC231)
Standard, old design (MR1SS5\MR1SD25)
Battery
2s/2250 mAh
2s/2400 mAh
Flight time

31 minutes

30 minutes
FAA registration
No
No
Release date
November 4, 2020
October 30, 2019
Regular price (Standard/Combo)
$449/$599

$399/$499
Other Differences
By using slightly different motors, the DJI MINI 2 also promises better flight performance compared to the older Mavic MINI 1. It has better wind resistance (level 5 vs level 4) and 1 minute longer flight time. Curiously, the improved battery life is obtained by using a smaller capacity Li-ion pack (2250mAh vs 2400mAh). Another unique feature of the new Mavic MINI 2, is that you are able to transfer files from the drone to your computer wirelessly with up to 20MB/s.
QuickShot modes
As you can see in the table below, the MINI 2 comes with a new QuickShot mode called 'Boomerang'. This creative mode gives you a 360 degree view but with an accelerated curve, just like a boomerang. Unfortunately, still, no 'Asteroid' mode as we expected.
| | | | | | |
| --- | --- | --- | --- | --- | --- |
| QuickShot | Dronie | Helix | Rocket | Circle | Boomerang |
| Mavic Mini 1 | Yes | Yes | Yes | Yes | No |
| Mavic Mini 2 | Yes | Yes | Yes | Yes | Yes |
Box content
It looks like DJI decided to pack the MINI 2 with a different set of accessories compared to the older Mavic Mini. For example, the M2 comes with a handy propeller holder that keeps the blades from turning outward and possibly getting damaged when you load the aircraft in the bag.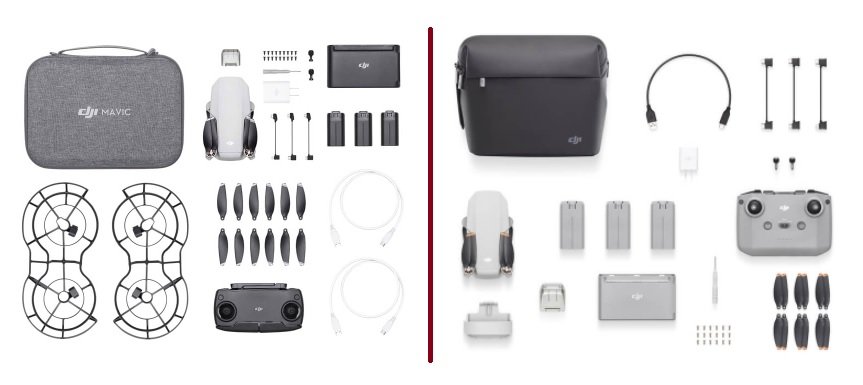 Both MINI generations have 'Standard' and 'Fly more combo' package options. As its name says, the "Fly more combo" is dedicated to those who need extended flight time – not just flying once in a month.
Bottom line: Worth to upgrade from Mavic Mini to DJI Mini 2?
Personally, I seriously think to sell my old MINI and buy the new Mini 2. I like the upgraded range and a better camera. Based on my calculations, this switch will cost me about 200 bucks at least. Second-hand drones are sold for about 50-60% of their store price.
Another aspect you should consider when you upgrade from MM1 to MM2 is the compatibility of the accessories you already own. First testimonials say that most of the accessories (excepting remote controller and batteries) are interchangeable across the two generations of MINIs.
In case you are looking for your first drone, without a blink, I would suggest you to buy the new DJI MINI. For the price difference of just $50, you will get lots of features (Better range, 4K recording, and RAW photo).
Last update on November 5, after official release.