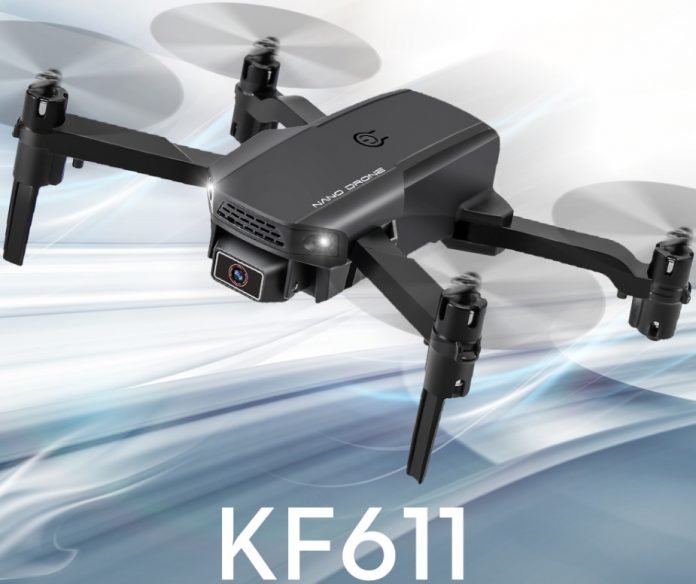 Despite its small size and friendly price tag, the KF611 Mini drone comes with lots of beginner-friendly features like precise altitude hold and headless flight mode. Furthermore, it has triple flight speed rates and removable blade protectors.
KF611 Mini has two versions, one equipped with camera ($29.99) and another without ($19.99). Both are available with 1, 2, or 3 flight batteries and optional handbag. In case you opt for camera edition, you should now that it features remote camera angle adjustment and WiFi real-time image transmission. It even claims to be a '4K' one, the UHD resolution is applicable only for photo mode – videos are captured in 1080p.
According to the advertised specs, the 800mAh battery allows about 10 minutes of flight time. The KF611 Mini can be operated either by the included remote controller or by your phones (virtual sticks or gyro – tilting the phone).
KF611 Mini drone specs and features
Palm-sized drone with foldable arms;
Optional 4K camera (Photo 4096*2160P or 1920*1080P video resolution);
Remote camera angle adjustment (90-degrees);
WiFi real-time video transmission;
Altitude hold and handless mode;
Triple speed rates (Low 6km/h, Mid 10km/h & High-speed 13km/h);
Dual control modes (Phone or RC).
Around 10 minutes of flight time;
Include accessories with the KF611 mini foldable drone:
Remote Controller with phone holder;
3.7V 800mAh flight battery (1, 2 or 3);
USB charging cable;
One set of spare propellers;
4 pieces of blade guards;
Blade changer tool