Whether your father is a beer enthusiast or a devoted golfer, an RC drone like the KFPLAN KF106 MAX will surely bring a smile to the face of the man you call 'dad'.
KF106 MAX is one of KFPLAN's newest brushless camera drones. Featuring an obstacle avoidance module, it is going to be a game-changer for the brand's lineup. Furthermore, it features several intelligent flight modes including Follow me, Spiral up, and cool time-lapse.
KF106 MAX comes with advanced GPS systems which provide it with additional benefits such as tracking the drone on the app and allowing for the drone's autonomous flight modes and its automatic fail-safe return to home. There is also an optical flow sensor on the belly that will allow you to fly the KF106 MAX in areas where the GPS signal is not so strong.
With folded arm measures just 170x105x100mm, making it a travel-friendly drone. Here I should mention that the drone weighs around 380grams, which means you will need to register it if you live in the USA, Canada, UK, or Europe.
It has an advertised flight time of 30 minutes, this is very good for a drone that costs less than $200. Its 7.4V 2200mAh LIPO battery pack can be recharged in around 180 minutes.
The KF106 MAX from KFPLAN does have an obstacle avoidance module on top. It uses a laser that rotates to detect obstacles in all directions.
Price, availability, and options
The KF106 MAX can be ordered from Banggood with a starting price of US$159.99 for the standard edition without an obstacle avoidance module, and US$189.99 with OA system. There is a fly more combo option with 3 included batteries for both versions.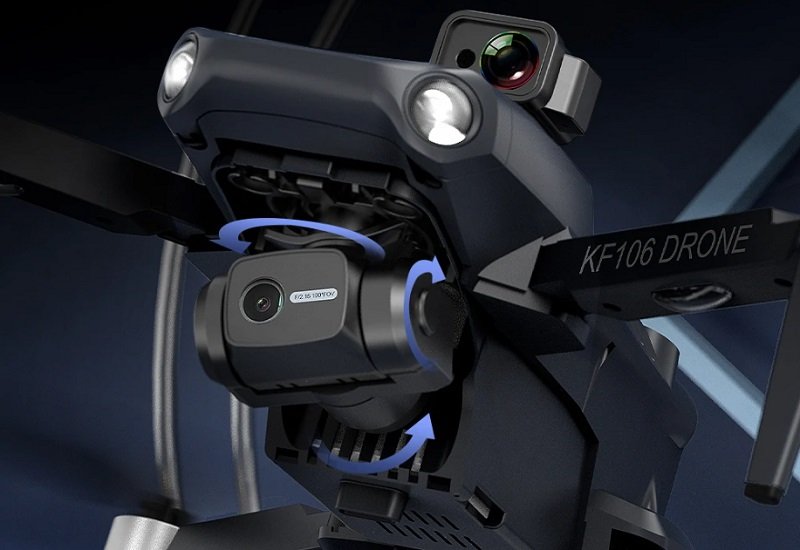 KFPLAN KF106 MAX 6K camera
The quadcopter comes with a 6K camera that can record 1920*1080P @ 25fps video footage and capture 6K (4096*3072P) images and is stabilized by a 3-axis gimbal system. there is a micro SD card slot on the drone and if you want to record videos in the best resolution, you will need to record it locally on a fast micro SD card instead of over WiFi on your smartphone.
In addition to the 3-axis gimbal that allows remote angle adjustment (90°), the KFPLAN KF106 MAX also features electronic image stabilization (EIS).
Conclusion
There are a lot of good Father's Day gift ideas and the KF106 MAX is one of them. In addition to the onboard stabilized camera, it comes with many smart features including GPS positioning and an obstacle avoidance system.
Happy Father's Day!