f the SMRC M20 had come equipped with brush-less motors, instead of less reliable brushed ones, it would be easily nominated as the best Mavic Mini alternative under $100. It features a compact and lightweight design, an onboard 4K camera, and excellent flight time.
SMRC M20 drone is available in 3 versions. The "most expensive" one, advertised at Banggood for $66.99, comes with a GPS positioning system and remote camera angle adjustment. "Basic" edition features optical flow positioning instead of satellite positioning and a fixed camera. All versions are available with 1, 2, or 3 flight batteries.
According to the advertised specs, the 1000mAh dual cell Li-Po pack allows about 17~30 minutes of flight time.
SMRC M20 GPS edition features a fail-safe return to home. In case of low battery or remote controller signal loss, the drone will return automatically to the take-off point. In case you lost your orientation, you can conveniently bring back the drone by pressing the "RTH" button as well.
SMRC M20 drone features and specs
Compact size (170 x 80 x 53mm with folded arms);
Only 230 grams take-off weight;
On-board 4K camera with 5G wifi real-time image transmission;
Remote camera angle adjustment (Pro version);
GPS positioning system (Pro version);
Intelligent flight modes (Smart follow, Surround shooting, and Way-point flight);
Fail-safe auto return to home (only GPS edition);
Creative MV mobile APP;
About 17-30 minutes of flight time.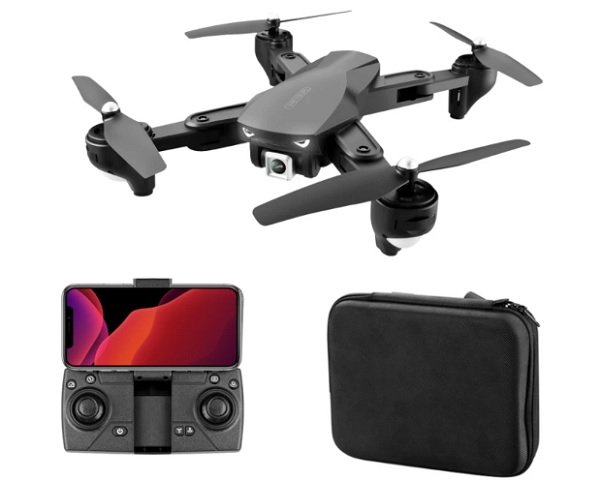 Included accessories with the M20 SMRC drone
Remote controller w/ phone holder;
2 pairs of spare propellers with screws (2*A & 2*B);
1 set of blade guards;
Screwdriver;
7.4/1000mAh flight battery (1, 2 or 3);
USB charging cable;
User Manual.