When it comes to beginner pilots, especially if they are kids, I highly recommend to start with ultra cheap easy to control drones like this Eachine E016H. In addition to the newbie friendly features, it has cage type blade protectors which make the aircraft safe to use even by children.
No manufacturer can guaranty that their drone is indestructible. Many toy drones end in the trashcan due to lack of spare parts. Luckily, Eachine offers wide range of parts for most of their drones. If something goes wrong with your E016H quadcopter you can find replacement parts from body frame to flight controller board. Of course, spare motors and propellers are available as well.
Like usually, the "H" letter in the name of the drone means that it features altitude hold. Thanks to the barometric air-pressure sensor, the Eachine E016H quadcopter keeps its flight altitude very stable.
Eachine E016H highlights
Protective cover around the blades;
Barometric air-pressure sensor (altitude hold);
One key take-off/landing;
Headless flight mode;
Multiple speed rates (3 levels);
Bright LED light for night flights;
Up to 8 minutes flying time.
Eachine E016H drone review
Disclosure: I received this kids friendly drone as part of a product review collaboration with Banggood. Product specs and quality may vary according to the manufacturer's reliability, so I cannot guarantee that you will get exactly the same RC drone as seen in my review.
The E016H arrived in the same time with the previously reviewed E61HW. I was pleasantly surprised that the box contains not one, but two flight batteries. Of course, there is also included a USB charger, one set of spare propellers and user manual.
At a glance
Measuring about 8.8 x 8.8 x 3 cm it fits perfectly into your pocket. The fuselage has two parts. While the bottom frame is fully black, the top one is green. Being winter, this color combination is just perfect for flying above the snow covered ground. The protective cover around the blades is very effective. It is hard to get injured by those tiny propellers. Also, you don't need to be afraid if you bump into something.
The 350mAh (25C rated) LiPO slides into the belly of the drone. The battery bay is very tight, which makes difficult to use a higher capacity LIPO. Battery comes with standard JST connector. It does not have a power switch. You just need to plug in the battery and the fun can begin.
In addition to the bright frontal LED, there are two SMD LEDs under the belly of the drone (blue in left and red on right). Normally, the LED is solid and starts to blink when the battery is near empty or there is no RC signal.
Eachine E016H review: Remote controller
Eachine packs with the E016H drone same type of compact remote controller like with the older E010 Mini. Like the drone, the remote also has black and green colors. Measuring only about 10 x 6cm, may be a little small in my hands, but all the controls can be easily accessed even by adults. The RC is powered by 2 pieces of AA batteries.
On front panel, besides the usual control sticks and power button, there are 3 trimming switches. The left one allows to Take-off/Land respectively to activate headless mode or to enable RTH (Return To Home).
While the left shoulder button allows to toggle between flight speed rates, the right one enables 3D flip mode. You can flip in any direction you want.
Eachine E016H review: Flight experience
After you plugged in the battery you can start your flight either pressing the take-off button or slowly pushing up the throttle stick.
Being mainly designed for kids and indoor flights, you should not expect lots of power from this mini drone. The 3-level flight speeds mentioned earlier makes it easy for kids and newbies to learn the basics of flying. You can do flips in any direction you want.
While the frontal white LED is very helpful to know the exact orientation of the aircraft, the other two LEDs are hardly visible.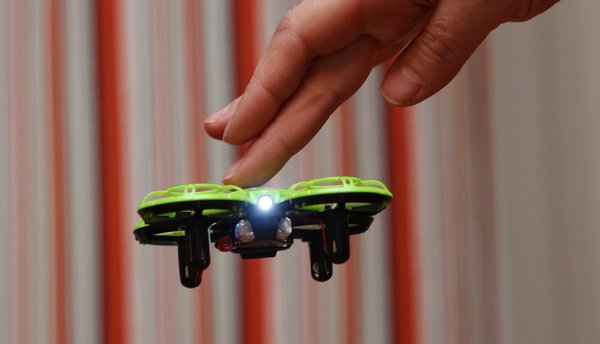 If you accidentally land reversed (up-side-down), the motors are almost instantly stopped.
While my first flight ended after 8 minutes, the second one lasted 7 minutes. Unfortunately, the included adapter allows to charger only one battery at once. I think is worth to invest couple of dollars in a multi-way USB charger.
In case the drone starts to fly abnormally, you can perform gyro calibration. This can be done by moving both sticks to the lowest-outer position. During calibration, the LEDs will blink.
Price & Availability
If you are looking for an easy to fly and very safe drone for your kid, the Eachine E016H is a great option. Now, you can find it here for only $15.99 – this price includes free shipping and one flight battery. If you need more play time, you can additionally purchase 5 extra batteries with multi LIPO charger for extra $US15.99.
Editor's ratings
Price/performance ratio

Design and build quality

Remote controller

Flight performance
Summary
In one sentence, I would say that the Eachine E016H is a nice little Whoop for kids. It has very safe design and is easy to fly. Plus it's also very cheap.
It does not have a camera, but frankly who needs a VGA camera with poor image quality which just adds extra weight.
What's good about the Eachine E016H Mini drone? 
super cheap;
kids friendly design;
very stable indoor drone;
standard LIPO battery;
spare parts availability.
What is missing from the E016H?
no camera (but who needs it anyway :))