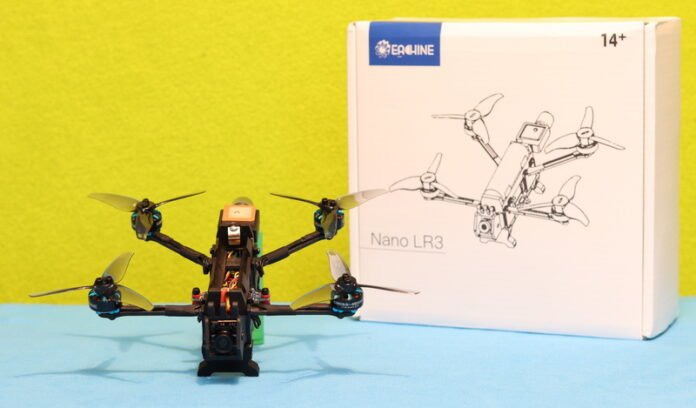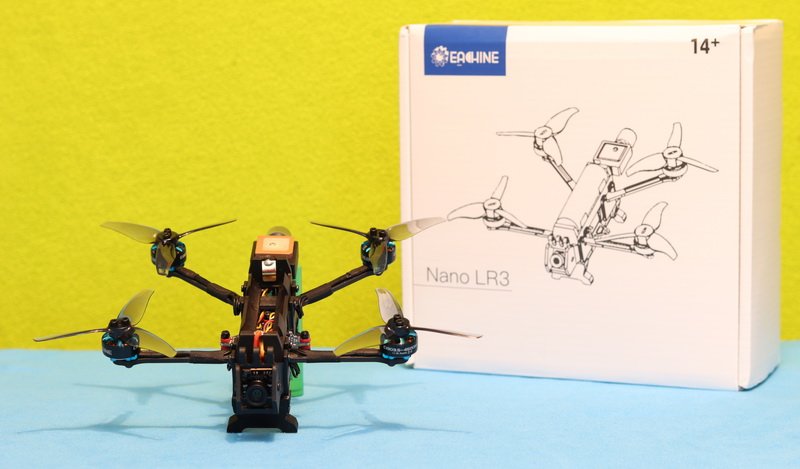 The Eachine Nano LR3 is a lightweight 3″ FPV drone built around standard 18650 Lithium-Ion batteries as its power source. Designed for long-range flights, it has an onboard M80 GPS module for fail-safe return to home. Additionally to the onboard CADDX Nano ANT camera, it can carry an SMO 4K, or an Insta360 GO 2 camera.
In the past, we have already reviewed a couple of toy drones from Eachine. They had an excellent price/value ratio. First-Person View (FPV) drones have increased in popularity in recent years, and now almost every manufacturer started to offer such flying machines (with more or less success). Although that Eachine's Nano LR3 quadcopter is marketed with GPS capabilities, you should not expect to be like one of your crossing drones.
Unlike traditional drone flying, where the pilot operates the drone from the ground perspective (Line Of Sight), FPV pilots use the live video transmission from the drone's onboard camera. That video is transmitted from the quadcopter to a compatible ground receiver and display -either an FPV monitor or goggles.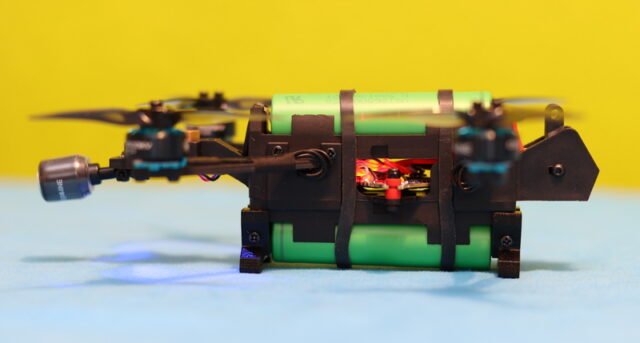 Eachine Nano LR3 core features
144mm frame with carbon fibre arms;
Works with two 18650 batteries (Eachine 3.7V 2500mAh recommended);
Eachine 5A AIO 1-2S brushless flight controller;
Onboard M80 GPS module for RTH;
1303.5 4500KV motors with 3″ 3-leaf propellers;
NANO V2 VTX with adjustable broadcast power (PIT/25/100/200/400mW);
CADDX Nano ANT 1200TVL FPV camera;
Optional Naked GoPro, SMO 4K, Insta360 GO 2 or DJI Action camera;
Weights 97.4g without batteries.
Eachine Nano LR3 hands-on review
Disclosure: I received this 3″ long-range FPV quad as part of a product review collaboration with Banggood. Product specs and quality may vary according to the manufacturer's reliability, so I cannot guarantee that you will get a drone that performs exactly the same as seen in my article.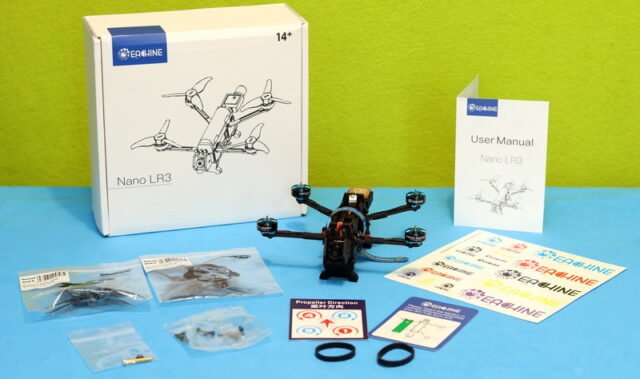 I opted for PNP version (without a radio receiver) because I wanted to install my BetaFPV ExpressLRS Nano RX module. The Eachine Nano LR3 arrived fully assembled with the following accessories: two rubber bands, two sets of propellers + screws, and a camera screw with nuts. As the manufacturer does not include batteries, I asked Aldona Yu to send me a pair of Eachine 18650 2500mAh batteries for the tests.
At a glance
Eachine LR3 has a wheelbase of 144mm and a 'dead cat' frame design. Unfortunately, only the arms are made from carbon fiber. The rest of the parts are from plastic. One battery is loaded from the top and the second one from the belly of the drone. It has two 3D printed landing skids that protect the bottom battery. The 18650 LIO-ION batteries are secured to the frame by using two rubber bands. The two batteries are serially connected, which means that you need to load both of them in order to power ON the drone. Remember that the positive end (+) goes in front and the negative end (-) on the rear in the top of the frame, and reversely in the bottom. Missinstalling the batteries can burn out the electronics.
In the comparison picture below, you can see the size difference between this 3″ and the 5″ HGLRC Sector 5 V3. There is also a huge weight difference between them (185g vs 652g with batteries).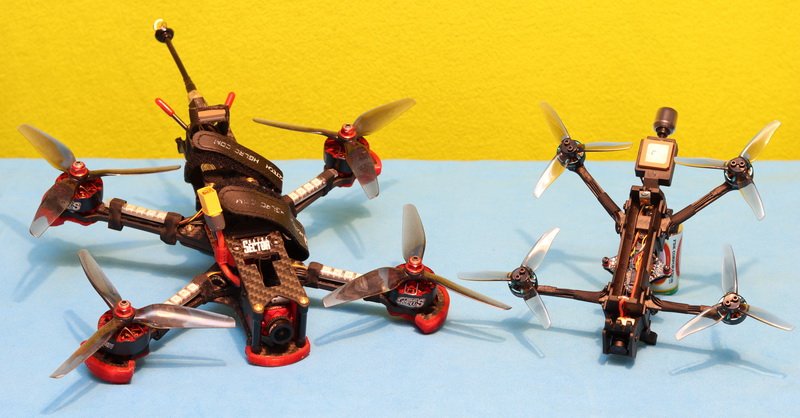 The Hglrc Zeus 5A AIO fight controller is diagonally positioned on the frame, which exposes two of its corners, making them more vulnerable during a crash. USB port and RX soldering pads are easily accessible without the need of thanking apart the drone. The M80 GPS module and 5.8GHz VTX antenna form a tail, making it look like a scorpion. Its 1303.5 4500KV motors are equipped with 3-leaf propellers. If you prefer performance over stability, you can try replacing them with 2-leaf ones. Motor wires are nicely routed and secured with fabric tape to the arms.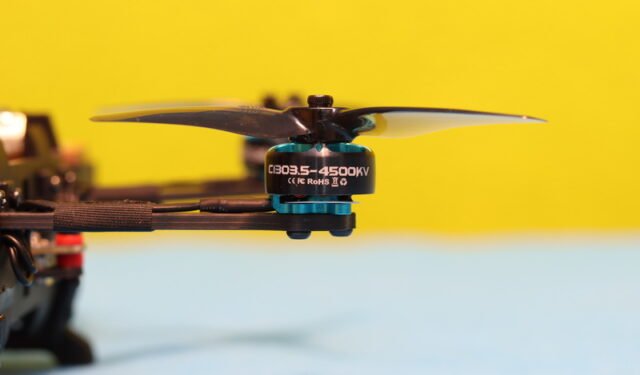 Designed for long-range flight, it comes with a high-power 5.8GHz VTX board. According to your needs, you can toggle broadcast power between 25, 100, 200, and 400mW. The CADDX Nano ANT camera is installed on a plastic bracket with an action camera mount on top.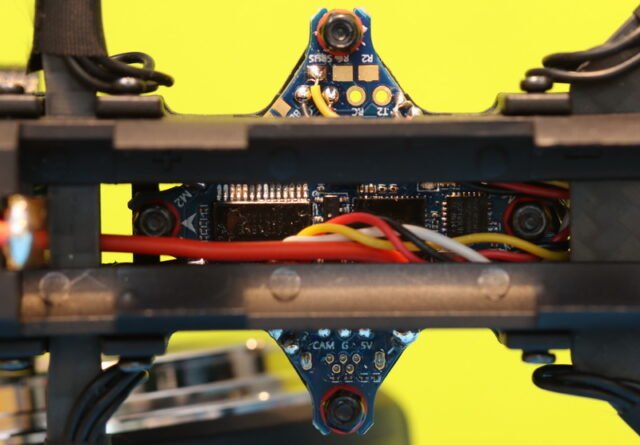 Price and availability
Besides PNP package that is priced at $174.78, there are available combos with 5 different radio receivers (CRFS Nano V2, FlySKy FS-A8S V2, FrSky R-XSR, XM+ or R9MM OTA). The radio module will cost you extra between $10-$30, depending on the version you opt for. Remember to order along with the drone a pair of Eachine 3.7V 2500mAh 18650 Li-ion and a compatible charger if you don't own one.
Initial setup, Flight preparation
For sure this drone is not intended for first-time pilots. The included tiny user manual provides only some basic information about the flight controller's pinout (wiring diagram) and how to adjust VTX parameters (CH & Power). The catch is that you should have access to the FPV transmitter button in order to make all the changes.
If you ordered PNP version, like me, the first thing you need to do is install your radio receiver. Mine arrived with a pre-soldered SBUS connector, making the process easier. As there is not included RX antenna mount, I opted to zip-tie them to the front arms.
Before installing the props and loading the batteries, you should check the stock settings in the BetaFlight configurator. Here you can set the desired transmitter switch layout and do OSD customizations.
GPS rescue mode can be customized and activated under the Failsafe tab (visible only in Advanced mode!). In case you are flying in a poor-satellite coverage zone, I suggest you set 'minimal satellites' to 6. Here is a crucial switch 'Allow arming without fix'. Without enabling this feature, you can arm and take-off only after the home point is locked. In case you are indoor, you will need to activate this option.
Flight experience
Firstly I tested some indoor hovering, which proved to be a smart idea. After a few seconds in the air, the OSD suddenly showed 'RXloss' and the drone dropped. The same phenomenon happened every attempt. Next, I used my Jumper T-lite controller and ELRS RX instead of the LDARC EX8 and FrSky XM+ which seems to have been the problem.
For take-off, you need to push the throttle to 50%, so you should not expect too much power from this little guy, especially if you install an additional camera. As MarbleKit says it, is like a 'flying whale'.
With those many flight data (System voltages, Temperature, GPS coordinates, Flight altitude, and Artificial horizon) on the FPV screen, it looks like a real plain's cockpit :)
It takes more than 2 minutes to fix 6 satellites in my flight location. I even waited 15 minutes and no more than 11 satellites have been found. While GPS flight distance was accurate, the altitude did not seem to be right – it changed from 5 to 180 meters without actually climbing.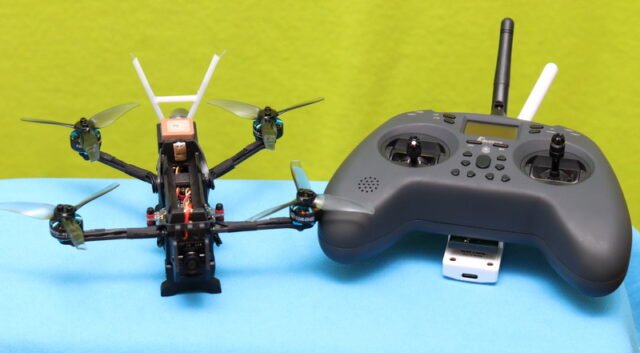 Editor's ratings
Price/performance ratio

Build quality

Camera & FPV & OSD

Flight performance

GPS function
Summary
The Eachine Nano LR3 is a very capable ultralight 3-inch micro quadcopter using 2s batteries. It ships with multiple optional external receiver options including FRSKY, FlySky, and TBS crossfire as well.
If GPS fail-safe is configured correctly, the drone is capable to return to the take-off zone autonomously in case of TX signal loss. For its size and weight, the close to 20 minutes flight time is truly impressive.
Pros
Under 250grams with Insta360 GO2 and 2S configuration;
GPS fail-safe RTH;
Standard 18650 LI-ION batteries;
Excellent battery life;
Can carry an SMO 4K, Insta360 GO2, or DJI Action 2 camera;
Cons
Poorly documented;
Slow GPS fixing;
VTX button is not accessible.
My BetaFlight config file (Eachine LR3 with FrSky) can be downloaded from here.