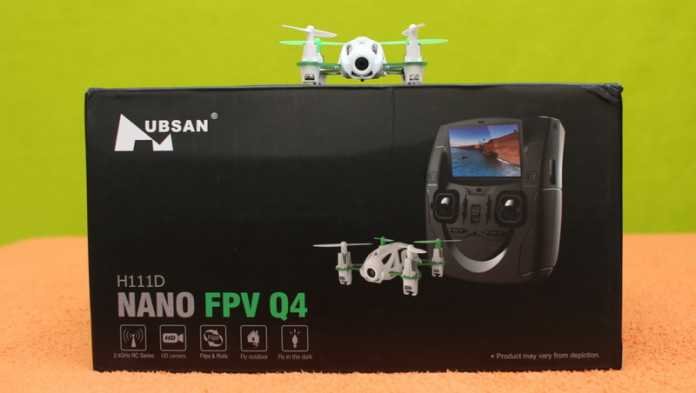 Hubsan H111D world's first mini FPV quadcopter
Since I started the FirstQuadcopter.com blog I wrote about many Hubsan models in the quadcopter news section but till now I have not had the chance to review one. I was extremely happy when one of my partners offered me this Hubsan H111D for review especially that it's a very new model on the market so I will be between the first people who review it.
After the Hubsan's big success in 2104 with the award-winning X4 Nano H111 model, we all expected from them to see something even better. Instead of coming up with a totally new model, they decided to upgrade their most popular model with new features. This time they announced two variants of the X4 Nano, one called H111C (aka X4 Nano Plus) which is equipped with a 720P camera, and the H111D (aka Nano FPV Q4) with a complete 5.8G FPV system.
The Hubsan H111D Nano FPV Q4 is certainly one of the most versatile mini quadcopter. On first look, the only thing that I miss from this little drone is the altitude hold feature. This would be very helpful for first-time pilots. But who knows, Hubsan maybe already started to work on the "H111HD".
Compared to the Cheerson CX-10WD which offers WiFi FPV, the Hubsan H111D features 5.8G FPV which is a more professional wireless video transmission system.
Hubsan H111D in-depth review
Firstly, I have to thank Alice from GeekBuying who offered me this mini drone in order to test it and write an honest review. I also want to wish her a Happy Chinese Qixi Festival!
As usual, I promise that my review will show only my personal impressions regarding the product. I will try to reveal all the positive facts but also the negative ones in case they exist.
Hubsan H111D features and specs
Complete 5.8G FPV system;
480P camera for aerial videos (0.3MP);
Headless flight mode;
6-axis gyro stabilization;
Suitable for both, indoor and outdoor flights;
LED lights for better orientation during night flights;
2.4G transmitter with a built-in 4.3″ FPV screen and DVR;
About 5 – 7 minutes playtime;
Up to 50 meters control range in the open field.
Hubsan H111D review – First impressions
The package was delivered very quickly by SF Express straight to my door. Being curious about it I opened the package immediately. I found inside a surprisingly stylish black box with a transparent window that reveals the tiny H111D Nano FPV Q4. Frankly, Hubsan did a great job. I didn't have the feeling that I'm dealing with a cheap Chinese product like in the case of other quadcopter brands (like JJRC or Eachine).
Besides the small aircraft and its big transmitter, I found inside the following: USB charging cable, one set of spare propellers, and an instruction manual. Unfortunately, there is no memory card included so you will need to purchase one separately. A small-capacity micro SD card (4GB – 8GB) will do the job just perfectly.
The included user manual is the first one in this price range that is a really helpful one because includes details about how to prepare for fly and how to control the aircraft. There is also a chapter about the available spare parts and an exploded-view diagram in case you need to repair it.
As a design, the H111D follows its predecessor. Basically, everything (including motors) is mounted on the main-board. The internal parts (camera, battery, and receiver board) are protected by a durable and lightweight ABS shell. The 0614 coreless motors are easily replaceable but you will still need minor soldering knowledge.
In the rear part, under the charging plug, there is located a tiny power switch.
Although the Nano FPV Q4 features headless flight mode, it has white propellers in the front and green ones in the rear. This will allow a better orientation during flights.
The four LED lights (blue ones in front and red ones in the rear) will definitely help during night flights. Those tiny LEDs not only that provide great visibility but also make your night flights more spectacular.
Hubsan H111D review – Camera
The frontal camera is integrated and does not allow angle adjustment.
There is no memory card slot located on the aircraft because the captured files (videos) are stored on the micro SD card inserted into the transmitter. The videos are saved with a resolution of 720 x 240 (extremely wide). Two minutes of captured videos occupy about 105 MB on the micro SD card.
Regarding the quality of the recorded videos, I can only say that is not too enjoyable. The videos are saved from the live-video feed with all the RF noises. Anyway, in this price range, we can't expect the quality of a GoPro camera.
Unfortunately, the Hubsan Nano H111D is capable only to record videos without allowing to take still photos.
The camera's live video feed can be displayed on the transmitter's FPV screen. This feature is pretty awesome, kids will definitely love it.
Hubsan H111D review – Transmitter
Certainly, the first thing you will notice on this RC is that it's huge compared to the size of the drone. It is almost as large as it is the RC of my professional Yuneec Q500 4K.
The transmitter is powered by 4 pieces of AA batteries. Honestly, it would have been more convenient to adopt a single Li-Po battery.
In the upper part is located the generous 4.3″ FPV LCD screen which allows displaying recording time, trim levels as well as the camera's live video feed. The transmitter has an integrated DVR that allows recording the journey of your flights. There is also a playback feature that allows reviewing your flight directly on the field.
Besides the usual control sticks and trim buttons, there are only two buttons. While the right one allows to start/stop video recording, the function of the left one is unknown (at least there is nothing mentioned about it in the Q4 FPV user manual).
Switching between normal and expert flight modes can be done by gently pressing the right stick (mode 2) for 0.5 seconds. The headless flight mode can be activated in the same way using the throttle stick.
By pressing and holding the throttle stick for 1.5 seconds it can be enabled the 3D flip mode.
On the right side of the remote controller are located the micro SD card slot and a mini USB port. The memory card must be loaded into the RC prior to powering ON. By connecting the transmitter to your computer through the USB port you can transfer the recorded videos.
The transmitter configuration menu can be activated by simultaneously pushing the throttle stick to the lowest position and long-pressing the right stick. The on-screen menu allows to do the followings:
Playback your recorded videos;
Time and date settings;
Format the memory card;
Reverse control channels;
Input 

sensitiveness

;
Manually select the FPV 5.8G frequency.
Hubsan H111D review – Test flight
After spending some time flying the H111D indoor I was impressed with how stable this little drone is. Although it does not feature altitude hold, it is very easy to hover with minor throttle adjustments.
According to your flight skill, you can opt between "Normal" and "Expert" flight modes. For newbies and indoor flights, I recommend normal mode.
The FPV transmission worked pretty well except for some annoying horizontal bars when it's in the air probably generated by the brushed motor's electrical noise. When it was on the ground I got enjoyable image quality on the transmitter screen as well as on my KDS Kylin FPV goggles. If you consider the transmitter's FPV LCD too small, basically you can use with the Hubsan Q4 FPV any other 5.8G display.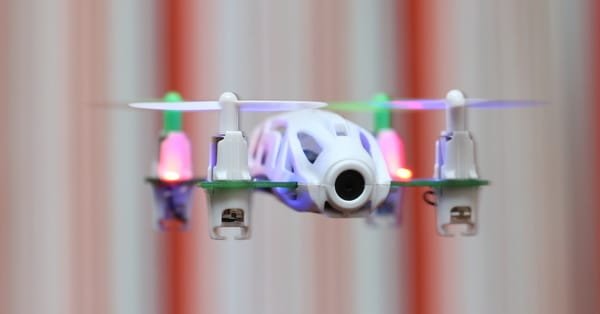 The tiny 180mAh Li-Po battery provides between 3 and 4 minutes of playtime which in my opinion is reasonable considering the size of the drone. I know, this is only about half of the advertised flight time – maybe I flown too aggressively :D
When I landed and I switched it OFF I noticed that this little toy heated up seriously. This is probably caused by the RX and TX modules.
If you fly out of the control range, the motors of the H111D are stopped almost instantly (1 -2 seconds). This is good because this way can't occur a flyaway.
In case the aircraft starts to fly chaotically I recommend recalibrating the gyro by pushing and holding the throttle stick to the lowest-right position and moving the right stick (aileron – mode2) left to right quickly.
Unboxing video with test flight
Price–performance ratio

Design and build quality

Play time

Remote controller

Camera
Hubsan H111D review - Final words
Overall the Hubsan H111D is a great micro-class drone which has a pretty good performance and attractive price for an complete 5.8G FPV system.
If there only one word that I can use to describe this tiny quadcopter, I would say "FUN"! From kids to adults, all will love to play with it.
Certainly, features like alt-hold and one key take off/land would make it even more attractive for newbies.
This micro FPV quad can be bought at the price of $89.99 with free shipping from here. While the H111D is available in green/white and green/black color combinations, the H111C has only red/white color version.
Pros
Nice durable design;
Very stable and easy to control;
Complete 5.8G FPV system;
Normal and Expert flight modes;
Easy to replace motors, only minor soldering needed;
On/Off switch;
Cons
Short playtime;
No altitude hold;
Poor video quality;
Horizontal bars on FPV;
Lack of spare parts availability.