Thinking of buying a drone with best flight time? Check out our JJRC X7 Smart review. Powered by a 2s/2600mAh LI-PO battery, the JJRC X7 has more than 20 minutes flight time. Furthermore it has powerful brushless motors, GPS positioning system and full HD camera – all for less than $150!
No matter how stacked its features are, a drone is useless if it can fly only 5 minutes. Fortunately, this year were announced many fairly priced quadcopters with impressive flight time. Increasing the battery size is not always a solution, you need to keep a good balance between take-off weight, motor efficiency and LIPO capacity. JJRC claims that their new X7 Smart drone, has up to 23 minutes of airborne time, which is by far the best in its market segment. If you read my MJX BUGS 2SE review, you could have already found that the advertised flight time does not always coincide with the results of the real-world tests.
JJRC X7 drone core features
Double satellite positioning system (GPS & GLONASS);
Barometric altitude hold & headless modes;
Intelligent flight modes (like Orbit mode);
Fail-safe return to home;
PPM 6-channel remote controller (Up to 500 meters control range);
Dual control mode (RC & APP);
Powerful brushless motors;
On-board 1080P camera with remote angle adjustment;
5G WiFi real-time image transmission (~200 meters FPV range);
About 23 minutes flying time.
JJRC X7 Smart in-depth review
Disclosure: I received this GPS quadcopter as part of a product review collaboration with Banggood. Product specs and quality may vary according to the manufacturer's reliability, so I cannot guarantee that you will get a drone that performs exactly the same as seen in my article.
With standard free shipping, the package arrived in 20 days. Inside the bulk cardboard box, besides the JJRC X7 drone, I found the following: transmitter, phone holder, 3 pairs of spare propellers, flight battery, balance charger, micro USB cable, prop nuts, tools and user manual.
Design
The design of the JJRC X7 is very minimalist, with elegant lines. You have two color options: white and black. Build quality is nice, the fuselage feels sturdy.
As you can see in the image below, landing gears are quite interesting. Instead of being under the motors, they are after them. This approach makes its foot-print, unnecessarily larger. The X7 Smart quadcopter has about 28cm motor-to-motor distance (wheelbase) and it weighs 399 grams (including battery). Both, arms and propellers have DJI alike stripes. The flight battery is loaded from the tail of the aircraft. The power switch is on the battery pack.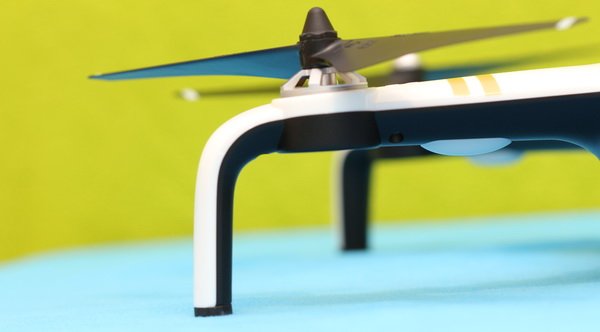 According to the manufacturer's specs, with a fully charged LIPO, you can have up to 23 minutes of flying time. Before you get too enthusiast, nothing is perfect, recharging the battery takes an eternity (~ 3 hours).
On the right side of the X7 JJRC drone, there is a micro USB port. Being curious to find out its purpose, I connected it to my computer. My Win10 detected a new com port, which gave me hope for future firmware upgrades and tuning possibilities.
During night flights you will be guided by 4 LED lights (one under each arm). Frontal LEDs are red and the rear ones green. IMHO, a frontal bright LED light it would have been helpful to identify the orientation of the drone.
JJRC X7 remote controller
Personally, I find the transmitter very bulky. It doesn't even have a status screen to display essential telemetry data (like flight altitude, flight time, battery level or GPS status).
On the front panel, besides the two control sticks (center-positioned), there are only 5 buttons (Mode, Take-off/Landing, Photo/Video, RTH and Power). The "M" button (needs to be long pressed) allows toggling between Position-hold and Altitude-hold modes.
The left shoulder dial-knob allows to remotely change the camera's angle from front to ground view.
The remote controller is powered by an integrated LiPo battery which can be recharged through the micro USB port.
Enjoy-Fly APP
In order to enable all the features of the JJR/C X7 drone, you need to download and install the Enjoy-Fly APP on your mobile device. Under the general settings menu, you can initiate compass and gyro calibration. Here, you can also activate "Beginner" mode, which limits flight distance to 200 meters as well as flight altitude to 120 meters.
On the top ribbon are shown the actual flight mode (Altitude/Position/Track/Orbit), number of satellites, and battery level. Flight speed, altitude, and speed are displayed on the bottom of the screen.
Camera, Gimbal & FPV
Surely, the greatest feature of the JJRC X7's camera is the remote angle adjustment. You can have the best image quality in a drone, but if you can't spot on the thing you want to film, it is mainly useless. For example, without this feature, you will not be able to make an inspection of your roof/chimney.
In order to reduce the jello-effect, the camera module is hanged on some tiny vibration dumpling balls.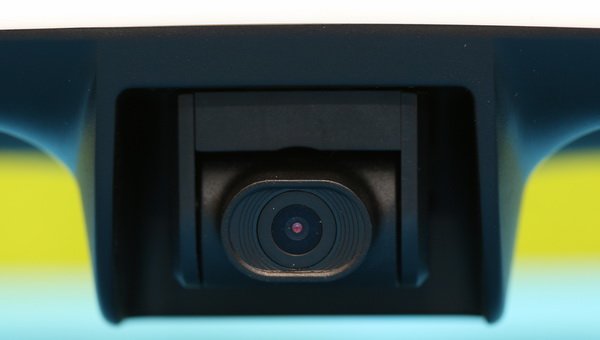 Image quality is quite nice, even better than I expected from such a cheap product. Videos are full of colors and with great contrast. Camera's biggest drawback is the fact that it's not mechanically stabilized.
Featuring on-board DVR, you can opt to record on the drone's micro SD card, which usually provides the best results. It allows capturing photos and videos with a resolution of 1920 x 1080 pixels. Three minutes of video occupies about 180 MB. Videos are divided into 3 minute sequences.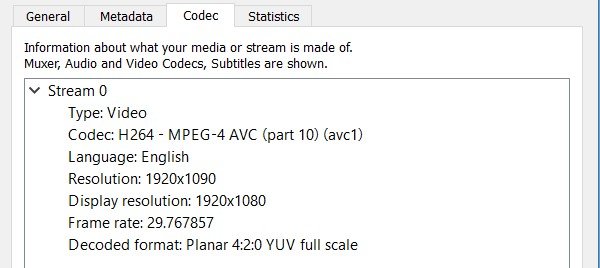 The camera features 5Ghz WiFi real-time video transmission, this frequency being supported by most modern phones.
Flight performance of JJRC X7 Smart
Overall, my first flight experience with this quad was quite a nice one. Pre-flight steps were easy and auto take-off was smooth. In case the rear LED flashes in blue, you need to rebind the remote with the drone (steps are described in the manual).
I have to admit that it is not the fastest flying machine. I would have expected more power from those brushless motors.
I also tested the "Track aka Follow Me" mode, where the drone tracks your phone GPS position and keeps you within the frame. It works nice but sometimes fails, also the camera angle is not automatically adjusted based on flight altitude. Note: due to the lack of an obstacle avoidance system, this feature should be used with precaution.
Battery life / Flight time
The sweetest thing about the JJRC X7 quad is its incredible battery life. I got about 18 minutes of flight time with a freshly charged LIPO. Best flight time ever from a quad under $150!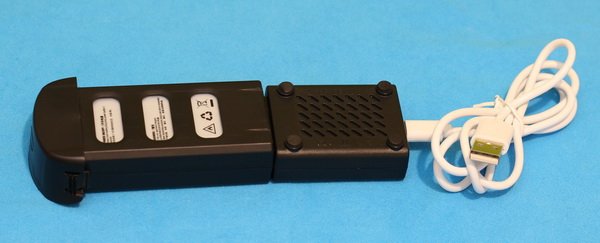 Hovering time is even better, getting around 20+ minutes, making it feel like I can really focus on the shots I want to get.
Price & availability
With a starting price of $129.99, it's not the cheapest GPS drone on the market, but in terms of flight time, the JJRC X7 is unmatched. Now, with 13% off you can have it from here. As I previously mentioned you have two color options: white or black.
Editor's ratings
Price/performance ratio

Design and build quality

Flight performance

Remote controller

Camera & FPV

Flight time
Summary
Surely, if you want the longest flight for your money, you can't go wrong with the JJRC X7. Thanks to the high capacity battery, it has the best flight time in its market segment. The remote camera angle adjustment is also a handy feature. You can freely switch from straight ahead to ground view.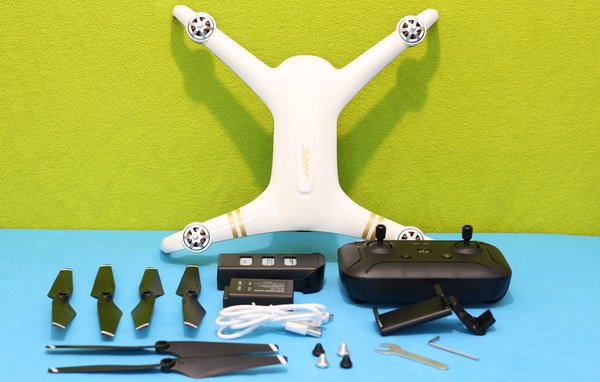 What's good
Best flight time in its price range;
No need to be calibrated every time;
Remote camera angle adjustment;
On-board DVR;
Transmitter with built-in LiPo battery;
Excellent control range;
Firmware upgrade possibility.
What's not so good
Propellers are not self-tightened;
Transmitter stick-ends are pop-off easily;
Proprietary battery (can't be charged with hobby chargers);
Lack of spare parts (including spare batteries).
Also consider (Best JJRC X7 alternatives)
In its price range, there are some other great options you have. Currently, one of the best alternative of the X7 Smart is the MJX B2SE. It also has brushless motors and similar features.
Even JJR/C offers two alternatives that you should consider. Both, X9 Heron and X8 Cetus feature GPS positioning system and Full HD camera.
Battery life test (hovering in strong wind)