If you're looking for a GoPro alternative at a lower price for your MJX drone, the C6000 is worth take a look. The MJX C6000 is compatible with the Bugs 3H, Bugs 10H and the latest MJX Bugs 3 Pro. In addition to allowing to take 1080P aerial videos, it also enables hidden features of your MJX drone. Basically, the C6000 camera creates a wireless link between the drone and your phone.
MJX R/C offers wide range of cameras for their Bugs drones. As you can see in the image bellow, the C6000 has the best specs from all of them. It has 5G wireless video transmission and 1080P@30fps video resolution.
MJX C6000 camera review with pros & cons
Disclosure: I received this C6000 camera as part of a product review collaboration with TomTop. Although the product was a gift, all thoughts in this review remain my own and I was in no way influenced by the sponsor.
Same as for my previous review collaboration, TT opted to send the product with duty-free express shipping. Inside the box, besides the camera, I found the following: lens cap, micro USB cable, phone holder, self-adhesive tapes and user guide. No micro SD card included. If you are asking yourself why include a phone holder with a drone camera, the answer is simple, the holder will allow to mount your phone on top of your existing remote controller allowing comfortable operation.
At a glance
The camera measures 60 x 41 x 22 mm and weights only 34 grams. By comparison, the GoPro Hero 5 measures 62 x 44.5 x 32 mm and weights 117 grams.
Although the C6000 looks exactly like any other action camera, does not have any control button nor status / life-view screen. In order to be as light as possible, it does not have an internal battery. It is powered from the drone's main battery.
Micro SD slot, micro USB plug and "R" micro push button are found on the left side of the camera. On front, near the 120° lens, is located the status LED.
Being curious what's hide inside I removed the back cover. Frankly, not much, the whole thing should fit in the quarter of space.
MJX C6000 camera technical specifications:
1/3.06″ CMOS image sensor;
120 degree wide angle lens;
1920 x 1080 @ 30FPS video recording;
2.1 MP photo resolution;
5G WiFi real-time image transmission;
Up to 250 meters FPV range;
Compatible with MJX "Bugs GO" APP.
MJX C6000 review: Testing with Bugs 3 Pro
If you read my MJX Bugs 3 Pro review, you already found out that it comes with a dedicated camera mount (whether you buy the camera version or not). The C6000 fits just perfectly into the mount. Using the included micro USB cable, I wired together the B3 Pro drone and the camera.
Prior to loading the battery into the drone, I installed the Bugs GO APP on my Samsung S7 phone. The APP can be simply downloaded by scanning the QR code from the C6000's user manual. The Bugs Go APP is available for both popular mobile OS (Android and iOS).
By default, the camera is set to channel 36, but you can also set channel 149. Toggling between 5G WiFi channels can be done in two ways: through remote controller or via camera's "R" micro push button.
MJX C6000 RAW sample video from the micro SD card
Five minutes of recorded full HD video occupies about 250 MB on the micro SD card. Image quality is worse than I expected. It can't be compared with the one provided by my Xiaomi 4K camera. Live-view image on the phone is nice, but there is some frame drop and lag. I got stable FPV signal from about 100 meters. BTW, the C6000 has no microphone, so videos are without audio.
If there's no memory card loaded into the C6000 camera, files will be automatically stored into your phone. Note: Micro SD card recording provides better image quality.
Editor's ratings
Price/value ratio

Design and build quality

Video quality

Compatibility with MJX drones
Verdict
If you are looking for an all-around action camera you should not even read my C6000 review. Due to the lack of control buttons and own power source (internal battery) it can't be used as standalone camera. Image quality is also not the best, I had the feeling that the 1080p video resolution is obtained from software interpolation not from effective pixels.
On the other hand, if you own a GPS enabled MJX Bugs drone, this camera is a must have! It enables smartphone FPV and intelligent flight modes (like Follow me & Circle hovering). Compared to standard action cameras (like GoPro, Xiaomi & SJCam ) it is much lighter and less weight means more flight time.
MJX Bugs 3H, Bugs 10H and B3PRO owners can find the C6000 camera with 34% off here for 59.99 USD including free shipping. Using this "HY13MJX" coupon code they can have extra $13 discount, so final price will be only $46.99!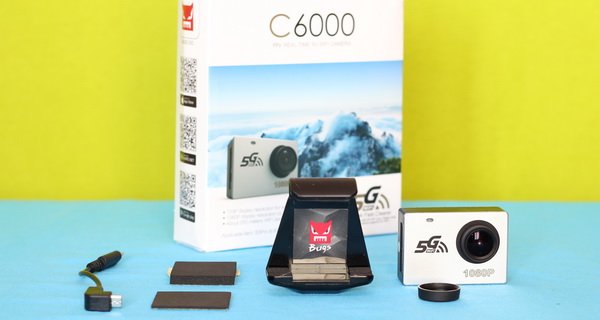 Pros
compatible with many MJX drones;
enables extra features of the drone;
good FPV range.
Cons
no control buttons, nor self-powering;
only 5G WiFi.
Editor's tip
You can power the camera using an external power bank and then control it through the Bugs APP. You will be able to start/stop video recording and also take still photos. This way you can use the C6000 camera for other purposes, not just together with a MJX drone.