This week, besides the Redpawz R011, I received a couple of other drones for review, from basic toy drones to professional racing quadcopters. Honestly, from all these I prefer the tiny R011 because its package contains all you need for first person view flights. With a price tag of $63, it is very hard to find such complete FPV combo.
Like its predecessor, the R011 also follows the successful design of the TinyWhoop. The ducted blade protectors not just improves the efficiency of the propellers but also makes the aircraft very safe for children.
I glad that Redpawz opted to equip the R011 with 5.8G FPV instead of a WiFi one. While WiFi FPV is mainly adopted by toy grade drones, 5.8G FPV is present on most fo the professional racing quadcopters. 5.8G offers about zero latency live-video transmission.
Redpawz R011 in-dept review with pros and cons
Disclosure: I received this Redpawz R011 FPV combo as part of a product review collaboration with Geekbuying. Although the product was offered for free, all the words in this review remain exclusively my own. No affiliate link included or other way to make profit from this review.
Package arrived with a delay. As I understood, they had to resend it or something like this. Prior to the delivery I got a sms from DPD that I need to pay 14.37 GBP for custom fees.
Inside the box I found, besides the R011 Mini drone and its remote controller, 2 pairs of spare propellers, USB battery charger, screwdriver, stickers, user manual and the VR-D1 FPV headset with all its accessories: charging cable, rubber ducky 5.8G antenna, headband and cleaning cloth.
1
Features and specs of the Redpawz R011 drone
6-axis gyro stabilization;
Suitable for indoor and outdoor flights;
Compact size with ducted propellers;
Protective nylon canopy;
360 degree flips and rolls;
One key return to home and Headless flight mode;
Multiple speed rates;
1000TVL camera with integrated 40CH 5.8G VTX;
Replaceable 200 mAh Li-Po battery;
Can stay airborne about 5 ~ 6 minutes.
After I carefully inspected the content of the package I could confirm that the Redpawz R011 is a twin brother of the Eachine E013. The only visible difference is the sticker on the included FPV Goggle.
The included "Fast Through" sticker, red propellers and red canopy ads a nice bokeh for the look of the Redpawz R011.
In order to allow good FPV range, the VTX antenna comes straight up from the middle of the protective canopy. Next to the antenna is the button that allows to change transmission channel\band.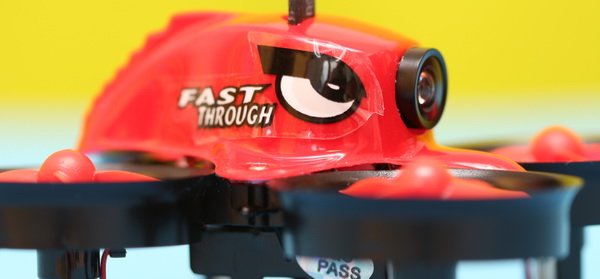 Even battery bay is pretty tight. In my opinion, it would be acceptable a little bit higher capacity Li-Po. A 260 mAh battery would add at least 1 minutes of extra flight compared to the 200 mAh stock battery.
One single blue LED on the rear will help you orient during night flights. Not much but at least it is very bright.
Taking apart the drone I found that it has one single board (flight controller with integrated receiver). No sign of micro SD slot or micro USB connector for further upgrades. The 6 x 15 mm brushed motors are directly soldered to the FC.
3
Firs look on the VR-D1 FPV Goggle
No doubt, the VR-D1 Redpawz FPV Goggle is identical with the Eachine VR006 goggle. Both are based on a single 3″ LCD display. Resolution of the screen is 500 x 300 pixels. No DVR feature nor AV out. A 3.5 mm jack connector is located on the top for AV in sources (like external RX or camera for live-view).
VR-D1 has a total of 4 control buttons (+, Menu, – and Scan/Power). Image quality (brightness, saturation and contrast) adjustments are possible. OSD shows the actual frequency and the goggle's battery level.
Thanks to the adjustable headbands, the VR-D1 fits comfortable for adults as well as for children. Unfortunately, being very small, it is almost impossible to wear it together with correction glasses.
Due to the small screen size, the immersion feeling is less impressive in comparison with 7″ models. FOV seems even more limited due to the 4:3 aspect ratio. RF sensitivity is far from being the best. Anyway, in my opinion, for the little R011 you don't need a better FPV goggle.
4
Camera quality and FPV range
In front of the drone is located the tiny 1000 TVL AIO camera. The 120° FOV, m7 lens is paired with a 1/3 inch CMOS sensor. Toggling between video standards (PAL/NTSC) can be done by long pressing the VTX's control button. The integrated 40CH, 5.8G video transmitter has a 25 mW broadcast power.
Image quality is much nicer compared to other cheap drones. Light sensitivity is good, colors are vivid.
FPV signal is quite strong. No problem to cross couple of walls. Outside, the range is far enough for proximity park flying. Note: FPV range is highly influenced by trees, buildings and environmental RF noises.
5
A few thoughts about the remote controller
Like the drone, the remote controller is also black with red metals sticks. The transmitter is powered by 3 pieces of AAA batteries (not included).
On front panel, besides the the usual sticks, status LED and power switch, there are other 8 control buttons (6 x trimming button, headless mode and one key return to home).
While the right shoulder button enables the 3D Flip & Roll mode, the left one allows to switch between 3 speed rates (changes are confirmed by beeps).
6
Flight performance of the Redpawz R011 quadcopter
As I already had couple of test flight with its twin-brother, I knew exactly what I can expect from the Redpawz R011.
Binding the RC with the drone can be done by moving up and down the throttle stick (left one in mode2) until you hear a beep.
The R011 is super stable and hovers very well. I had to admit that is not the fastest machine. Anyway, let's be fair, this little guy was designed for newbies and not for adrenaline addicted racing pilots.
Flips are possible only when the battery level is above half charged. In terms of durability, I crash it few times without major damages. My test flight ended after 3 and a half minutes.
If the R011 drones starts to fly abnormally, you can try to perform sensor calibration by moving both sticks to lowest right position.
7
Why should you buy the Redpawz R011 FPV combo?
Price/features ratio

Design and build quality

Transmitter

FPV camera

FPV google
Verdict
As winter is about to blow any outdoor FPV fun, due to its small size and friendly price tag, the Redpawz R011 is highly recommended as indoor FPV trainning.
Because it has only stabilized mode, advanced pilots will find it a bit boring. The included FPV goggle is quite nice but not suitable for pilots with correction glasses.
Newbies with limited budged can find this nice learn-to-fly FPV combo kit here. Pack of five spare batteries (including charger and cables) can be found for a price starting with $25.
Pros
Cool design;
Complete 5.8G FPV system (Camera, VTX and Goggle);
Suitable for both, indoor and outdoor;
Swap-able battery.
Cons
Short flight time;
Only stabilized flight mode;
VR-D1 goggle can't be used with correction glasses.