The SJRC F11 4K Pro review will be the last drone review for this year. 2020 was a quite productive year for FirstQuadcopter – we published more than 20 authentic product reviews. Our purpose is not necessarily to make sales for our sponsors but rather to provide the best quality information possible about the product in order to help buyers to make the right decision.
Back in 2018, the first generation of SJRC F11 was revealed. It had only an FHD – 1080P camera with electronic image stabilization (EIS). Two years later, the 4K Pro edition was released with many significant improvements. For sure, the most important one for hobbyist-videographer was the 2-axis mechanical gimbal. It allows not just smother videos compared to EIS, but also remote angle adjustment of the camera.
SJRC F11 Pro 4K hands-on review with samples
Disclosure: I received this 4K drone from RCGoing, to test it and do an in-depth review. Although the product was offered for free, all opinions in this article remain my own, with no influence from our partners.
After we agreed to review the SJRC F11 4K Pro, they sent me the tracking number in just 2 minutes. This was the fastest order processing time I ever experienced :).
The SJR/C F11 4K Pro arrived perfectly timed, on Christmas eve. My son hoped that it was another last-minute gift for him that he will find under the Xmas tree. I had to tell him 3 times to believe me that it's daddy's new toy.
Unboxing
Apart from the strong, not Chanel-like, fragrance scent, everything looks like unboxing a deluxe expensive drone. A zipped nylon sack protects the stylish hand-case. Inside the bag, all parts have their own compartment for extra protection. The drone and its remote controller are protected from scratching by plastic foil, the foldable propellers being secured with paper rings, and the 2-axis 4K camera by a plastic gimbal protector like DJI drones. User manual and spare propellers have their own cardboard boxes. For more easy transportation, I would suggest them to include a shoulder strap for the case.
At a glance
To be honest, I'm not impressed by the F11 drone's design. I prefer more rounded shapes than edged ones. The strips on the folding arms somehow remind me about the old Mavic Pro. The fuselage is made from durable ABS plastic, hope that will be not easily damaged if lightly bumps into something.
Compared to my Beast SG906 Pro 2, it is just slightly smaller (see image below). With folded arms, the aircraft measures 176x105x80mm and weighs exactly 560 grams (1.23 lbs). If you are from the US or Canada you will need to register this drone in order to fly it legally. I suggest you check your local regulation regarding these flying machines prior to purchasing a drone.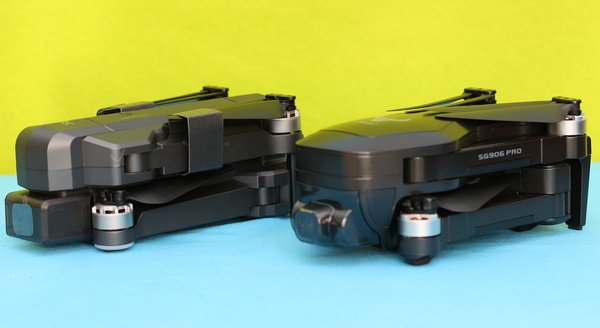 The 2500mAh battery pack is loaded from the top of the drone. By short pressing the power button, you can check the charging level of the battery. In addition to the fake optical flow camera, there are also two fake ultrasonic sensors on the belly of the fuselage. These features will probably be included in the next generation of F11.
During night flights you will be guided by 4 LED lights (white on the front, blue on the rear), one on each brushless motor.
SJR/C F11 4K Pro highlights
Travel-friendly folding design;
Powerful brushless motors;
4K camera with EIS and 2-axis gimbal stabilization;
WIFI real-time image transmission (FPV);
Intelligent flight modes (360° surround, Waypoint, Image & GPS Follow me);
Fail-safe RTH on low battery and signal loss;
Upgraded transmitter with extended range and new status LCD screen;
About 26 minutes of battery life.
Price and availability
You can order this GPS enabled 4K drone from here for $198.99. This price includes a storage bag, flight battery, charging cable, and a set of spare propellers. There is also a 'Fly more combo' option with 3 batteries for an extra 60 bucks. Using this 'YQD8Q665G' discount coupon you can get 5% off.
Camera and WiFi FPV
As I previously mentioned, compared to its predecessor, the first visible difference is the 2-axis motorized gimbal. This upgrade grants a more professional look for the F11 Pro 4K. The camera features an F2.15 focal length and 100° field of view (FOV). The camera can take up to 128MB micro SD cards (Class 10/U1 or above is recommended) and can record 4K UHD videos with 30fps. Somewhere I read that is also capable of FHD 1080P with 60fps but I haven't found yet how to change the resolution and frame rate.
Through the right shoulder dial knob, you can change de camera's angle from straight ahead to ground view, allowing you to take the perfect shot. Getting closer to the subject can be done through digital zooming (left shoulder dial).
Adopting image stabilization from both worlds (electronic and mechanical), the videos are surprisingly good. I think will satisfy the needs and expectations of most hobbyists. But even so, due to a lack of manual camera adjustments (ISO, shutter speed, and f-stop), HDR and RAW capabilities can't be used for truly cinematic footage.
Remote controller – Flight range
SJR/C packs their F11 4K Pro drone with a style eye-catching remote controller with a piano-black finish. Antennas, phone holder, and handler are all foldable. It comes with a built-in battery which lasts for 3-5 flights. SJRC stands that the transmitter has provided up to 1500 meters control range.
During my range test, I managed to fly as far as 570 meters till I lost communication with the drone and the fail-safe RTH has activated.
There are a shoulder button and dial knob on each side of the transmitter. While the left ones allow taking photos and zoom in/out, the right ones start/stop recording respectively tilt the camera.
On the front panel, besides the usual control sticks, the are 4 buttons and an OSD screen. The backlit display has large 'printed' icons that light up when a function is activated. Unfortunately, this new type of display can't provide telemetry data like flight distance, altitude, or elapsed time. In order to see the 'full picture', you will need to use in tandem the F11 4K Pro mobile APP.
SJ F Pro mobile APP
In addition to live-view (FPV), the SJ F Pro APP provides access to intelligent flight modes such as Image follow, GPS following, Gesture Photo/Video, and Route flight.
Under the Parameter settings, you can enable/disable Beginner mode and adjust max flight distance (20-1500meters), flight altitude (10-120 meters), and RTH altitude (10-120meters). In case you get annoyed by the voice prompting, you can disable it from here as well. The APP also logs your flights, allowing you to review details like total distance and top speed.
Battery life – How long the fun lasts!
Usually, before getting to test the flight performance of a new drone, I run a hovering test at 1-3 meters above the ground. In case the aircraft has a hidden malfunction this should be revealed through this test. During the process, I monitor the battery level as well. With a freshly charged battery, the F11 managed to stay in the air for 27:45 minutes. Almost two minutes more than the advertised time. Real-world flight time is about 20-25 minutes, highly depending on flight conditions (flight mode, flight style, temperature, and wind conditions). After 15 minutes of hovering something happened, the drone started to make circles instead of holding its position. Hope this behavior was an isolated issue and will not repeat again. Just to be sure, I recalibrated everything again.
As I mentioned in the introduction part of my F11 Pro 4K review, the battery has 4 LED charging level indicators and a micro USB charging port. In case you need a longer flight time without waiting 4-5 hours while recharging, 3s/2500mAh F11 spare batteries are available with a starting price of $40 per piece.
F11 4K Pro flight preparation
Usually, in this period of the year, in my country, the outdoor temperature should be below 0°C and everything covered by fresh snow. Instead of the normal weather conditions, this Christmas we had 12°C and light rain. Hope that climate changes will be stopped before is too late.
Due to the rain, I had to make the flight preparations in front of the Xmas tree. I started by reading the provided user manual while I put the flight battery and controller to charge.
Prior to powering on, you need to unfold the arm. In order to avoid excessive stress of the motors during starting up, I suggest unfolding the propellers too. Also, remember to remove the gimbal protector prior to power-ON. Following the instructions, I performed compass calibration (activated by moving both sticks to inner-up position) and gyroscope calibration (both stick outer-up position).
F11 4K Pro review: Flight experience
By default, the SJRC F11 4K Pro drone starts in 'GPS mode', which blocks arming the motors without GPS coverage (indoors). Toggling between GPS and Altitude mode can be done by long-pressing the 'RTH' button.
Just like I predicted, in the absence of vision positioning, it drifts a lot in an indoor environment. My personal recommendation for newbies is that they should play only outdoor in a large space. Definitively, the F11 is not suitable for practicing in your living room.
Outdoor it is much more stable, but sometimes still moves without any reason. You can switch between Sport (high speed), Normal (medium speed), and Camera (low speed) flight modes.
Its 'Image follow' function is different from DJI's ActviceTrack. The drone just keeps the object (after dragging a box around it) in focus but without changing its position. In GPS follow mode, the aircraft follows the phone's movement. This can be fun if you are on a mountain bike and you want the drone to shoot a video of you.
I suggest you use these Follow Me modes only when flying your drone in wide-open spaces where there are no obstacles such as houses, trees, or power lines. Remember, the F11 4K Pro does not have an obstacle avoidance system.
Orbit mode is doing a great job. It makes circles around the subject with a preset radius. During the process, you can adjust the camera angle to make your best shot.
I didn't found out why, yet, but the mobile APP randomly showed this warning message: 'Compass is interfered, open propeller arm? Mobile drone calibration compass'. In the beginning, it was very frustrating, but after a few flights, I got used to it…
Editor's ratings
Value for Money

Design and build quality

Camera

Remote controller

Battery life

Easy to use
Verdict
The F11 4K Pro is definitively an improvement compared to its predecessors. The combination of EIS and 2-axis gimbal allows creating smooth, almost cinematic-like, aerials. Actually, it is the first drone under $200 with a true 4K camera that I reviewed for now. Battery life and control range is comparable with the one any drone in its price range has.
The lack of an optical flow sensor makes the F11Pro 4K to drift a lot indoors. Outdoor, with good GPS coverage it is very stable, but still doesn't hold its position all the time. RTH worked well, but is not as accurate as my DJI drone's, it missed the landing pad by few meters.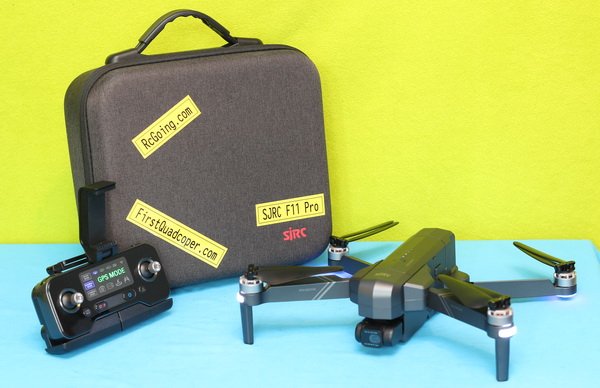 What I liked
Budget-friendly;
Deluxe packing and included case;
True 4K camera with mechanical and electronic image stabilization;
Superb battery life;
Image and GPS tracking;
Fail-safe return to home (low battery and RC signal loss).
What I didn't like
Charging the battery takes an eternity;
APP showed warning messages with no reason;
Fake vision and ultra-sonic positioning sensors.
Best SJRC F11 4K Pro alternatives
In the price of the SJRC F11 4K Pro, you can find plenty of nice drones from various brands. MJX R/C has Bugs 12 and Bugs 20, ZLRC has Beast SG906 Pro and Pro 2, the VISUO K1 PRO is also a great alternative, and I could continue the list with more. The Ruko F11 GIM is a 100% clone of the F11Pro4K.
If you want a DJI drone, you will need to double your budget. Their cheapest 4K drone, the Mini 2, is priced at $449.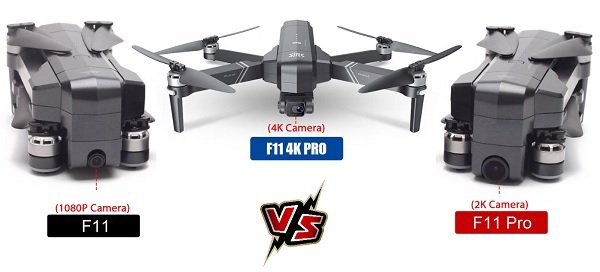 SJRC F11 series comparison
SJRC F11 V1
SJRC F11 Pro V2
SJRC F11 Pro 4K V3
Camera
FHD – 1920×1080
2K – 2592×1520

4K – 3840x2160P

Frame rate
20 fps
25 fps

30 fps

Stabilization
EIS
EIS
EIS +

2-axis gimbal

WIFI FPV range
500 meters
500 meters

1200 meters

Onboard recording
Yes
Yes
Yes
Control distance
1200 meters
1200 meters

1500 meters

Battery
3s/2500mAh
3s/2500mAh
3s/2500mAh
Max flight time
26~28min
26~28min
26~28min
Weight
520 grams
520 grams
585 grams
Merry Christmas and Happy New Year to all drone lovers!
Wishing you lots of fun and excitement, and a super fantastic year to come!