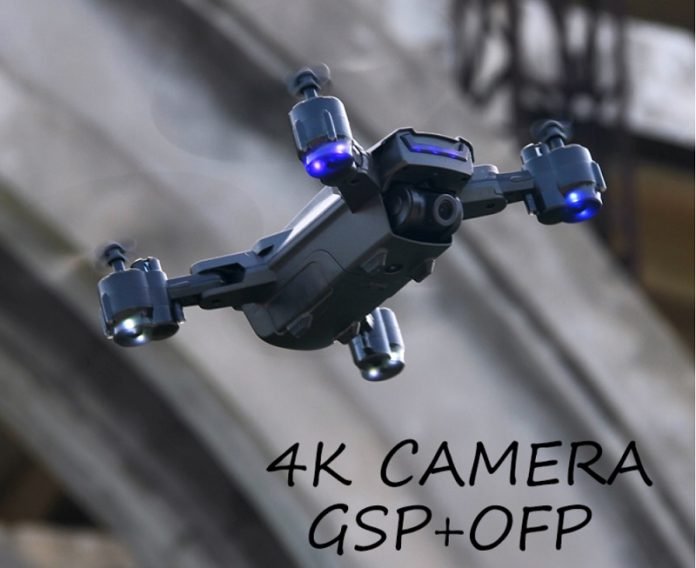 The SHRC iCAMERA3 H3 comes with 2 types of positioning systems and 3 color options (silver, red, and black). While with optical flow positioning (OFP) is advertised for $54.99, the much versatile GPS edition for $84.99. Both variants are equipped with a 4K camera.
With folded arms, the SHRC H3 Mini measures just 13 x 15 x 6cm and weighs less than 250 grams. During night flights you will be guided by 5 LED lights, one under each motor plus one in front (above the camera). It features multiple speed rates, altitude hold, and headless flight mode.
Its onboard camera features 5Ghz WiFi real-time image transmission and remote angle adjustment.
iCAMERA3 H3 Mini features and specs
Compact size with foldable arms (18*16.5*6cm / 13*15*6cm);
Lightweight (214g – OFP and 224g – GPS);
Two versions (GPS – Satelite positioning and OFP – Optical Flow Positioning);
Headless mode and altitude hold;
Onboard 4K camera with angle adjustment;
5Ghz WiFi real-time image transmission;
About 15 minutes of flight time;
Control range: 150meters – OFP edition and 500 meters – GPS version;
3 color options (Red, Black, and Silver).
Included accessories with the SHRC HR H3 drone
Remote control with built-in phone holder;
3.7V 1100mAh (OFP) or 7.4V 1200mAh (GPS) lipo battery;
USB Charging Cable;
One set of spare propellers;
Screwdriver;
User manual.