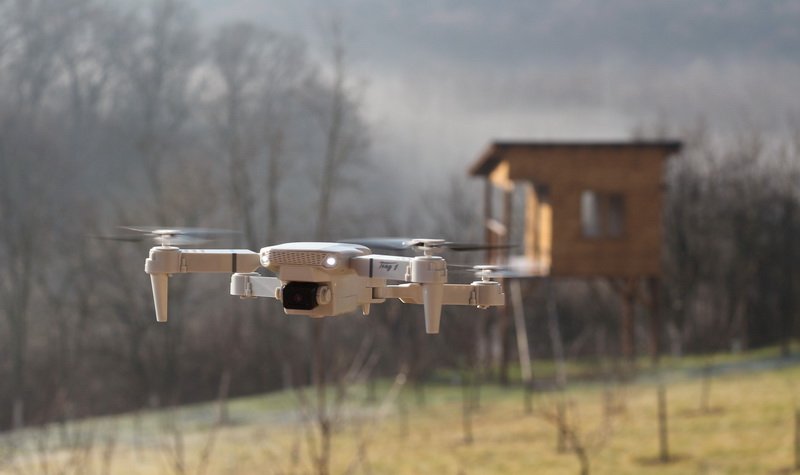 Today we will have a closer look at the E88 Pro Teng1 drone. Our review covers camera performance, battery life, flight range, and flight experience. I bet that many DJI fans will consider that these cheap Mavic Mini alternatives are trashy drones that should be avoided. Personally, I think that every newbie and kid should start their journey with such affordable toys instead of buying a $1000 worth drone from the beginning.
In addition to the included blade protectors, E88 features multiple speed rates, which are handy for first-time pilots. Also, due to its low weight, it cannot cause major damage if something is hit accidentally.
E58 drone features and specs
Mavic Mini like compact size with folding arms and removable blade protectors;
Multiple camera options (720P, 4K, or 4K+Bottom);
WiFi real-time video transmission (FPV);
Gesture Photo/Video;
Barometer altitude hold;
3 flight speed levels;
About 12-15 minutes of flight time.
E88 Pro Teng1 drone review
Disclosure: I received this toy-grade mini 4K drone from RCGoing, to test it and do an in-depth review. Although the product was offered for free, all opinions in this article remain my own, with no partner's influence.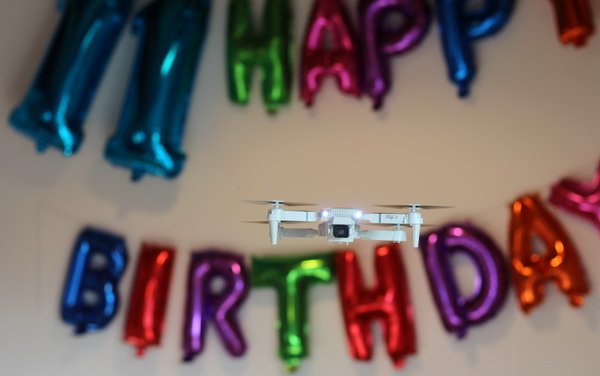 My son's 11 birthday was on February 18. As multi-person events are banned due to the COVID pandemic, he celebrated by organizing a sleepover party with a couple of his best friends. Besides creating their own pizza, one of the proposed entertainment ideas was a drone race. Kids like challenges and they were happy to find out that will be a one-to-one drone tournament. As they are new to this hobby, I used two similar drones (one was the E88) with 6-axis stabilization and altitude hold.
The TENG1 E88 arrived on February 15, so I had enough time to test and review it before the race. In addition to the drone and its transmitter, were included the following accessories: two 3.7V 1800mAh batteries, USB charger, one pair of spare propellers, a set of blade guards, a screwdriver, user manual, and a handy carrying case.
At a glance
Holding it for the first time in my hand felt toyish, which I think is normal for its price tag. With folded arms, the aircraft measures 12.5×8.1×5.3cm and weighs only 104 grams (with battery loaded). Just like the E58 Emotion, the E88 Pro also follows the iconic DJI Mavic design. In front, instead of obstacle avoidance sensors, it has two LED lights that help in orientation during night flights. There is also a second LED on the back of the drone (above the battery bay).
The frontal camera is installed on a fake gimbal, which does not provide stabilization nor remote angle adjustment. I received the 'Pro' version with a second camera on the belly of the fuselage. The hole camera module can be removed/replaced if need it.
Its tiny 816 coreless (brushed) motors are installed with folding propellers. Similar to Mavic Mini, the battery is loaded from the tail of the drone. The included blade guards can be easily installed/removed without any tool.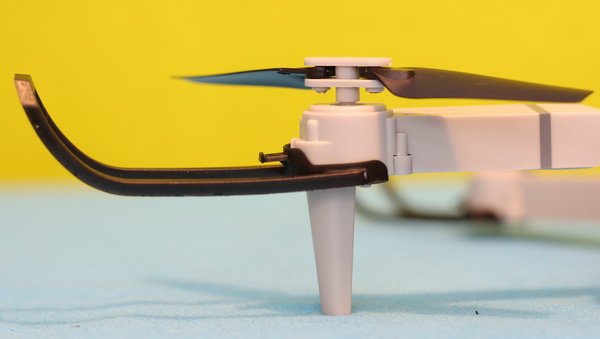 Price, availability, and options
The TENG1 E88 can also be found under LSRC E525 Pro product name. The E88 has 3 camera options. While the E88 Pro with a dual-camera system (4K primary + VGA bottom) can be ordered from RCGoring for $39.99, the basic E88 with a 720P camera for $33.99. All 3 versions are available in two colors (black and grey) and with 1, 2, or 3 flight batteries.
TENG1 E88 review: Transmitter and range
Like the drone, its transmitter is also very toyish. I even found a bolt left inside accidentally. Luckily, I noticed the problem before loading the three AA batteries and powering ON). The transmitter has two fake foldable antennas and a retractable phone holder.
In addition to the usual control sticks and power switch, there are 8 buttons on the front panel. From left to right you have: Photo/Video, RTH/Headless mode, Take-off, Land, Right, Left, Forward, and Backward fine trimming. It has two shoulder buttons on each side (speed and on left, aa and ccc on right).
According to the advertised spec, the control distance is about 100 meters. To be honest, the WIFI FPV range is even shorter. Anyway, I would not recommend flying for a long distance with such a toy-grade drone. Without GPS positioning, its return to home (RTH) feature is just guessing the way back to home (take-off point).
TENG1 E88 review: Camera
Before you get too enthusiastic, the E88's camera has nothing to do with UHD video quality. While it can take 4096×2160 (4K) photos, videos are captured with only 1920×1080@20fps. Unfortunately, both have poor quality, especially indoors and in low light conditions. I think the camera has natively only VGA resolution and it is upscaled for marketing purposes. No onboard recording – the footage is captured from the live video feed and stored on your phone's memory.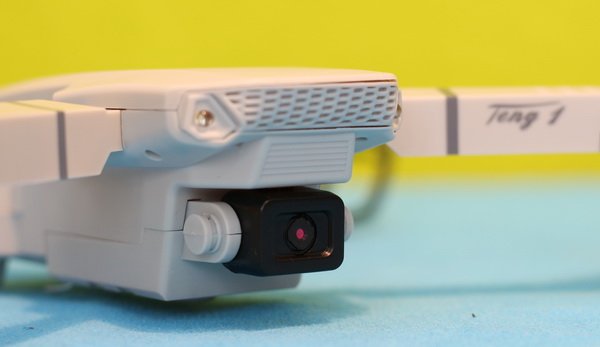 Using the WiFi_Cam APP you can display the camera's video feed on your phone. The APP allows toggling between front and belly cameras and digital zooming.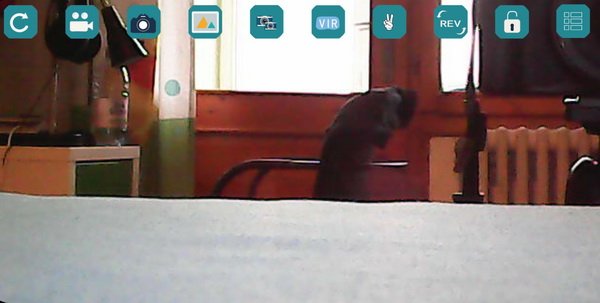 I intended to upload few sample videos but the quality is so low that it would be totally useless.
TENG1 E88 review: Battery life
The E88 drone is powered by a single cell (3.7V) 1800mAh modular battery. Based on the size of the LIPO cell, I estimate the real capacity of the battery around 800-1200mAh. The pack has a micro USB port for charging and status indicator LED (red – charging, green – full charged). Each fully charged battery allows about 7-12 minutes of playtime. Battery life widely varies according to flight speed, flight style, and wind conditions.
TENG1 E88 flight experience
The ready-to-fly out of the box. You just need to unfold the arms and power it ON. You can take-off automatically via the dedicated button or manually using the throttle stick. Arming the motors can be done by moving both sticks to the outer-down position. At the highest speed rate, it is quite fast and agile.
It has built-in 360° roll/flip features. After you pressed the left shoulder button, the E58 makes a flip in the direction you move the left stick (up/down/left/right). When the battery is near empty, the drone will slowly descent and land on the location is that time.
Editor's rating
Price/performance ratio

Design and build quality

Transmitter

Camera / WiFi FPV

Battery life
Summary
If you expect a $40 drone to have DJI-grade flight performance and true 4K recording, you should not even read my review. The E88 is just a toy compared to all Mavic drones.
Personally, I would recommend the E88 TENG 1 for those who want to play with an RC drone at the lowest cost possible. Also, they should consider that these toys will not last forever. The lifespan of brushed motors is limited to a few dozen flights.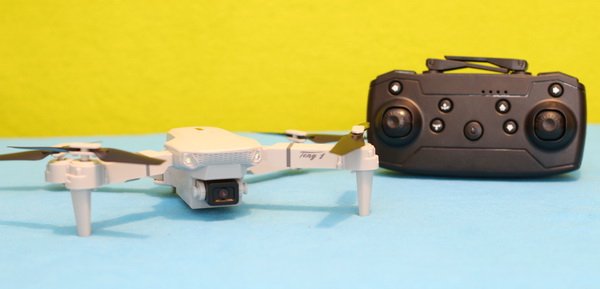 Pros
Friendly price tag;
Included storage bag;
Modular camera;
Decent flight time;
Weight about only 100 grams (no FAA registration required).
Cons
Brushed motors;
Poor video quality;
No onboard recording.