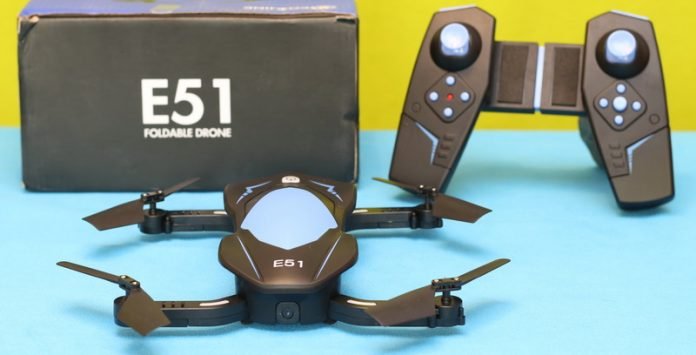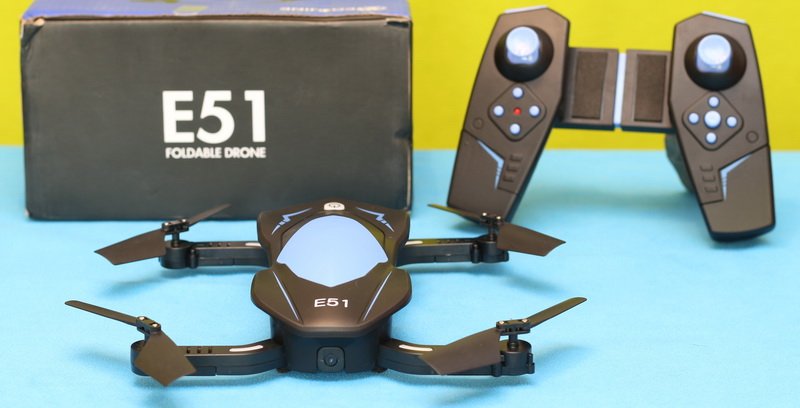 Hi and welcome back, the Eachine E51 review is my fifth article on FirstQuadcopter.com. Traditionally, I will try to reveal as much information as possible about this Eachine E51 selfie drone. Of course, not just the good stuff, the bad ones as well.
Over the last years, Eachine became one of the most active players in the toy drone market. They announce new models like the E51 Selfie quadcopter almost every week. As our team had the luck to review and test most of them, we can say that Eachine drones have an excellent price-performance ratio.
Eachine E51 drone highlights
Compact design with foldable arms;
Easy to install wire-free flight battery;
Flexible two-blade propellers;
Headless flight mode;
Altitude hold (auto-hover);
One key to Take-off/Land;
Dual control mode (RC and APP);
Multiple speed rates (30%, 60% and 100%);
HD, 720P camera with WiFi real-time image transmission (FPV);
Up to 7 minutes of playtime.
Eachine E51 drone review with pros and cons
Disclosure: I received this drone as part of a product review collaboration with Banggood. Although the drone was offered for free, all opinions in this article remain my own and I was in no way influenced by BG.
After we agreed on the Eachine E51 review, I waited for the package to be dispatched for about 3 weeks and another 3 weeks to receive it, so no more exclusivity…
Eachine E51 review: At a glance
Inside the surprisingly compact cardboard box, besides the drone with a loaded battery, I found the following: remote controller, battery charger, 2 pieces of spare blades, screwdriver, and user manual (En, DE, and Ch). There is no carry bag included like in the case of JJRC H37 Elfie.
The size of the fuselage is only 16.5 x 7.5 x 5 cm. The arms can be easily folded/unfolded just in seconds so it will perfectly fit into a larger pocket.
Due to the foldable design, motors are orientated horizontally instead of vertically like in the case of most multi-rotors.
Propellers are all black and formed by two separate blades. Eachine suggests that this approach makes them less vulnerable when you bump into something.
In order to allow convenient battery swap, the E51 uses wire-free Li-Po. The 750 mAh battery is loaded from the bottom of the quad. According to the manufacturer's specs, with a fully charged battery, you can have about 7 minutes of flight time.
The power button is located on the top, very visible, and easy to access. Being a "soft" button I suggest removing the battery when the Eachine E51 is stored for longer periods, otherwise, the Li-Po can be over-discharged and permanently damaged.
During night flights you will be guided by two white LEDs in the front and two red ones on the back.
Eachine E51 review: Camera and WiFi FPV
The camera is integrated and allows 45-degree angle adjustment. No micro SD slot, captured files (photos and videos) are stored on the smartphone's internal memory under the "EACHINE FLY" folder.
Five minutes of recorded video (1280×720) occupies about 45 MB. As usual for such toys, the image quality does not excel. Resolution is in compliance with the term oh "HD" but, bit-rate and frame-rate is too low.
WiFi real-time image transmission (FPV) is cool but there is a noticeable latency. Anyway, kids are really excited about seeing things from the drone's perspective.
Eachine E51 review: Remote controller and APP
Eachine E51 RTF features multiple control modes. It can be controlled with the included transmitter or through your smartphone – using virtual sticks or gravity sensor.
The remote controller can be extended in order to accommodate larger phones (even horizontally orientated). Additional to the usual control sticks, it has 9 buttons on the front panel and 4 shoulder buttons.
While the left shoulder buttons allow switching between speed rates respectively to enable the "Headless mode", the right ones allow activating RTH and "Flip & Rolls" mode.
Below the throttle stick (left one in mode 2) are located the "Take-off" and "Landing" buttons.
Calibrating the gyro can be done by moving both sticks to the lowest left position.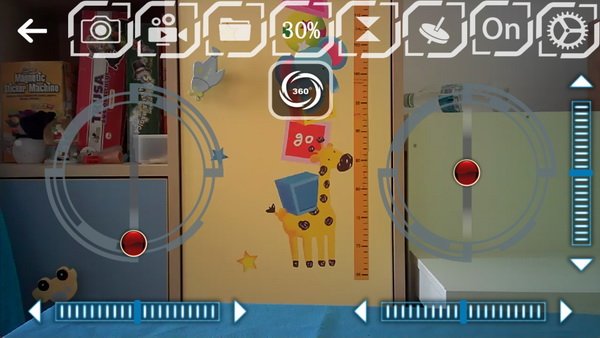 Although, in my opinion, is not the most accurate way to control the aircraft through the EACHINE FLY APP (available for both Android and iOS), kids will love to pilot this way. You will also need the APP to display the camera's real-time image feed on your smartphone.
Eachine E51 review: Test flight
My first flight went smooth from take-off to landing. Thanks to the alt-hold it is easy to control it. Newbies will handle it even from their first flight.
When you press the "Take off" button, the drone raises to about 2 meters high. Indoor or outdoor with zero-wind conditions, the aircraft is remarkably stable.
If you fly out of the controller range, the drone will autonomously land after about 2 seconds. RTH button is mainly useless. Without a GPS positioning system, the flight controller just guesses the take-off point.
Flight time is pretty good. I got an average of 5 minutes of playtime. When the battery is near empty, the aircraft automatically lands.
Should I buy it?
Price/performance ratio

Build quality

Camera / WiFi FPV

Remote controller

Flight performance
Summary
My answer is a big YES. During BG's 11th anniversary it has an unbeatable price.
Altitude hold works really good, first-time pilots will learn to pilot it in just few minutes.
Play time is decent. APP control will be appreciated by the smartphone-obsessed generation.
Camera doesn't excel, but this is common for such cheap toy drones.
For those who became curious and want to try it, this nice learn-to-fly drone can be ordered for $35.99 in a bundle with a transmitter (RTF) and for $28.99 without RC (BNF) right here. Being a new product, spare parts are not available yet.
Pros
Cool design with foldable arms;
Altitude hold;
Adjustable camera angle;
Decent playtime.
Cons
Soft power button;
Lack of spare parts.