The Hubsan Zino Pro was probably the most expected drone of 2021. It is the first quadcopter with a 4K camera and obstacle avoidance system under 250 grams. Our Zino Mini Pro review covers technical specs, features, image quality, and battery life. Of course, we will also test how effective is its 3D collision avoidance system.
In the under 500 USD market segment, Hubsan and FIMI are DJI's biggest rivals. With the Zino Mini Pro, Hubsan managed to provide something unique in its weight and price class. A few years ago, brushless GPS-enabled drones were big and heavy. Due to the new weight regulation changes, most manufacturers started to focus on super light drones. I just returned from Croatia, where drones under 250 grams can be used without special registrations. Obviously, you still need to follow the general safety and privacy rules.
The ZINO MINI Pro was announced back in early spring, and for a long time, many believed that it would never be truly released. Feature-wise is positioned between DJI's MINI 2 and Mavic Air 2S. Hubsan forced DJI's hands to speed up the MINI 3's development; otherwise, they would lose the domination in a significant market segment.
Hubsan's Smallest, Lightest, Folding Drone
Disclosure: We received this 250g-class Hubsan drone from RCGoing to test it and do an in-depth review. Although the product was offered for free, all opinions in this article remain our own, with no influence from our partners.
RCG promised to send the Zino MINI for evaluation since its first announcement. Over the last two years, we had good cooperation. They provided us with most of the important releases in the consumer drone industry.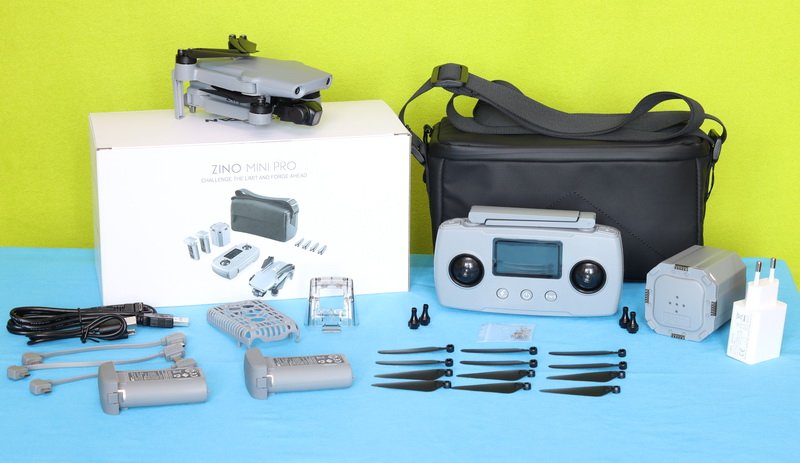 The package was sent out on 28 August, and I received it on 9 September with no extra taxes. They always do a great job in terms of packaging and shipping. Besides the drone and its transmitter, there are included 3 pairs of spare propellers, a pair of spare stick-ends, a screwdriver for blade replacing, a 4CH charging hub, 2 USB charging cables, 3 phone cables, and a user manual.
At a glance
Weighing just 152 grams without a battery, it feels like a toy. With folded arms measures just 137x88x61.6mm. It is only a bit larger than a smartphone. There are two obstacle avoidance sensors on the front, respectively two on the back.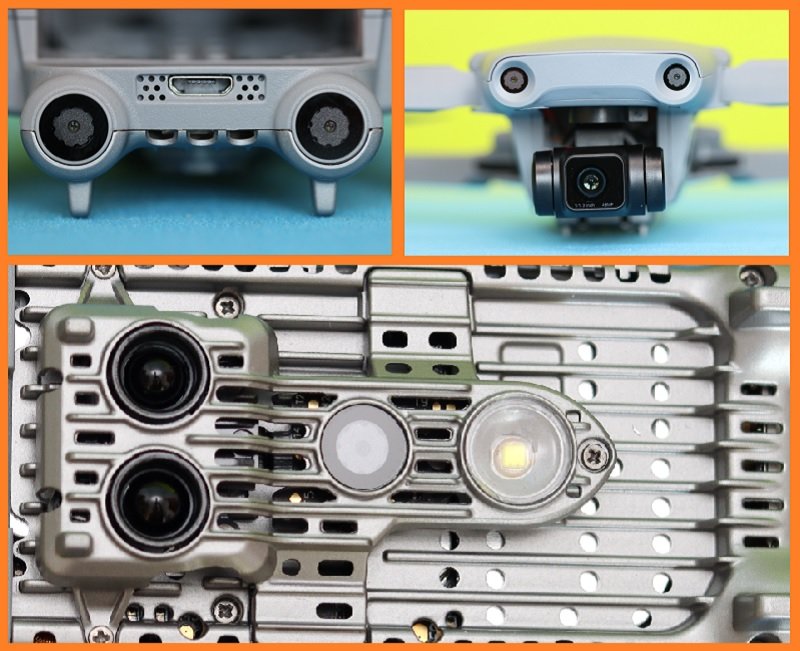 A micro SD slot is on the right with a warning sticker that you should not insert a memory card. Quite confusing indeed. I can only imagine that the Zino MINI SE has the same mainboard but uses micro SD cards instead of internal memory. Under the slot, there is a tiny bind button, which activates RC pairing mode.
On the belly, there are two low-altitude infrared detectors and a visual positioning sensor. The aluminum heatsink has a plastic cover that protects you from burning when the electronics heat up. Here I should mention that, together with the cover, the drone weighs 253 grams!
During night flights, you will be guided by a strong bottom LED light. The auxiliary light activates automatically and it's useful for visibility when landing in poorly lit fields.
The 2S/3000mAh battery is loaded from the back, and it has 4 charging LED indicators. I like that you don't need to insert the battery into the drone or charger in order to find out how much energy is left.
Its powerful 1503 type 2820KV brushless motors provide 5-level wind resistance. Propellers have two individual leaves, similar to the DJI MINI series. In case you need to replace them, always install a new pair with new screws (they are glued to avoid loosening from vibration). Both arms and props are labeled with A respectively B.
Shoulder bag
The ZINO MINI Pro and its accessories come in a nice compact shoulder bag. Things inside are quite crowded, and the transmitter is hard to access. It has velcro dividers and two zipped pockets for small accessories (one inside and one outside). The bag can accommodate up to 3 spare batteries.
To be honest, I had mixed feelings about unboxing the Zino MINI Pro. Hubsan did a great job in terms o packaging and included accessories, but I still don't have the impression that I'm dealing with a premium product. On the close-up photos, you can see that the edges of the body shell are not perfectly finished and aligned.
Price, availability, and options
It took more than 4 months for the first pre-orders to be honored. While the first rumors about the Zino Mini Pro appeared in the spring, only now you can order it widespread. RCGoing has 3 versions of it, with a starting price of $553.99 for the 64GB version with one flight battery. You can also opt for 128GB internal memory or a thermal camera. All variants are available with 1, 2, 3, or 4 batteries. Each additional battery will cost you about 70 bucks. Genuine Hubsan landing pad (apron) is available for $20.99. RCGoing provides tax-free shipping for the US and Europe.
Hubsan also has an even lighter version of the Zino MINI Pro for the Japanese market that weighs just 199 grams.
Hubsan Zino Mini Pro: Transmitter and Range
The front of the HT018Y transmitter contains a handy status screen, Return to Home, Flight mode (Movie/Normal/Sport), and Power buttons. It has only 3 shoulder buttons (Photo, Video, and Custom Functions). Through the Gimbal Pitch Control dial, you can adjust the camera's tilt angle. I'm a fan of this simple layout as it gives you instant access to all the necessary controls.
The remote is powered by an internal 3350mAh battery that allows about 2.5h continuous working time. The display permanently shows real-time telemetry data such as battery level (drone and RC), #GPS, flight distance, altitude, and speed.
Its retractable phone holder can accommodate quite large phones. There are included 3 types of cables to connect your smartphone to the controller —Micro USB and Type-C for Android phones and Lightning for Apple phones.
Theoretically, the SyncLeas 3 communication should provide up to 10KM range in FCC mode and 6KM in CE/SRRC modes. During my tests in a rural area, I managed to fly in a straight line about 3000 meters till fail-safe RTH engaged.
Hubsan Zino Mini Pro: Camera, Gimbal, and image quality
The Zino Mini features a 1/1.3″ CMOS image sensor with 48MP photo resolution. The UHD camera is installed on a 3-axis gimbal and has a 6.8mm (EFL) fixed-aperture F1.85 lens with an 84º field of view (FOV). It allows you to record in 4K@30fps, 2.7K@30/60fps, and 1080@30/60/90fps resolutions with up to 200 Mbps. You can also zoom in on subjects while recording with up to 6x magnification. Photos have 8000×6000 pixels and are captured in JPG or JPG+RAW (uncompressed) formats. Videos and photos are stored on the drone's internal eMMC 64/128GB memory. The files can be transferred via USB cable to your computer. The biggest problem with the built-in memory is that when it fails, it cannot be replaced, like a memory card.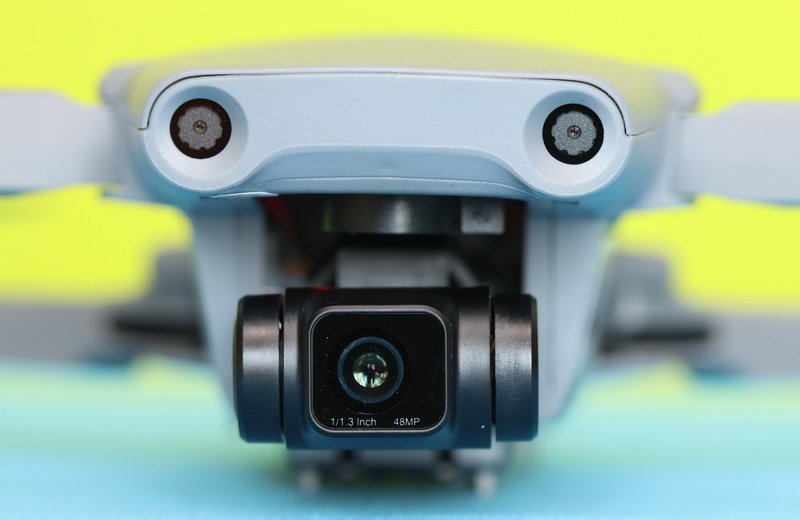 I expected excellent image quality when I saw the 200 Mbps video bitrate and the large CMOS sensor in the specs. Instead, the videos that came out from the Zino MINI Pros aren't perfect, they have micro jitters and, sometimes, lack in details. As you can see in my sample footage, the gimbal is not leveled all the time and there is some jello effect. I hope that Hubsan will fix these issues in future firmware upgrades.
The Zino Mini Pro is also capable of DJI QuickShots-like creative video modes such as Fly to Sky, 360° shooting, Comet, and Dronie.
Real-time video transmission has 1920×1080 @ 30fps resolution with an average bitrate of 20 Mbps. By comparison, the DJI MINI and FIMI MINI have only 720P FPV. FPV is not shown before you are actually in the air to prevent over-heating and save battery life.
Hubsan Zino Mini Pro: Battery life
According to Hubsan's specs, the 2S-3000mAh battery pack allows 40 minutes max flight time (in optimal conditions) and 37 hovering times on windless days. I'm curious how many of you managed to fly safely a drone as long as the manufacturer advertises, whether it's about Hubsan, FIMI, or even DJI. In my flight time tests, I drained the battery to 5-10% but didn't manage to stay in the air for more than 30 minutes. Anyway, for its market segment, it's an outstanding result.
During the max hovering time test, the drone becomes very hot, after 15 minutes reached 80°C -despite that the outdoor temperature was 21°C.
While the 'Standard' edition with one battery is packed with a 'solo' intelligent charger head, the 'Fly More combo' kit comes with a charge manager that allows charging up to 4 batteries in a sequence from the included 18W USB power adapter. The device also works as a power bank, allowing you to charge your phone or remote controller. After a few usages, something happened with the micro USB port because didn't want to charge the batteries anymore. Luckily it also has a standard DC input plug.
In addition to the charging level indicators, the smart battery pack has over-charge/discharge protection. The auto-discharge feature will prevent swelling by automatically discharging to 3.7V/cell when it is unused for 2 days.
Hubsan Zino Mini Pro: Obstacle Avoidance and Safety Features
The drone includes receivers for both GPS and GLONASS positioning systems, tools that work to pinpoint its location on a map and improve its ability to hover almost perfectly in place. Prior to take-off, it requires at least 10 satellites to be fixed in order to fly safely. In case of low flight battery voltage or RC signal loss, the Zino MINI Pro will return autonomously to the take-off point. It is recommended to use a dedicated landing pad (apron) and enabling "Landing Apron Search" in the X-Hubsan 2 APP.
Battery and CPU temperatures are monitored during usage. If the critical value is reached, a popup will warn you to land immediately. To avoid skin burns, a removable plastic guard protects the heatsink.
For sure, the biggest innovation in the Zino Mini Pro is the 3 direction obstacle avoidance system. It has 5 visual sensors, one downward, two forward, respectively two backward. You should consider that just like in the case of DJI Mavic Air 2, the collision avoidance system is not supported in sport mode (highest speed rate). Also, remember that the drone doesn't know if something is above it, so you should not take off under a tree. Note: Before using, the system needs to be set up using the Visual Calibration Tool.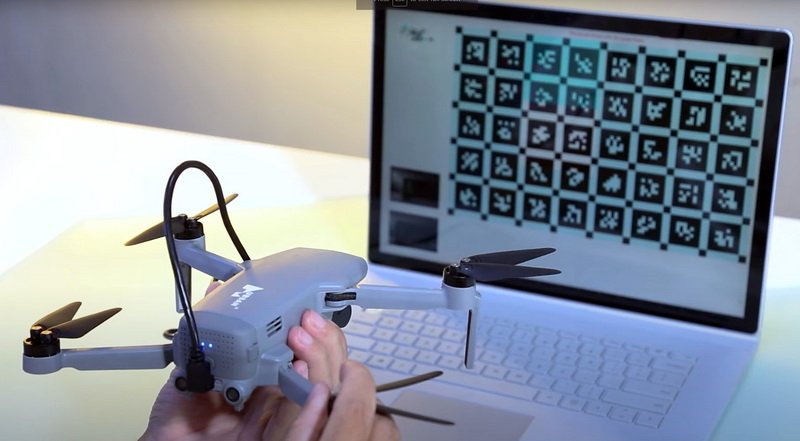 User experience and flight performance
Setting up the Zino Mini Pro is not as easy as a DJI drone. After you downloaded and installed the X-Hubsan 2 mobile APP, you need to create an account by providing your email and phone number (no SMS verification required). At the first start, the APP prompts you to upgrade the firmware, which cannot be done wirelessly via remote controller -you need to connect the phone to the drone using the appropriate cable. The second thing you need to do prior to take-off is to calibrate the compass, this wouldn't be a problem if you didn't have to do it almost every time. Another thing Hubsan made differently, is that live video starts only when the drone is in the air.
Initially, I thought that transferring files from the drone will be easy, but with a 30MB/s transfer rate, it takes quite a lot. They should use a faster Type-C connection instead of an outdated Micro USB. During the process, the battery needs to be loaded and the drone turned ON. If the operation takes too long, the drone will start beeping -probably due to overheating.
"Landing Apron Search" is not always accurate. Initially, from a higher altitude, it fixed my landing pad but still landed next to it and not on it. The vision system needs calibration in order to be functional. The process requires a computer that runs Windows operating system.
Features like Active Track and Hyperlapse are found in the APP, but they don't work.
The most worrying issue encountered in the testing process was the random disconnection of the USB. It happened only two times but scared me like hell. I read that other ZINO MINI Pro pilots also get the 'USB cable is not connected' message mid-flight.
Before the range test, I always perform short proximity flights around my house. The Zino MINI Pro is easy to control and super stable. I was impressed by its outdoor and indoor precise hovering capability. The auxiliary light is very useful when you land in the dark.
All in all, if you came from DJI's world, you will be a bit disappointed by how Hubsan sees things.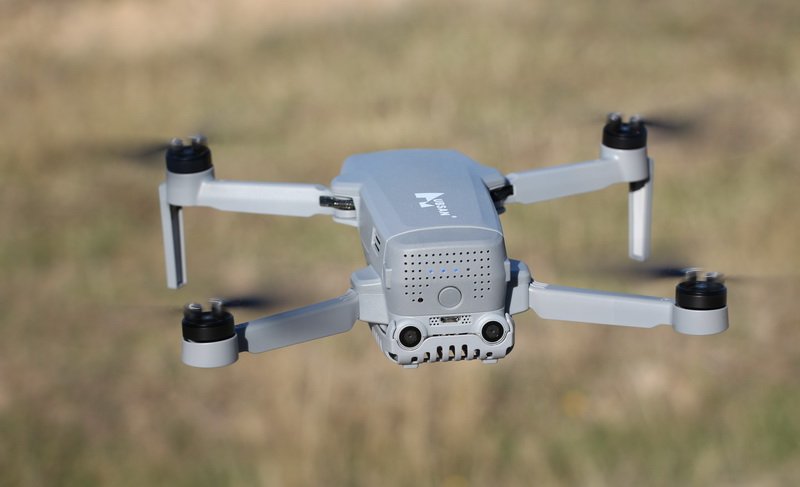 Editor's ratings
Price/performance ratio

Design and build quality

Intelligent flight modes

Transmitter/Range

Camera

Battery life

User experience
Summary
Hubsan managed to provide the most versatile beginner-level budget drone that you can get right now. Despite some issues that hopefully will be solved by the following firmware upgrades, the Zino MINI Pro is an outstanding little flying machine that is easy and convenient to transport and packs a number of sophisticated features including a 3D obstacle avoidance system into a small package.
Features:
Compact size with folding arms;
Weights just 249grams;
3D obstacle avoidance sensors;
40min battery life;
10KM control distance (FCC);
4K@30fps video recording (100-200mbps);
1080P live video transmission (FPV);
Lots of intelligent flight modes, including Active Track.
Pros
Under 250 grams;
Excellent range and battery life;
Collision avoidance system;
Super stable hovering;
4K@30fps 200mbps camera with 3-axis gimbal;
YouTube live streaming.
Cons
Highly-priced (even compared to DJI drones);
Things are quite complicated (too many compass calibrations, vision system calibrations, and voice/text alerts are annoying);
Video quality could be better;
Random RC USB disconnections;
Not all the features are working.
Hubsan Zino Mini Pro alternatives
In the sub-250g class, you can find only a few drones competing with Zino MINI. For sure, the best ones are the DJI MINI 2 and the FIMI MINI. Both feature a similar folding design, GPS positioning, and a 4K camera with a 3-axis gimbal. Flight performance wise they are also similar. The Zino MINI SE is also a great choice for a lower budget, but it comes without built-in memory and collision avoidance sensors.
If the obstacle avoidance system is a must-have for you, the ZINO MINI Pro is the only option under 250 grams. Assuming that weight is not critical for you, the DJI Mavic Air 2S has all of the Hubsan Zino MINI Pro's features plus some extras and a much better video quality.