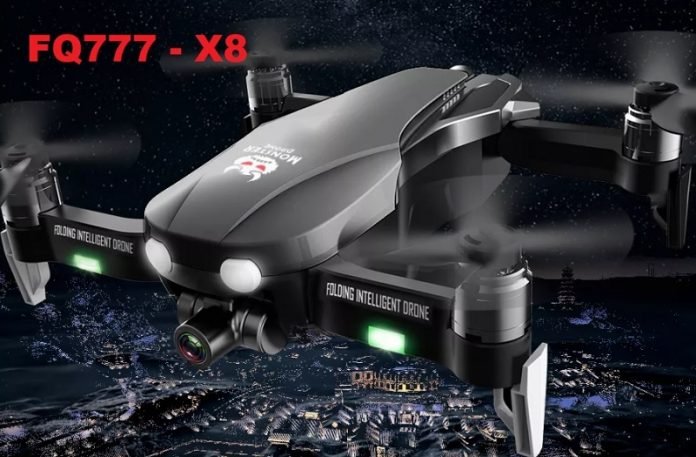 Various brands started to come up with highly featured smaller and smaller GPS drones – can a $160 quadcopter like FQ777 F8 compete with the Mavic Mini? Let's find out from this article.
Just like the DJI Mavic Mini, the FQ 777 F8 also features brushless motors and foldable design. Despite that, the Mini is powered by a smaller capacity battery (2s/2400mAh vs 3s/2500mAh) it has 3 minutes longer flight time than the X8.
In terms of camera rig, there is a big difference between these two quadcopters. While the Mavic Arya has a 2.7K with 3-axis gimbal, the FQ777 F8 has a 4K camera with 2-axis stabilization. The range of the MINI is also much better than its cheaper contender.
In order to allow stable hovering in any environment (outdoor/indoor), both drones are equipped with GPS and Visual positioning systems.
FQ777 F8 drone features & specs
Compact size with foldable arms;
GPS positioning system;
Air-pressure altitude hold;
Optical-flow positioning;
Fail-safe RTH;
4K camera (Photo: 3840*2160 and Video: 2592*1520);
2-axis mechanical camera stabilization;
Brushless motors;
Level 7 wind resistance;
Triple speed rates (11, 8 and 6m/s);
Smart flight modes (Point-of-interest, Route planning, APP follow me and Active tracking);
1000~1200 meters control range and 500-700 meter FPV range;
Up to 27 minutes of flight time.
What do you get in the box?
The FQ777 F8 is sold as a ready-to-fly package with all you need to fly out of the box. Besides the aircraft and its remote controller, there are the following accessories included:
3s/2500mAh Battery (1, 2 or 3);
USB charging cable;
Two spare propellers;
1 set of propeller guards;
Screwdriver;
Storage bag;
User manual.
Conclusions
Like usually, you get what you pay for. The FQ777 F8 is a great entry-level drone but can't be a real alternative for the MM.