Drones with camera and GPS have revolutionized the field of aerial videography. Drones like Hubsan H216A are now accessible to everyone, but they are good enough to record award winning aerials? Let's find out from our review.
Hubsan is a well known toy drone manufacturer. Over the years they became very popular due to the higher quality of their products compared to its competitors. They have wide range of drones, from the tiny Hubsan H111D to the much professional H109S X4 PRO.
Even if, due to its friendly price-tag, Hubsan H216A can be considered rather an entry-level drone, it comes with plenty of topnotch features in addition to the 1080P camera. To name a few, these features include Fail-safe RTH, GPS Positioning System, Orbit mode, Follow Me, etc.
Let's find out why Hubsan H216A X4 is one the best GPS drone with camera under $150
Disclosure: I received this GPS drone as part of a product review collaboration with RCMoment. Product specs and quality may vary according to the manufacturer's reliability, so I cannot guarantee that you will get exactly the same quadcopter as seen in my review.
I received the package 2 days after Christmas. Inside the box I found, besides the drone and its transmitter, flight battery, 2 pairs of spare propellers, 1 set of blade protectors, USB charger and user manual.
At first sight, contrary to FEILUN FX176C2 which has similar price-tag and features, I had the feeling that I'm dealing with a premium class product not with a cheap one.

Excepting the propeller guards, Hubsan H216A Desire Pro comes fully assembled and ready to fly. Unfortunately, blade guards can be attached only by removing the propellers. Not too smart approach….
Instead of a regular 7.4V LiPo, it is powered with higher voltage one. The 7.6V, 750 mAh LiPo is loaded from the back of the drone. According to the manufacturer's specs, with a fully charged battery you can stay airborne up to 12 minutes. NO power switch, so you need to plug/unplug the battery for every flight.
Inside the battery compartment I found a micro USB port, which is a clue that Hubsan plans to release firmware upgrades for this drone.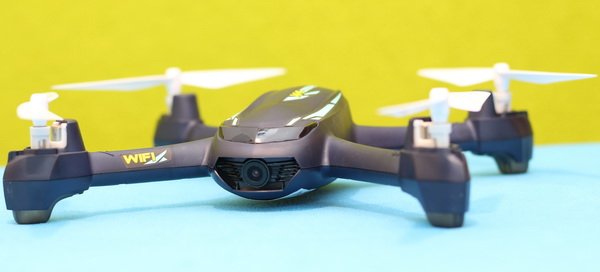 Micro SD slot is located under the belly of the aircraft.
During night flights you will be guided by 4 LED lights, blue LEDs in the front and red ones on back (one near each motor).
Remote controller
First off all, the included game-pad style HT009 transmitter doesn't allow to directly control the drone. It is a Bluetooth phone controller that works only with the X-Hubsan APP. Anyway, it is very nice for old-fashioned guys like me who need the touch feeling of the physical sticks.
On front panel, besides the two control sticks (center positioned), there are only 3 buttons (Power, Return To Home and Take-off/Land). No status screen.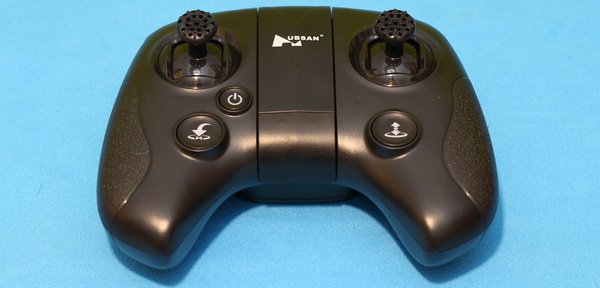 Behind the foldable phone holder are located two status LEDs (Power and Bluetooth).
There are two shoulder buttons on each side of the remote controller. While the right ones are reserved to remotely tilt the camera (Up/Down), the left ones allows to start/stop video recording, respectively to take still photos.
Arming/Disarming the motors can be done by moving both sticks to the lowest-outer position.
X-Hubsan phone APP
X-Hubsan APP is available for both popular mobile OS (Android and iOS). APP is compatible with many Hubsan drones (H216A, H501A, H501M, H507 and H507A). Through the APP you can pair your phone with the Bluetooth controller. It also allows to display the camera's live-video feed.
The main screen seems to be very professional. On top of the screen you can find many  real-time flight data. From left to right:
Flight Altitude;
Distance from you;
Flight Speed;
FPV signal strength;
RC signal strength;
Number of satellites found;
Drone Battery level.
Pitch, Roll and Yaw angles are displayed as well.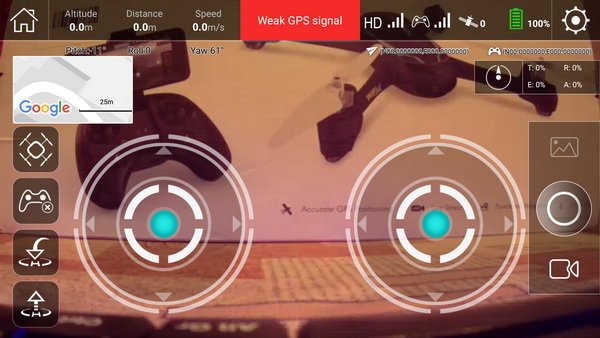 Under the settings menu, you can adjust flight parameters (Way-point height, Max flight distance and Max flight radius), controller settings (Mode1/Mode2, Take-off without GPS, Joystick operation mode), map and signal relay.
In addition to the usual control mode (through sticks), there are 3 intelligent flight modes (Way-point, Follow me and Orbit).
1080P Camera
Compared to other similar GPS drones, this Hubsan H216A comes with Full HD camera instead of a lower quality HD camera. The on-board 1080P camera allows to record videos with resolution of 1920 x 1080 pixels at 25 fps.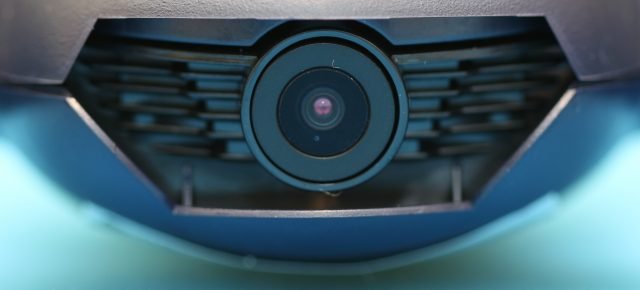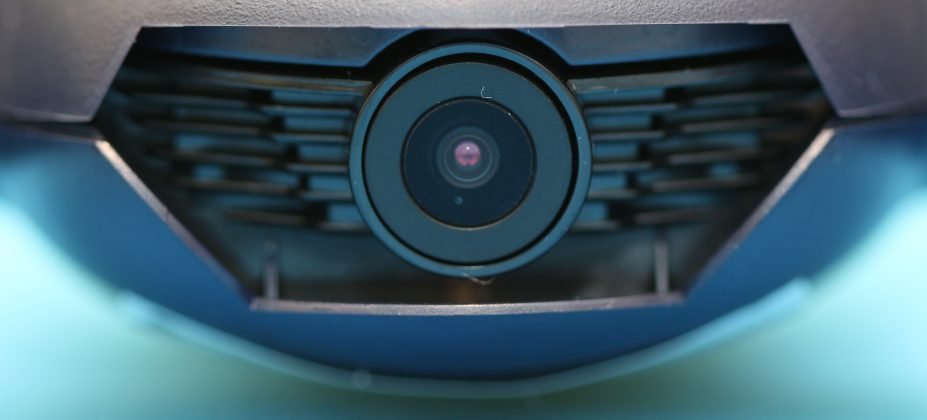 Through the X-Hubsan APP you can set the destination of the captured files. You can opt to record on the on-board micro SD card or on the smartphone's memory. For best results, I suggest to set micro SD card. Five minutes of recorded video occupies about 500 MB.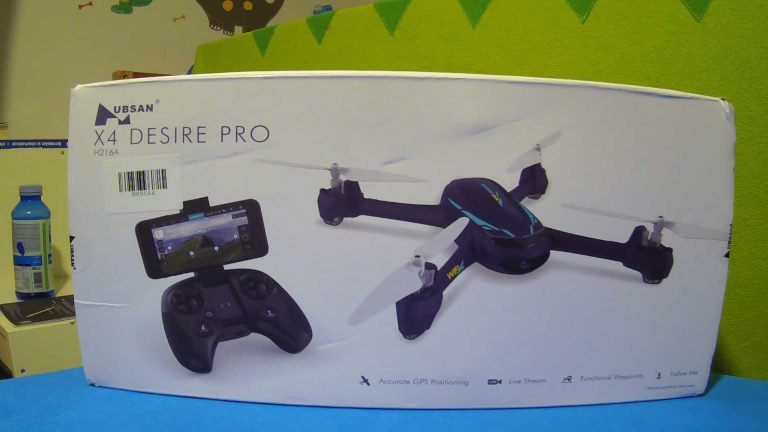 As I expected, even if the camera promises a lot, it does not have the quality of a GoPro camera. Without gimbal, the captured aerial videos are not perfectly steady. Also, without remote angle adjustment you can't perfectly spot on the subject you want to capture.
GPS assisted flight experience
Prior to your flight you need to perform geomagnetic calibration. Don't worry, it is very simply and takes just 1 minute. The APP shows exactly what you need to do.
Flying the Hubsan H216A is simple even for first-time pilots. It has One Key Take-off feature, which will put it hovering ~1.5 meters above the ground – the perfect height to start your flight.
Way-point mode is pretty awesome. You can establish your points of interest on the map and the drone will automatically follow the path.
Control range is excellent for a phone controlled drone. Using a WiFi repeater you can easily achieve 300 meters. GPS accuracy is also very good. If you push the "RTH" button the drone returns and lands in a radius of 1-3 meters of take-off point.
It is pretty awesome to real-time monitor the drone's battery level, its distance from you, speed and flight altitude.
Indoor, without GPS signal, thanks to the barometric air-pressure sensor it also hovers very stable. There is some annoying jumping/bouncing manual landing.
When the battery level reaches 35%, the transmitter will start to vibrate letting you know that is time to land.
Editor's ratting
Price/performance ratio

Design and build quality

Transmitter

APP control

Camera / WiFi FPV
Verdict
Definitely, the Hubsan H216A's image quality does not meet the requirements of a professional aerial filming drone. The 1080P camera provides only hobby grade aerial videos. The Bluetooth transmitter is pretty lame because you need a phone in order to use it. However, for its price tag we think of the Hubsan H216A to be one of the Best drone with 1080P camera and GPS of the 2017 year.
Now, with 35% OFF, you can find this drone with 1080P camera and GPS here for only $129.99 (including free shipping). Using this "SALE10" coupon code, you can get additional 10% OFF! Unfortunately, being a new model, there are no spare parts available yet.
Pros
Excellent build quality;
GPS positioning system;
1080P camera;
On-board recording (DVR);
Fail-safe features.
Cons
Bluetooth remote controller;
Altitude bouncing on manual landing;
No power switch.