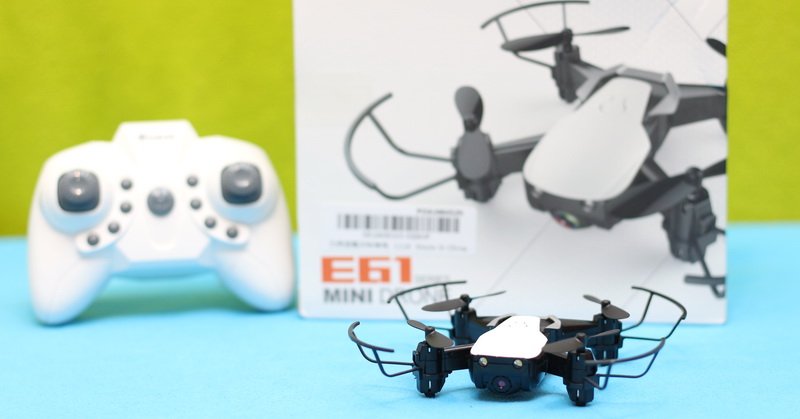 A great way to get kids interested in drones is giving them a cheap mini drone like the Eachine E61HW. As crashes are inevitable, starting with an expensive model is not a good idea. It would be at least disappointing seeing a 1000$ quadcopter hitting a wall after only few minutes of flight. Also, larger drones may be dangerous in the hands of inexperienced pilots.
Despite its friendly price tag and compact size, the E61HW quadcopter comes with lots of features. It has phone APP control, altitude hold and headless flight mode. Furthermore, unlike similar cheap toy drones, it has quite nice flight time. According to the advertised spec, the 250mAh battery allows about 7~8 minutes play time. Let's begin the Eachine E61HW review and see what other cool things has to offer.
Eachine E61HW highlights
Compact size with removable blade protectors;
On-board camera with WiFi real-time image transmission;
Mobile phone control;
Barometric Altitude hold;
Headless flight mode;
One key Take-off/Land;
Multiple color options (white, red, blue and black).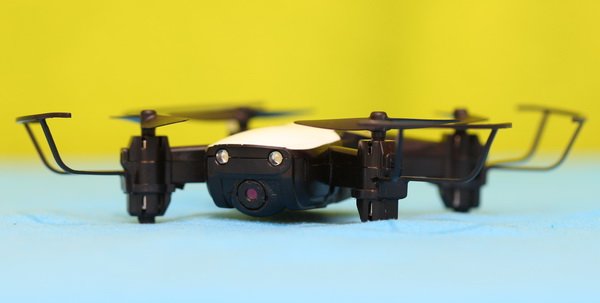 Eachine E61HW drone review
Disclosure: I received this mini drone as part of a product review collaboration with Banggood. Although the quadcopter was offered for free, all opinions in this review remain my own and I was in no way influenced by my partner.
Due to the winter holidays, the package was delayed a bit. I got it after 38 days. Inside the box, besides the E61 HW drone and its remote controller, I found the following: phone holder, 2 pairs of spare propellers, 1 set of blade protectors, flight battery, USB charger, screwdriver and user manual.
Thanks to its cool Mavic Air alike design, the E61 is one of the cutest mini drone that I reviewed lately. Instead of two frontal obstacle avoidance sensors, it has two LED lights which will help you to track the orientation of the aircraft. With installed blade protectors, measures about 11 x 11 x 3 cm and weights only 28 grams.
The 250mAh LiPo pack snaps into the belly of the drone. Like the Eachine E58, the E61HW also has "soft" power button. I suggest to remove the Li-Po when the drone is stored for longer periods of time, otherwise it may excessively discharge resulting in permanent damage of the battery. The LIPO can be conveniently recharged trough its micro USB port.
Eachine E61HW review: Camera & WiFi FPV
Being equipped with only 0.3MP camera, you should not expect to record award winning aerials with the Eachine E61HW. Cool selfie videos are also out of the question, besides that it has no angle adjustment, it is poorly orientated (~10° tilted to ground).
Since there is no micro SD slot, the footage is captured from the live video feed and stored on the phone's memory. Five minutes of 640 x 480 @ 28 FPS video occupies about 56 MB.
Through the Eachine FPV APP you can display the camera's live video feed on your WiFi mobile device. Under the settings menu you can set "720P" mode. Due to the low frame rate, significant latency and short WiFi range first person view flights with VR glasses are hardly possible.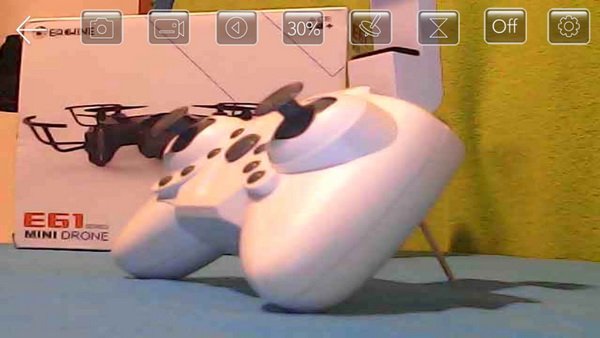 Eachine E61HW review: Remote controller
The game-pad style remote controller is powered by 3 pieces of AAA batteries (not included). In order to attach your smartphone on the top of the remote, you need to install the included phone holder.
Additional to the usual control sticks (both center positioned) and power button you can find other 8 buttons (4 on each side) on the front panel. No status LCD nor function labels (pretty lame).
On the left side, from up to down you have the following buttons: Take off, Landing, Photo/Video (does not seem to do anything) and RTH/Headless mode.
While the left shoulder button allows to toggle between speed rates, the right one enables 3D flip mode.
This mini drone can be also controlled through the "Eachine FPV" APP. Kids will love to pilot using the phone's gyro-sensor. Anyway, my friendly advice for beginners is to use the transmitter first, because it provides a much better feedback when flying the quad.
Eachine E61HW review: Flight performance
Now it's time to have a closer look on the most important thing, how it behaves in the air.
In order to turn On the drone, you need to push and hold (for ~3 seconds) the power button. By pressing the "Take-off" button the aircraft begins to rise for about two meters. At slow speed can't fight with the slightest breeze. After switching to "max power", it started to be more agile but still not proper for windy days. Definitively, is more an indoor than an outdoor flyer.
Just in case of most toy drones, RTH feature is mainly useless. Without a GPS system is just guessing the way back home. Instead, headless modes is a nice feature for newbies, they don't have to keep an eye on yaw.
I got an average of 7 minutes flight time, not bad from such a small and inexpensive flying machine. Overall, flying this mini drone was fun!
Price & Availability
As I previously mentioned, the E61HW is available in 4 different colors. You can grab yours from here for $26.99 – this price includes one flight battery and free shipping. For a couple of extra bucks you can step up your order to 3 batteries. If you don't need the camera feature, you can also opt for the Eachine E61, which is advertised for only $16.99.
Editor's ratings
Price/performance ratio

Design and build quality

Flight performance

Remote controller

Camera & FPV

Flight time
Summary
The Eachine E61HW is a great inexpensive drone for beginners. It features altitude hold as well as headless mode. It has removable blade protectors for indoor practice.
As you could expect from a 0.3MP camera, image quality is not satisfying. Another drawback of the camera is the short WiFi FPV range.
Unfortunately, due to its small size can't fight with wind. I would rate this toy as an indoor drone, rather than an outdoor one.
What makes E61HW a good deal?
Friendly price tag;
Very stable & Easy to fly;
Headless mode & Altitude hold;
Changeable battery;
Removable blade protectors.
What could have been done better?
Poor video quality – using a 2MP camera instead of 0.3MP one;
Can't fight with wind – more power for motors;
Limited WiFi range – FPV range could be at least as good as the control range;
Proprietary battery – Standard LIPO battery compatibility.