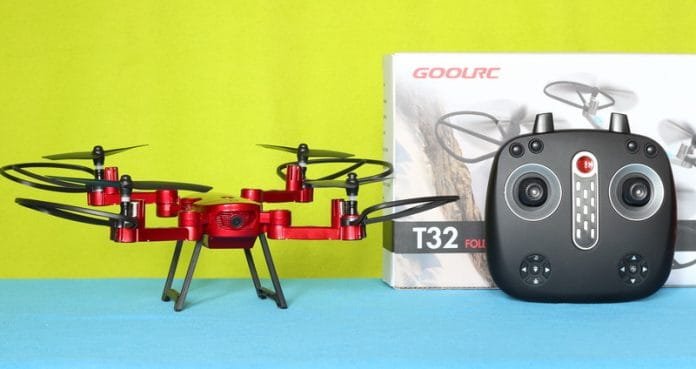 The era of flying selfies is right around the corner, cheap drones like the GoolRC T32 are announced weekly. Maybe these toys are not perfect like the expensive DJI products yet, but technology is rapidly developing in this area and I'm sure that soon everyone will afford his personal flying camera.
GoolRC T32 follows the basic concept of the JJRC H37 (foldable arms, WiFi FPV camera, and APP control), the sElfie drone that had great success in 2017.
GoolRC T32 features and specs
Space-saving design with foldable arms;
Altitude hold (auto-hover);
Headless mode;
Dual speed rate (High and Low);
720p HD camera with WiFi real-time image transmission;
APP control (G sensor and virtual sticks);
About 6 ~ 8 minutes flight time;
Up to 100-meter control range (with physical remote controller).
In-depth review of the GoolRC T32 drone
Disclosure: I received this foldable drone as part of a product review collaboration with GoolRC team. Although the product was offered as a gift, all the words in this article remain my own and I was in no way influenced by the sponsor.
I specially requested the package not to be sent with DHL. Guess what, it was sent with DHL but luckily from the Netherlands so no paperwork or extra charges.
Inside the nice cardboard box, besides the folded aircraft, I found the following: velvet carry bag, remote controller, phone holder, 2 x landing legs, 4 x blade protectors, 1 set of spare propellers, flight battery, USB battery charger, and user manual.
The included propeller protectors are highly recommended to be used by first-time pilots. Both blade guards and landing gears can be simply attached to the fuselage, no tool needed.
At first sight, the aircraft has a nice attractive design and seems to be well built. Folded, measures about 13 x 10 x 7.5 cm and weighs only 115 g – No FAA registration required.
The 850 mAh battery is loaded from the rear of the quad. According to the manufacturer's specs, with a fully charged battery, you can have about 6 ~ 8 minutes of flight time. Not bad, but according to some owner's testimonials you can obtain even up to 12 minutes of fun.
Unlike the VISUO XS809HW, which has a "break off" power switch, the T32 GoolRC has only a software switch. I would recommend unplugging the battery when the drone is stored for longer periods, otherwise, the Li-Po can be over-discharged and permanently damaged.
During night flights you will be guided by 4 LED lights, blue LEDs in the front and red ones on the rear (one in the middle of each arm).
GoolRC T32 review: How to operate?
The GoolRC T32 drone features multiple control modes. It can be controlled with the included transmitter or through your smartphone – using a gravity sensor or virtual sticks.
Although, in my opinion, is not the easiest and accurate way to pilot the aircraft through the T32 APP, kids will love to pilot this way. It is similar to playing with a car simulator. Anyway, the APP is also necessary to display the camera's live video feed on your smartphone.
The transmitter feels nice in my hand. No status LCD but lots of buttons. Both sticks are centered.
In order to start your flight, you need to arm the motors using the "Unlock" button located under the left stick. You can take off either using the "Take-off\Land" button or by gently pushing up the throttle stick.
Switching between "Low" and "High" speed rates can be done using the left key located above the throttle stick (mode 2).
There is a "Emergency" stop button, which halts all the motors – unfortunately not instantly.
If the aircraft starts to fly abnormally you can try to reset it. This can be done by moving both sticks to the lowest right position for 3 seconds.
GoolRC T32 review: Camera
The 720P WiFi FPV camera is integrated and no angle adjustment is possible. Captured files (photos and videos) are stored on the smartphone's internal memory under the "WiFiUFO" folder.
Five minutes of recorded video (1280×720 @ 25 fps) occupies about 50 MB. Image quality is nice with vivid colors but still not suitable for perfect selfie videos. Propeller protectors are visible in the footage if they are used.
WiFi real-time image transmission is cool but there is a noticeable latency compared to 5.8G solutions, so FPV flying (with VR glasses) is risky. Anyway, it is really exciting seeing things from the quadcopter perspective.
GoolRC T32 review: Test flight
Finally, after a torrid week with temperatures up to 40°C, it cooled down and I was able to go outside to play with my new RC toy.
Flight preparation is easy. You just need to unfold the arms and load a freshly charged battery. Propeller protectors and landing gears are optional.
Take off, as well as landing was smooth as should be. Thanks to the alt-hold feature, even newbies will be surprised how easy it is to control this drone. If you fly out of control range, the drone will land automatically.
Unfortunately, being lightweight, it is very hard to control it during windy conditions.
As usual for geared approach, the GoolRC T32 quad is quite noisy. It's vital though, that you let it rest and cool down between flights so you don't overtax the motor.
Price / performance ratio

Design and build quality

Camera quality / WiFi FPV

Remote controller

Flight time
Verdict
GoolRC T32 is a nice learn-to-fly drone. Altitude-hold works very well. Flight time is exceptional.
Thanks to the foldable design you can take it with you every where.
Spare motors, propellers and landing gears are available but not the flight controller, yet.
For those who are interested in purchasing this GoolRC T32 as their first drone, it can be ordered for $60.99 right here on Amazon. If you need more fun time, don't forget to add a couple of spare batteries to your shopping cart.
Just got this "N948XING" coupon code, which should offer you 30% discount.
Pros
Tool-free, easy to assembly;
Drawstring pouch to store and carry the drone included;
Lots of features (multiple control modes, altitude hold, WiFi FPV);
Excellent flight time;
Decent image quality.
Cons
Noisy;
Soft power button;
Poor wind resistance.