From the day of its announcement was obvious that the VISUO XS812 aims to be the perfect drone for people who are looking for a low-cost introduction in flying and shooting aerial videos.
Just like its predecessor, the VISUO XS812 also follows the Mavic's cool foldable design. This second generation Visuo drone brings GPS positioning system and longer flight time. Practically, excepting optical flow positioning, it has all the features that you could expect from a $100 drone.
The VISUO XS 812W GPS quadcopter is available with two type of cameras, a 2MP camera (812G-W-G) and a more versatile 5MP Full HD camera (812G-W-K). Both camera versions feature 5G WiFi real-time image transmission. The price difference between the two variants is about $15.
VISUO XS812 main features
Cool Mavic alike design with foldable arms;
GPS positioning system;
Altitude-hold with barometric air-pressure sensor;
Headless flight mode;
Fail-safe auto-return to home (out of controller's range);
Intelligent flight modes (Follow me, circle hovering & Way-point);
Multiple flight speed rates;
720P and 1080P camera versions;
Wi-Fi real-time image transmission (FPV);
Around 200 meters control range;
Up to 15 minutes of play time.
VISUO XS812 GPS drone review
Disclosure: I received this VISUO XS812 GPS quadcopter as part of a product review collaboration with Banggood. Although the product was a gift, all opinions in this review remain my own and I was in no way influenced by the sponsor.

The package arrived in 22 days since the order. Inside the stylish "Private Eye" labeled box I found, besides the drone and its remote controller, a set of spare propellers, 1 set of blade protectors, flight battery, USB charging cable, phone holder, screwdriver and user manual. The box has room for two more flight batteries.
VISUO XS812 review: At a glance
Enough with the introduction part! Let's have a closer look on this GPS enabled VISUO drone.
As I previously mentioned, in order to be easy to throw in the backpack, it has a foldable design. In folded size measures only 18.2×14.6×6cm, when you extend the arms it measures 33×33×6cm. After you install the included blade guards it becomes even larger. When fully equipped and ready to fly, it weights exactly 200 grams.
I like the the nice black and gold color contrast. The shape and painting of the canopy reminds me the Vertu luxury phones. Even if it uses only plastic, it feels robust and well build.
Just like the first generation VISUO drone, the XS 812W has also one LED under each motor. Green LEDs in the front and red ones on the rear. Two additional red LEDs in front will help you track the orientation of the aircraft.
The flight battery is loaded from the tail of the artifact. In addition to its high capacity it is LiHV type, which means even more power (3.85V vs 3.7V). According to the manufacturer's specs the 1800mAh battery can provide up to 15 minutes of flying time. The quadcopter is equipped  with a hardware ON/OFF power switch, so you won't need to unplug the battery when you store the drone for longer period. Anyway, for best battery life, I suggest you to store it half charged, never fully charged.
VISUO XS812 review: Camera & FPV
Instead of an integrated camera, the XS812 is equipped with a changeable one. The camera has two antennas (one on each side). Prior to take-off you can adjust the camera's angle according to your needs. In order to load the micro SD card into the camera you need to remove it from the drone.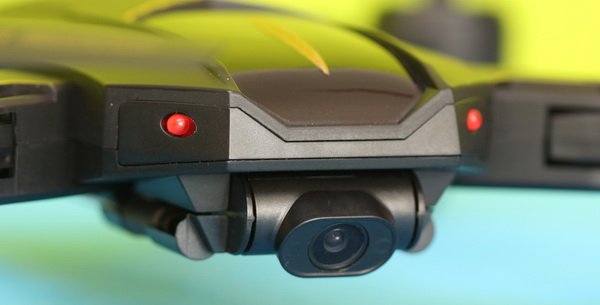 The video quality is still not amazing, so you should not expect to take some award-winning aerial footage. Anyway, it is probably the best you can get from a drone under 100. Five minutes of recorded video (1920×1080@25fps) occupies about 40 MB on the camera's micro SD card.
Featuring about the same Wi-Fi FPV range as the control range, you will have live-video no matter how far you fly. No more blindness flights. The camera is compatible only with newer mobile devices which features 5G WiFi.
VISUO XS812 review: Remote controller
In terms of transmitter's design, there are a lot of changes between the non-GPS Visuo and GPS enabled Visuo. Besides that it has completely different form factor, it has much more buttons, but still no status screen. I liked that all the important buttons are labeled.
On front panel, beside the usual control sticks, there are 12 buttons. You have dedicated buttons for Photo, Video, Emergency stop, Headless mode, RTH and compass calibration.
While the left shoulder button allows to toggle between speed rates (High and Low), the right one enables circle hovering.
Thanks to the fail-safe return to home feature, if you fly out of the controllers range (or you just power it off accidentally), the XS812 VISUO drone will autonomously return to the take-off point (of course only if there is good GPS coverage).
Binding the remote with the drone can be done by moving the throttle stick up-down. While by moving both sticks to lowest-inner position you can arm the motors, in the lowest-outer position motors will be dis-armed.
XSW GPS APP
The XSW GPS APP will extend the functionalities of the physical remote controller, like follow me and Way-point flying features. In addition, will also provide telemetry information. On top of the screen you have an OSD status bar which shows the following: altitude, distance, speed, number of satellites found, roll/pitch/yaw values and battery level.
VISUO XS812 review: Flight experience
Being a GPS enabled drone, it needs compass calibration before your first flight. When all the LEDs blink means that the aircraft is into calibration state. Firstly, you need to rotate the drone 3-4 times clockwise (till red LEDs become solid). Secondly, you will need to repeat this step with its nose facing down (till Green LEDs turn solid).
Event if it has brushed motors, fighting the wind is no problem for this nice drone. It hovers perfectly stable. At "High" speed rate is pretty fast and agile. It is a real joy to fly it!
Follow me feature works nicely, guided by the phone's GPS will follow you like your shadow. Even if it seems like fun, this functionality should be used with great care, since it is not combined with an obstacle avoidance system.
While Visuo is promising up to 15 minutes of airborne time, in real-world, the flights I have seen last somewhere between 8 to 11 minutes. Charging the batteries can take quite a long time, so it's definitely worth investing in spare batteries.
Editor's ratings
Price/performance ratio

Design and build quality

Transmitter

Camera

Flight time
Summary
This second generation Visuo drone has been upgraded in every aspect. It has longer flight time and control range. The 5MP camera provides better image quality. In addition, it has GPS positioning system, which is surely the biggest improvement over its predecessor.
Despite that it is equipped only with brushed motors, it has enough power to fight the moderate wind. Auto return to home (RTF) feature is very precise.
For those who are in lack of Christmas gift ideas, this VISUO XS812 can be found on BG website here at US$95.99 – this price includes 2 batteries, 5MP camera and free shipping. At the time you place your order you can opt for 1, 2 or 3 flight batteries.
Pro's
GPS positioning system;
Excellent control & FPV range;
Follow me feature;
Good battery life;
On/Off power switch.
Con's
Image quality could be better;
A bit expensive for a brushed toy.