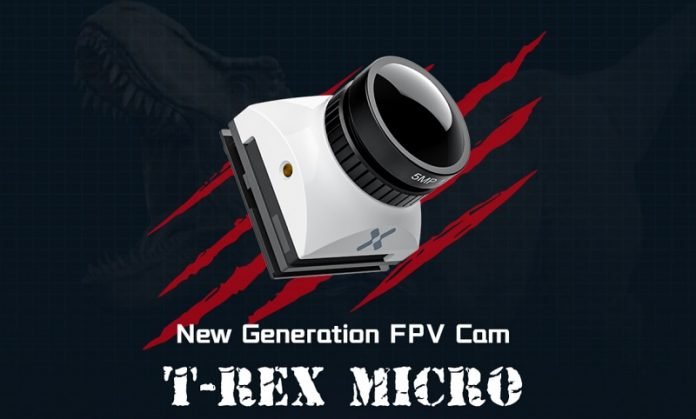 The Foxeer T-Rex Micro is a new CMOS FPV camera that features Super-WDR, Ultra-low latency of just 6ms, and 1500TVL resolution. The camera's low-light performance was optimized for LED lights, in order to obtain the best image quality when you are flying through illuminated gates.
Thanks to its compact size (19 x 19 x 24.2mm), it can be successfully installed on micro to large FPV drones. The camera can be powered from 4.5 to 16V and it is available in black, white, and red colors.
From its OSD menu, you can toggle between 16:9 and 4:3 aspect ratio and PAL/NTSC video formats in the settings, which makes it a great option for all kinds of FPV goggles and displays. The settings menu can be accessed using the 5D OSD keyboard or via camera-telemetry (if you wired it correctly to the flight controller)
Foxeer T-Rex Micro camera features and specs
Ultra-high resolution (1500TVL);
2MP CMOS sensor;
Super-low latency (6ms);
0.001Lux minimal illumination;
110dB Super-WDR;
4:3 FOV-H: 120° FOV-D:150° or 16:9 FOV-H: 155° FOV-D:175°;
Exclusive optimization for LED lights (flying in through LED gates);
Camera telemetry (remote control via FC);
Flight OSD (Supply voltage, and Elapsed time);
Wide range of input voltage (4.5~16V);
Size of 19 x 19 x 24.2mm.
Foxeer T-Rex Micro FPV camera review videos and sample footage
Box content
OSD Board;
2pin OSD Cable;
Bracket Screws;
Gasket Rin;
Servo Cable;
Instruction guide.